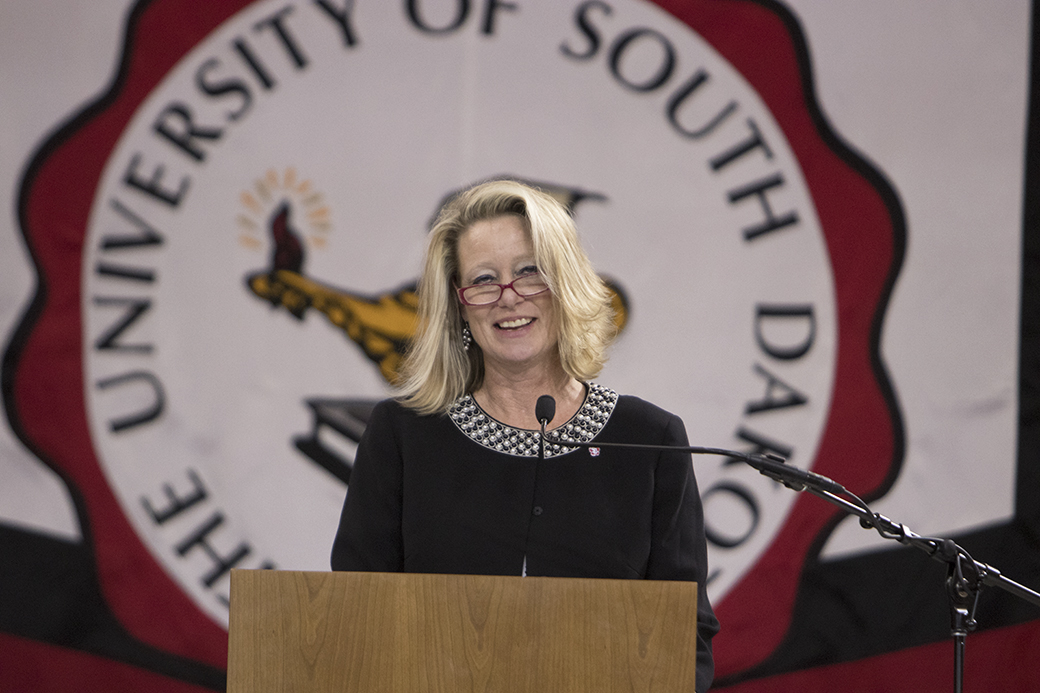 6 mins read
Sheila Gestring announced as USD's incoming 18th president
Sheila Gestring was appointed as USD's 18th president in the Sanford Coyote Sports Center this afternoon after a South Dakota Board of Regents vote.
Gestring serves as vice president of finance and chief financial officer of USD. Gestring said she's honored to become USD's next leader.
As a South Dakota native who holds a master of business administration degree from USD, she said in a student forum on April 24 that serving as USD's president would be a "dream job." She is set to start on June 22.
South Dakota Board of Regents member and chair of the presidential search committee Kevin Schieffer said "her track record speaks for itself."
"President-elect Gestring is a homegrown South Dakota product of excellence. That in itself was not an advantage or an edge for her in this process," he said. "But I suspect is does have something to do with her incredible work ethic that has gotten her thus far and that has given her the reputation of somebody that can deliver."
Schieffer also joked about firing Gestring from the search committee as it was starting to form.
"I've been on the board for five years now," he said. "Probably the most consequential action I have taken in that time was to fire Sheila Gestring from the search committee. And encourage her to consider this venture and I am very glad she did."
Gestring said she decided to apply after being reached out to by many community members.
"The moment (I decided to apply) was probably about after I had heard from at least one person from every constituency," she said. "They would reach out and say, 'Sheila I think you would be very good at this job. Please consider applying.' That's when I decided to let Regent Schieffer fire me."
Interacting with students and faculty is an aspect of the job Gestring said she's looking forward to.
"It's going to be a very busy next couple of days, months, weeks, years," she said. "It's going to be wonderful to be able to connect with more students and more faculty than I've had the opportunity to do as CFO. So I'm just very excited."
As for how she will connect with students, Gestring said she's looking for meaningful interactions.
"I would like to create some pathways that are meaningful. So I am going to rely on some of the students that I already know and see what their advice (is)," she said. "What's the most meaningful way to connect? I'm willing to host something other than Yote floats in the MUC or you know, certainly by October, I'm told the house will be available so perhaps there would be some opportunities to host students there as well."
Along with student interaction, Gestring said she wants to start "listening groups."
"I need to go around and talk with each department for example, I would like to hear what perhaps their challenges are and what obstacles keep them from reaching their goals and just listen more intently," she said.
Gestring said she hopes the listening groups will catch her up to speed on non-financial aspects of the university. She plans to start meeting with students and faculty in the fall.
"I've had the opportunity to view most of the campus from a financial officer perspective," she said. "I recognize that view has to be different from a president, so I want to take that opportunity to listen to them."
Gestring's family was also at the announcement. She said her husband, Keith, and sons Dillion and Wyatt have been "incredibly supportive."
"Oh they are wonderful… before one of their basketball tournaments, I made a pact with them and said, 'If you play with confidence and you do what you do and be yourself, I promise you I will be the same way when I go to my interview.' They both held up their end of the deal, so I had to do it too," she said.
Changing the story about liberal arts education will be a focus of Gestring's, she said.
"I am most concerned about the financial future of higher education in terms of public sentiment and public supports," she said. "We really do need to change the message about the liberal arts. It's not all about technical schools. All education is important, there's no question about that. But, a liberal arts education provides that knowledge workforce. We need all (types of education), but we need to change the message about the liberal arts."
Student Government Association President Josh Sorbe said he's looking forward to sitting down with Gestring and talking about the future.
"It's exciting, having president-elect Gestring at the institution just shows the value we have for our own here in South Dakota and helps to continue the culture we have," he said.
SGA Vice President Madison Green said it's exciting to have someone take over who knows how things were run before.
"I think it's really exciting and I think she's going to do a great job. I think she has an advantage being a CFO and seeing all the work that Abbott has done and all the time and effort he has put into the university," she said.
Gestring ended her remarks at the announcement talking about creating and continuing a winning reputation at USD.
"We are stronger together. We will achieve even greater prominence and distinction, and with this high-performing team we have at USD, we will win at everything we do," she said. "USD is on a terrific positive trajectory and I have been really proud to be apart of that these last 11 years. I am honored and humbled to lead the incredible talent at this university and be your 18th president."