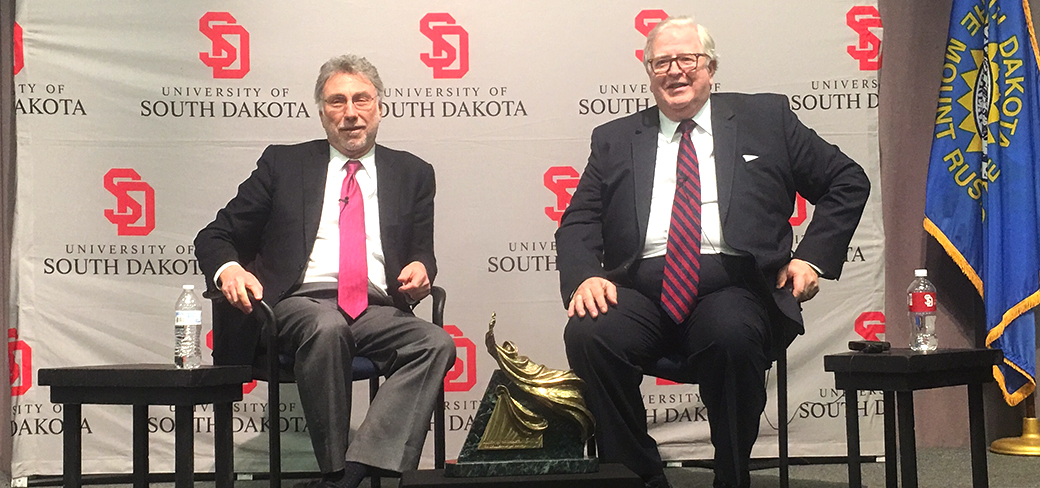 5 mins read
Washington Post editor Marty Baron visits campus, receives award
by Sam Fosness and Kelli Susemihl
From orchestrating coverage on Pulitzer Prize-winning stories to leading the nation's top industry media outlets as an executive editor of the Washington Post, Marty Baron's influential contributions in journalism were recognized last night at the Al Neuharth Media Center.
Baron was presented the 2017 Al Neuharth Award for Excellence in the Media and spoke to USD students and community members in various forums throughout the day about the current state of journalism and attacks on news media. 
Speakers at the ceremony included Gene Policinski, chief operating officer of the Newseum Institute and senior vice president of the First Amendment Center, and USD President James Abbott.
Abbott introduced Baron with a motivational video highlighting some of the many impactful contributions Baron has had in journalism, with testimonials from journalists Baron has worked with.
Baron is also known for his work at the Boston Globe during the uncovering of the sexual misconduct by the Catholic church, reporting for the New York Times, L.A. Times, Miami Herald.
Following the video, Policinski opened the discussion with a question to Baron regarding the current state of the media industry under President Trump's extreme critiscism.
"During the campaign, President Trump emphasized his focus on the forgotten men and women in America," Baron said. "Well, we've been covering the forgotten men and women of America for decades."
One of Baron's investigative team's most notable stories while at the Boston Globe was the coverage of a sexual abuse scandal in the Catholic Archdiocese of Boston.
Baron said the national and world influence from that investigative story was monumental in opening the door for more people to speak out about sexual misconduct.
"Our newspaper served as an outlet and voice for people who've been sexually abused in various capacities through our coverage of the scandal in the Catholic church," Baron said. "After more people came forward following the story, our newspaper was the voice for victims and people need to know we're listening."
Baron discussed the evolving platforms in the media industry following a question from a USD student.
While Amazon CEO Jeff Bezos bought the Washington Post in 2013, Baron said Bezos invested heavily in technology.
"While Google, Facebook and Reddit are a few of our top competitors, we've adapted well by publishing content on mobile devices, Snapchat and Twitter," he said.
Keaton Deiter, a junior strategic communications major, said the event was inspirational, but didn't realize how many accomplishments Baron has contributed to the media industry.
"Marty's ethical stance about reporting the truth and facts are very admirable, even if the truth is damaging to people," Deiter said.
Naylah Johnson, a sophomore strategic communications major, said the ceremony gave students an opportunity to get to know more about leaders in journalism.
"This ceremony gives me a chance to understand people like Marty, and it's really inspiring to see the process of how he got to where he is today," Johnson said.
Student Q&A session
Prior to the awards ceremony, students came to the Freedom Forum to ask Baron questions about investigative journalism, the role of journalism in the Trump administration and his portrayal in the movie "Spotlight."
Emily Schrad, a sophomore media & journalism major and a former reporter for the Volante, asked Baron what it was like to have a movie made about his work.
Baron said the experience was "strange."
"It's very gratifying knowing the work that you did," Baron said. "Not just people within our profession, but the general public can appreciate what it takes to do investigative journalism."
Schrad said movies positively portraying journalism are especially important in today's culture.
"I think especially in today's day and age, journalists get kind of a bad reputation of fake news," Schrad said. "I think it's good to have representation of media in a good way and how important is."
Whitney Fowkes, a senior media & journalism major, asked Baron about how reporters can protect themselves and feel safe, especially during the Trump administration.
"With President Trump singling out the media and everything like that, people should know that they should take some precautions," Fowkes said. "There are people that are angry out there."
Baron said the atmosphere at Trump's rallies were concerning for journalists' safety.
"President Trump turned a lot of people against us," Baron said. "Imagine being a reporter at one of these rallies, and being singled out by Trump on the podium, and there are thousands of people there…. It's reckless."
Walker Schmidt, a junior sport marketing and media major, said Baron's advice will help him with his own reporting.
"I think that by telling us to be ourselves and have our own kind of uniqueness to us, and being able to separate ourselves from other newscasts would help us become better," Schmidt said. "(Baron) did his own thing. His life and everything he did was very interesting."