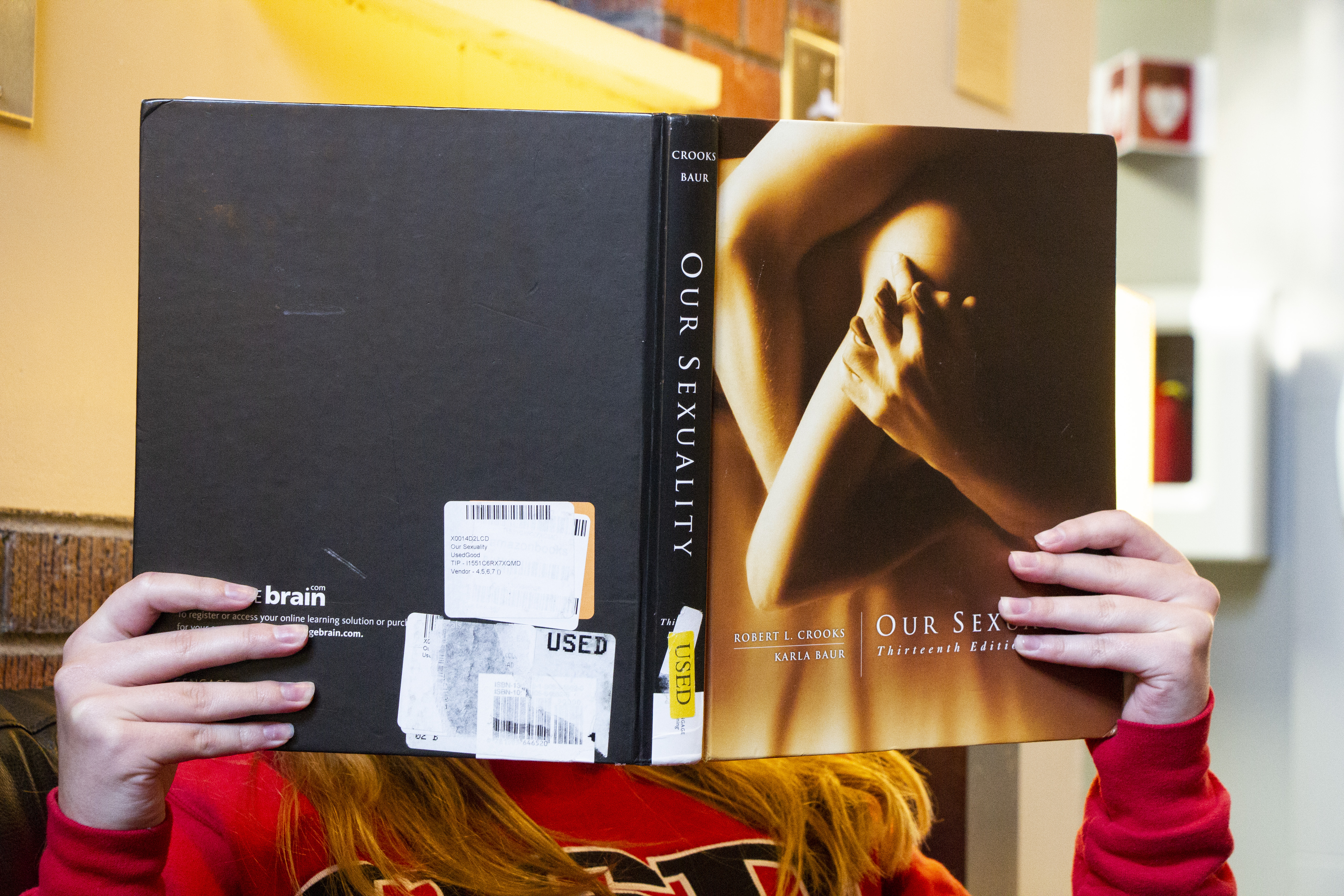 5 mins read
Students learn about the 'survival of the species' in sexual education course
One USD professor has been educating students on a taboo topic, sexuality, for more than 30 years. 
Cindy Struckman-Johnson teaches the course psychology of sexuality every fall and has even pushed off her retirement because she said she feels the class is too important to not be taught.
Struckman-Johnson's course covers a wide variety of topics. The class covers research methods, male and female reproductive anatomy, sexual response, contraception and reproduction, child sexuality, STI, sexual orientation, sexual coercion and concludes with pornography and prostitution.
"With this topic, you can go biology or psychology or you and go kind of between the two," Struckman-Johnson said. "It is a really broad range and we move pretty fast. There always just so much to talk about it's hard to squeeze it in."
Struckman-Johnson said it is important that her class covers the research methods because there are still challenges covering such a controversial topic.
"It is different from other areas of psychology research, it's a lot harder to do," Struckman-Johnson said. "There is a tremendous amount of political and social resistance to people doing sex research."
Rebecca Earl, a junior social work major, said she took this course because she had Struckman-Johnson last year and loved her teaching style.
Prior to this course, Earl had not taken any other sexual education classes. That isn't uncommon for Struckman-Johnson's students.
"It was a little intimidating at first," Earl said. "However, I knew what I was signing up for. Being able to have that at a college level is a little different, but I think it is a great class."
Earl said her favorite part of Struckman-Johnson's classes is she understands the topics she discusses may be uncomfortable for some students.
"She doesn't force you to talk," Earl said. "She will ask you a question, but she will not force you to answer it if you do not feel comfortable answering it.  She is super accepting of the fact that this may be uncomfortable for some people. She doesn't force you to stay."
Struckman-Johnson said she believes sex education is the most important topic students can learn about and said she wishes those courses were more common across the nation.
"In this country, our sex ed is not nonexistent, but it is highly constrained," Struckman-Johnson said. "Most states do not mandate sex education and those that do tie it to abstinence-only which is tied to no knowledge to contraception."
The true form of sex education for Struckman-Johnson is about teaching contraception and preventative methods.
"True sex education and contraception are not allowed into sex education by state mandate," Struckman-Johnson said. "We have children and teens who are growing up with lack of fundamental knowledge of sexuality. What happens is they can go online when they are very young and see how sexuality is portrayed."
Stuckman-Johnson said it is important parents become the first educator when it comes to sex education.
"We are just kind of throwing our children to ignorance," Struckman-Johnson said. "We are afraid of the topic. People think that if you don't talk about it you will create good behavior, but you create good behavior and responsible behavior by giving people the knowledge."
Struckman-Johnson said she hopes to continue teaching this course for as long as she can. It is important to her that she gives the best quality of learning.
"I am worried that when I retire the class will not be replaced," Struckman-Johnson said. "It's one of the reasons I want to keep going for the next few years. I don't want the education to stop."
Randy Quevillon, chair of the psychology department, said there are no guarantees for what will happen to this course after Struckman-Johnson retires.
"We have a really solid case of trying to hire someone who will hopefully grow into this position and do as good of a job as Cindy will do," Quevillon said. "I think that it is encouraging for me to be in a spot where we are replacing those who are retiring. We have a very senior department, so we do need to revitalize the department, and new blood in the department will be an exciting time."
Struckman-Johnson said she believes the fate of humanity relies on sexual education, and that is why she keeps teaching.
"To me, the survival of the species comes down to sexual behavior," Struckman-Johnson said. "The quality of our everyday life depends upon the sexual behaviors we participate in. Without understanding the basics of sexual behavior to me it just the essence of being human."