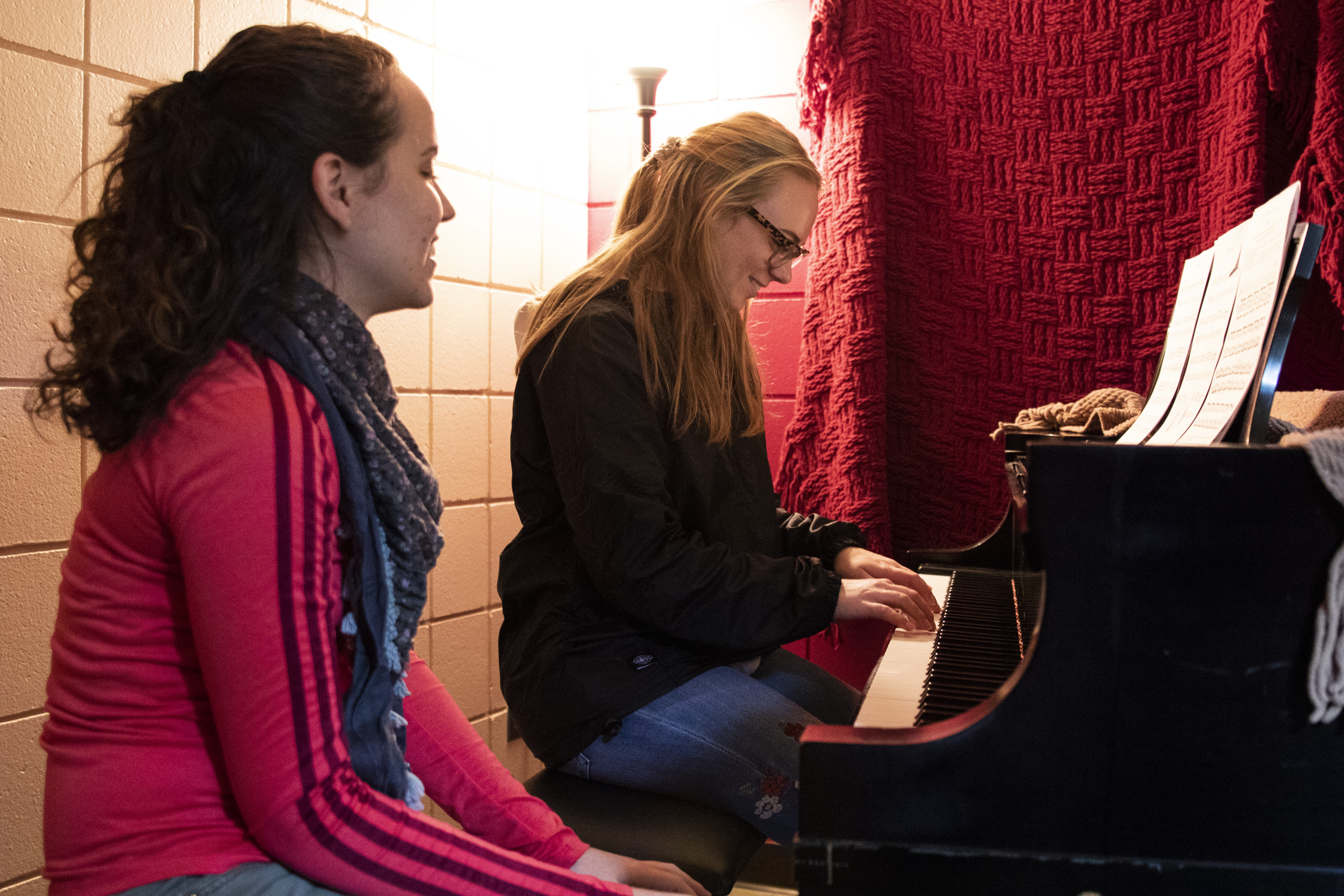 4 mins read
Finding the right key; non-music majors fill up piano classes
No wonder people click for more info regarding music classes for non-music majors. Piano classes for non-music majors have been filling up fast, and the number of students enrolling in piano lessons are continuing to climb.  
A large amount of non-music majors' interest in piano lessons is increasing the talk of personal growth for the students and teaching assistants and other benefits within the music department. 
Alessandra Feris, assistant professor of piano, stated that a new class for beginners will be opening in the spring because of the high demand of students enrolling in this performance class.
The fine arts department has always offered two beginner piano classes, but after semesters of these classes being full, they have decided to open a third. Now more and more students interested in piano have a better opportunity to follow a passion they might have had since they were young or a new desire to try something new.
Students can either start with the beginner class, or if they are more experienced, students can enroll in private lessons. Private lessons are taught one-to-one, while beginner lessons are a group of students. The department still tries to keep the groups smaller with about four to six students, so there is more personal time with the teachers.
Those who take the beginner lessons tend to come back for private lessons to continue improving their piano skills.
Diana Elizabeth Leal, a sophomore majoring in molecular biology, is currently taking private piano lessons.
"Everyone has that one instrument in the back of their head that they really want to try, so you're in college, might as well try it now," Leal said.
Leal has experience with the violin and cello, but decided to broaden her horizons in the fine arts and music in general. In her second semester of piano, she hopes to gain a newer perspective on music.
Leal said that she's seen benefits from taking these lessons in other aspects of her life.
"Reading music and how it relates to when you are giving a speech or life in general and you mess up, you need to keep going," she said. "Like in piano when you mess up you don't start over, but keep going and counting along with the music." 
Graduate students are responsible for the non-majors and teach the beginner lessons. These graduates are international students and have been recruited by Feris herself. Feris takes pride in everything her graduate assistants do; she said, "They play a big role in the department. They are amazing, fantastic teachers."
Ana Melissa Oliveira, a graduate student assistant, originally from Brazil, teaches two piano classes and five private classes for non-music major students. Piano has affected her life in "pretty much everything."
Oliveira also found that teaching these lessons benefits her piano experience as well.
"Whenever someone wants to play something and that piece is a little bit harder, I can find tools to help them play, and it can maybe help me play my hard pieces," Oliveira said.
Each week students are expected to practice and complete their assignments, meaning they are being graded by what they accomplish weekly. The professors want to see where students are skillfully and where they can push them by the end of the semester. 
Piano can also be a great therapeutic break during a stressful week of college. Leal called her favorite part about piano lessons an "escape from science."
Balancing out the science in her life, Leal stated she loves doing something that's opposite than her major.
"Getting to take piano lessons is a nice break throughout the week." Leal said.