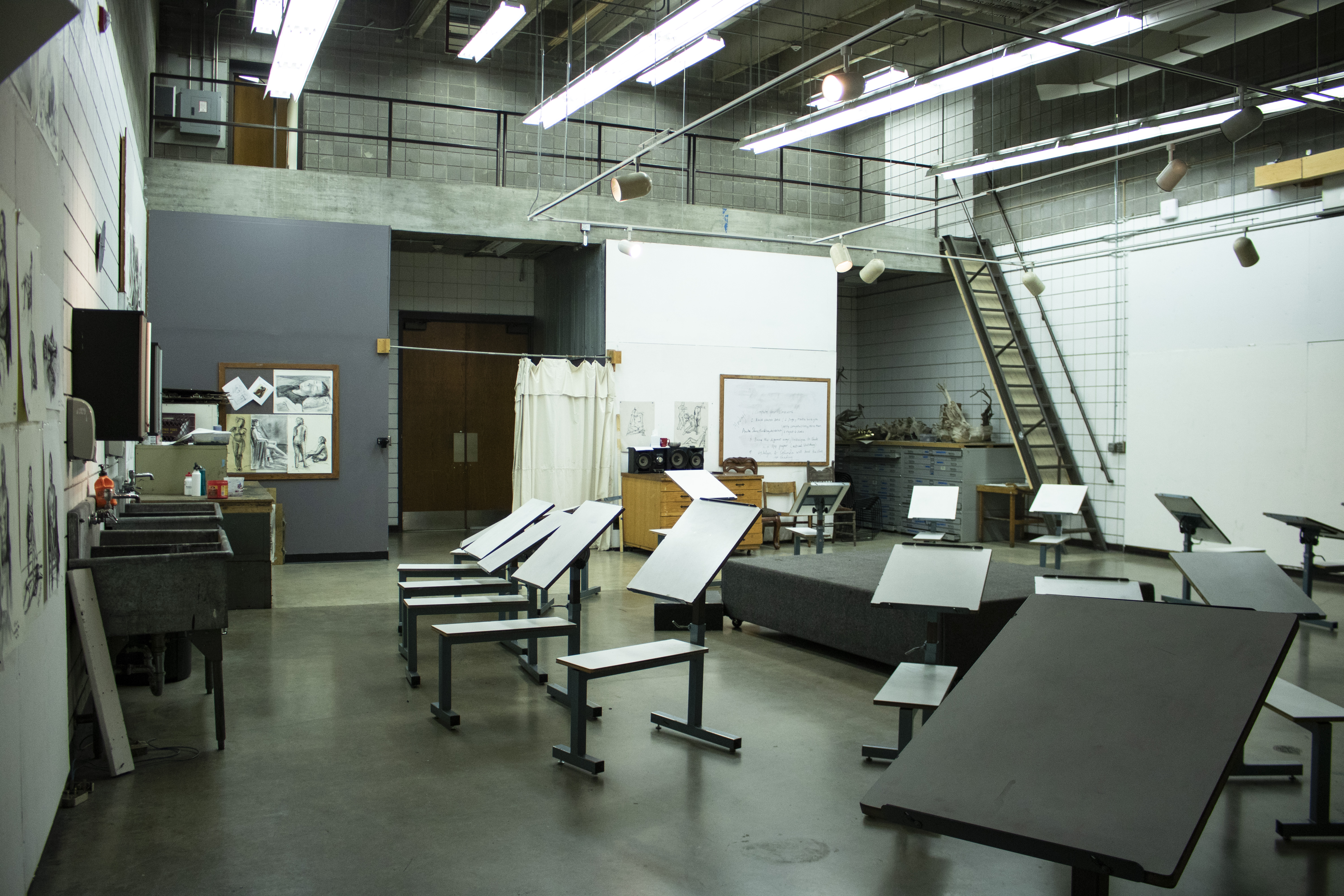 10 mins read
Updates to fine arts facilities could total $30 million, search for funds continues
Students and faculty have seen issues with the outdated infrastructure of the Warren M. Lee Center for Fine Arts (FA) for years, including the HVAC system, leaks in the ceiling highlighted by moldy ceiling tiles, acoustics and sound leakage, old water fountains and sinks that don't drain.
Faculty have begun to search for funds in what they estimate will be a $30 million project to address structural issues and complaints over-cramped space.
In general, space is the main issue, with many of the FA's 319 students and some faculty noting they need more classroom space, graduate studio space, storage space, faculty and graduate office space.
A public forum for fine arts students was held last Wednesday by College of Fine Arts dean Larry Schou and SGA fine arts senator Kevin Huizenga, senior musical art major. One main topic of discussion included issues with the facility, which was built in 1973. Three fine arts students were in attendance of this forum held at 4 p.m. Huizenga said the low attendance was due to classes held at the same time.
SGA's State of the University Report states that "while many colleges have seen significant fundraising, the funding in the College of Fine Arts has shown unable to provide students resources, supplies, and building improvements." The FA was listed as a facility with "restrictions that prevent the achievement of full academic potential."
At the forum, Schou said it is a struggle to find donors that want to give to renovation causes.
"I've always been told the state doesn't let you renovate until you have all the money raised, and then you go to design," Schou said. "Initially, we have to find donors and people in the country that would have interest in brick and mortar."
Schou said finding the donors can be frustrating and time-intensive. He said he's been working on this project for years, and in the meantime, he's had to focus more on fundraising for undergraduate scholarships.
"That's what people show interest in," Schou said of scholarship funds. "Some donors don't have interest in (brick and mortar). They think that because we're a state university, the state should pay that."
Overlooked, underfunded
Raimondo Genna, chair of the theater department, said the reason facilities haven't been updated is because fine arts are often overlooked.
"Unfortunately when it comes to the arts, they tend to be less of a priority," Genna said. "It is easier to raise money for things like athletics or medical schools; things like that tend to be a bit more high-profile, culturally speaking."
Genna said universities with strong arts, music and theater programs do better overall, and students at those universities are more engaged, and the university itself serves the culture of the region.
"If you look at STEM fields, that has been privileged. When it comes to the arts, that's almost seen as entertainment or luxury," he said. "I don't see it as a luxury. As a liberal arts institution, we are promoting the liberal arts. That means all of us, not just some of us."
Huizenga said the FA facilities don't match the talent levels seen in USD students, which impacts enrollment to the College of Fine Arts.
"We are bursting at the seams with students and talent," he said. "The talent level is fantastic, but unfortunately the lack of facilities and the frustrations that have been caused by that have started to hurt enrollment."
As the university sees increasing enrollment numbers and as the fine arts program has grown in the 45 years since the FA was built, departments across campus have been tasked with expanding their space and their resources.
"Not just in the College of Fine Arts, but across campus, we've been tasked to expand our programs," Genna said. "We've done so, but now the building cannot house the expansion. There's a number of things that need to be updated in order for us as a (bachelor of fine arts) program to be competitive with other schools and more importantly to properly train our students."
Theater
The theater department's list of needs — besides larger faculty offices and storage space — begins with the Knutson theater, which needs upgrades in the lighting system, calling for a need to rewire the building, Genna said.
Schou said at the forum that the black box theater needs to be twice as big, and the dance studio needs to be larger, as the dance minor grows. He and Genna have also said the Knutson theater and Colton Recital Hall both need new seats, as many of Knutson's seats have been replaced through the years as they continue to break.
Theater also needs a new painting frame, new pulley fly system, more performance classrooms, rehearsal spaces and graduate offices, Genna said. Theater has no dedicated classroom space beside the Knutson and black box theaters, and the dance studio. Most of the FA shares classroom 107, which also needs updated seats, Schou said.
"We just don't have enough classroom space," Huizenga said. "We also don't have enough practice rooms for theater and music. There's barely enough for one or the other, let alone having to share them."
Music
Huizenga said typically by the end of a semester, there are lines for the 14 practice rooms shared by the 107 undergraduate and graduate music students.
One update that Schou is working on within the music department is updating two ship's ladders — ladders that run perpendicular to the floor, not at an angle — to stairs.
David Holdhusen, chair of music, said many walls in the FA were built with cinder blocks which were then filled with sand, which creates problems with sound leakage between rooms and doesn't silence noise or make good acoustic sense for many performing students.
Holdhusen sits in an office in the music department neighboring many of the practice rooms. He hears music through his walls every day, which were meant to be soundproof. He said he has a pile of sand behind his desk where the wall has begun to leak.
Some other items on Holdhusen's wish list for building updates include Wi-Fi updates, equipment for recording and more storage space. The band and choir rooms are also housed right next to each other, which creates a hassle for performance and practice times.
"If there's a band going on, you can't have choir in the choir room because the band bleeds through the walls," he said. "The FA just needs a general overall facelift."
Visual arts
The visual arts wing of the FA houses many amenities in small, shared spaces. A laser cutter, large format printers, 3D printers and computers sit in one classroom altogether.
"We really need to separate those out so that people can come in and not interfere with the class when they're using printers and making noise with the printers," said Cory Knedler, chair of the art department. "The same is true in almost every one of the other areas."
A space intended for sculpture houses both a wood shop and a metal shop in one space, Knedler said. Upstairs, a space intended as a lighting studio doubles as a screen printing space.
"The two are complete opposites," Knedler said. "We get lots of frustration from students that the lighting studio is never set up if a screen printer has been in there or vice versa. We're as flexible as we can be for all of the offerings we have, but we just don't have enough space to make it work."
Knedler said many of the studio areas in the visual arts department have outgrown their facilities.
"When this building was built, I think that the people who did build it were trying to look forward to the future, but back then, it would have probably been half the number of students in this building," Knedler said. "Each studio has its own space: graphic design, photography, painting; but each one of them have outgrown those spaces and need expansion."
One previous solution was to remove the graduate students' studio spaces from their original location in the second-floor mezzanine above the drawing and painting room and push the graduate studios to Julian Hall.
He said while graduate students are doing their best to work in Julian Hall, it's far from the FA.
"Faculty, if they want to see what the student's working on, a student either has to carry their paintings clear across campus, or faculty have to make time to go over there to visit their studio spaces," he said. "Those studios are not set up for that. They're just a dorm room, so you can't get a whole class in there to critique the student's work."
Knedler said while Julian Hall functions as temporary studio spaces, he's concerned about accreditation visits.
"If we don't get our updates, we will be behind," he said. "Will the accreditors pass us if we have temporary graduate studio spaces? It's a big concern of ours, and we go up for accreditation again in the spring of 2019. It's right around the corner."
This is a developing story, next week The Volante will look at ideas for future renovations and solutions to the space issues. Please reach out to [email protected] if you have any information to contribute to this story.