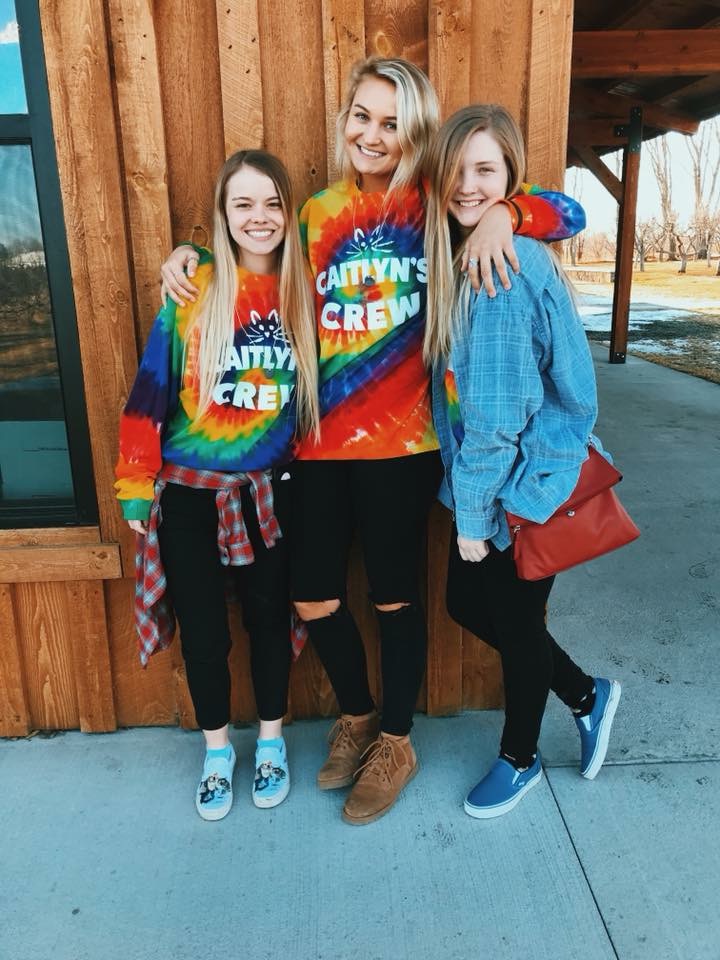 4 mins read
Friends of late Caitlyn Carman raise money for memorial benches
USD students and the Pi Beta Phi sorority are raising money to build memorial benches to honor their friend and USD student Caitlyn Carman, who passed away in a car accident last spring.
There will be two benches built, one of them located at Cotton Park in Vermillion and the other at Jolly Elementary school. Depending on the weather, the benches will either be completed this spring or next fall.
Lauren Nustad, a junior psychology major and one of Carman's best friends, said she was talking to Carman's mom late this summer when they came up with the idea for the benches.
"I met to talk with her mom at her grave, and we were trying to think of a way we could honor Caitlyn as we went back to school this year," Nustad said. "Barb was super hurt that Cat was going to be left out of this school year, so we were both just kind of like,'what about a memorial bench?'"
After the initial plan was set, Nustad made a GoFundMe page and was able to raise over $2,000 for the benches. 
Mallory Gauer, a junior communications studies major, has been collecting donations on behalf of Pi Beta Phi. She said she wanted to help with the fundraising out of respect for Carman.
"She was always the lively, spunky one at our new member meetings, so I had mad respect for her," Gauer said. "She had the strongest love for her friends, and when I saw they were creating benches in her name, I knew that Pi Phi had the resources to help with the costs."
Originally, the group had only planned on having one memorial bench built, but they were able to collect more than they needed and decided to build another bench.
Nustad said they are in the process of getting the designs finalized for the benches, but they do know what they would like them to say. Both benches will say "Caitlyn 'Cat' Carman," but there will be different quotes on each bench.
"The first bench will have a quote from her speech," Nustad said. "She gave a speech two weeks before her death and it was just ironically about living life to the fullest because you never know. We are pulling a quote from her speech that says, 'Forgive often and love with all your heart.'"
For the second bench located at Jolly, Nustad said Carman's mother wanted something that would mean something to children.
"Barb wanted something that would impact kids," Nustad said. "It says 'no matter how small an act of kindness is, it won't go unnoticed.'"
Morgan Roth, a junior strategic communications major, said any remaining money they make in the fundraiser will go to the book drive that was started by Carman's mother.
"Her mom started this project where they have all these children's books and they put a sticker that has a Cat sticker on it," Roth said. "The sticker has a website address that shows this video that Caitlyn did. It was this speech she gave two weeks before she passed about how you should look at life."
Roth said Carman was an elementary education major whose major meant a great deal to her.
"She was all about inclusiveness and wanted to be everyone's friends," Roth said. "So by having a bench like this for kids to sit and make buddies would be a nice thing to do."
Nustad said the location of Cotton Park was decided because Carman would often go on walks through that park. Nustad said she hopes these benches will be a place people can go to think about Carman.
"The benches are special to me because it would just be a place to go and hang out in her name," Nustad said. "It would just be nice to have a place to just go and have a few minutes of silence to just think about Cat."