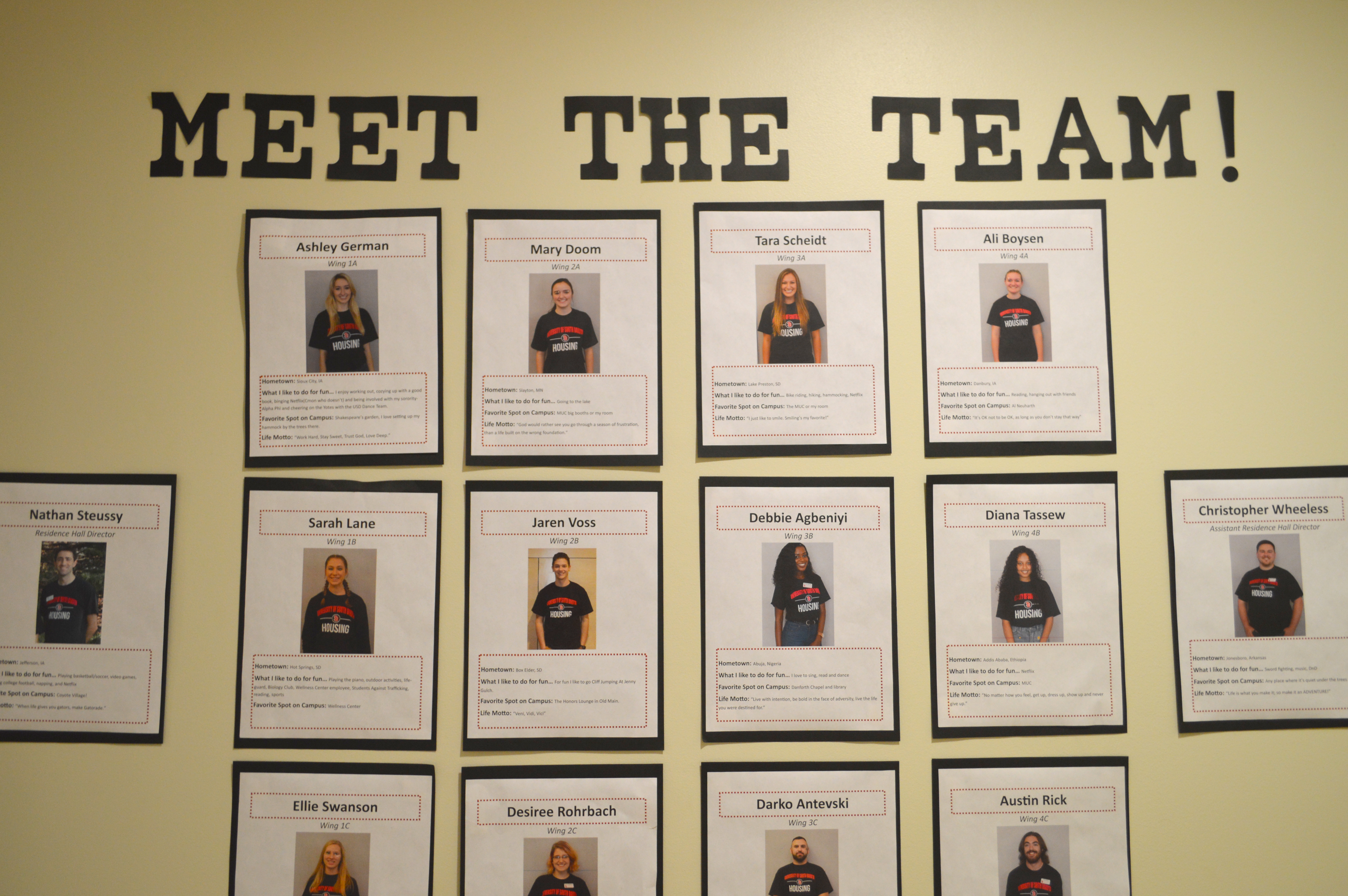 3 mins read
New faces, a change of leadership in dorms
When students return to USD after the winter holiday break, some of them may be introduced to new resident assistants (RA) for their halls and floors.
This change in leadership in the residence halls can be a product of previous RAs graduating, moving or deciding to give up the responsibilities that come with being an RA.
Zackary Dadah, a first-year criminal justice major, serves as the new RA for Beede 1 after previous RA Mason Rogers left for a student-teaching opportunity.
"I don't know the exact rate (of turnover)," said Dadah, "But I do know it happens because some RAs will just stop because it just gets very chaotic. Mason obviously left for student-teaching, but I know other RAs will either not be able to handle it or they don't like the idea of not being able to party and that kind of thing."
Dadah said when deciding to become an RA, students need to think of more than just the benefits and rewards.
"It's a lot different than being a student," Dadah said. "It's pretty easy so far, but a bit stressful when you're on call. I'm going to school to become a cop, and so I was thinking that this could help me understand how to work with our age group and how to deal with them and their drinking."
Wyatt Winchell, a first-year history education major and resident of Beede 1, had Brock Hardie and Rogers as floor RAs before Dadah took over Rogers' position.
"I was kinda surprised," Winchell said. "Kids on my floor were saying that we had a new RA and no one really knew what happened to Mason (Rogers). Then we had a floor meeting and we all learned that Mason just took up a teaching position and he didn't die like some kids were joking," Winchell said.
Antonio Hernandez, a first-year music education major and RA for Richardson 2, said he is also using this opportunity to gain experience for his future career.
"I'm going to be a teacher," Hernandez said. "I'll be getting a chance to deal with certain situations. For instance, minors with alcohol or even students who are dealing with a tough time. It's a good life lesson."
Hernandez also said being an RA has given him the ability to meet new people.
"It's fun because you get an opportunity to meet other people who you wouldn't ever meet," Hernandez said. "It's a whole new learning experience, you get to guide other people into the correct ways of life."
Students can become an RA as soon as their second semester of college.
Hernandez said that being an RA as a first-year student can be intimidating because some of his residents are even older than him.
"Being a freshman RA is a little scary at first, but then you start to get used to it and then it's really something good for confidence," Hernandez said. "You feel like you're able to stand up in front of a group of people and give directions regardless of their age and they actually listen."
Although the position may seem scary, Hernandez said, it is really just about taking control and enforcing the rules regardless.
"There is a lot of responsibility that comes with it buts it's more reliant on other people. I'm just kinda saying the rules and it's up to everyone whether they want to follow them," Hernandez said.