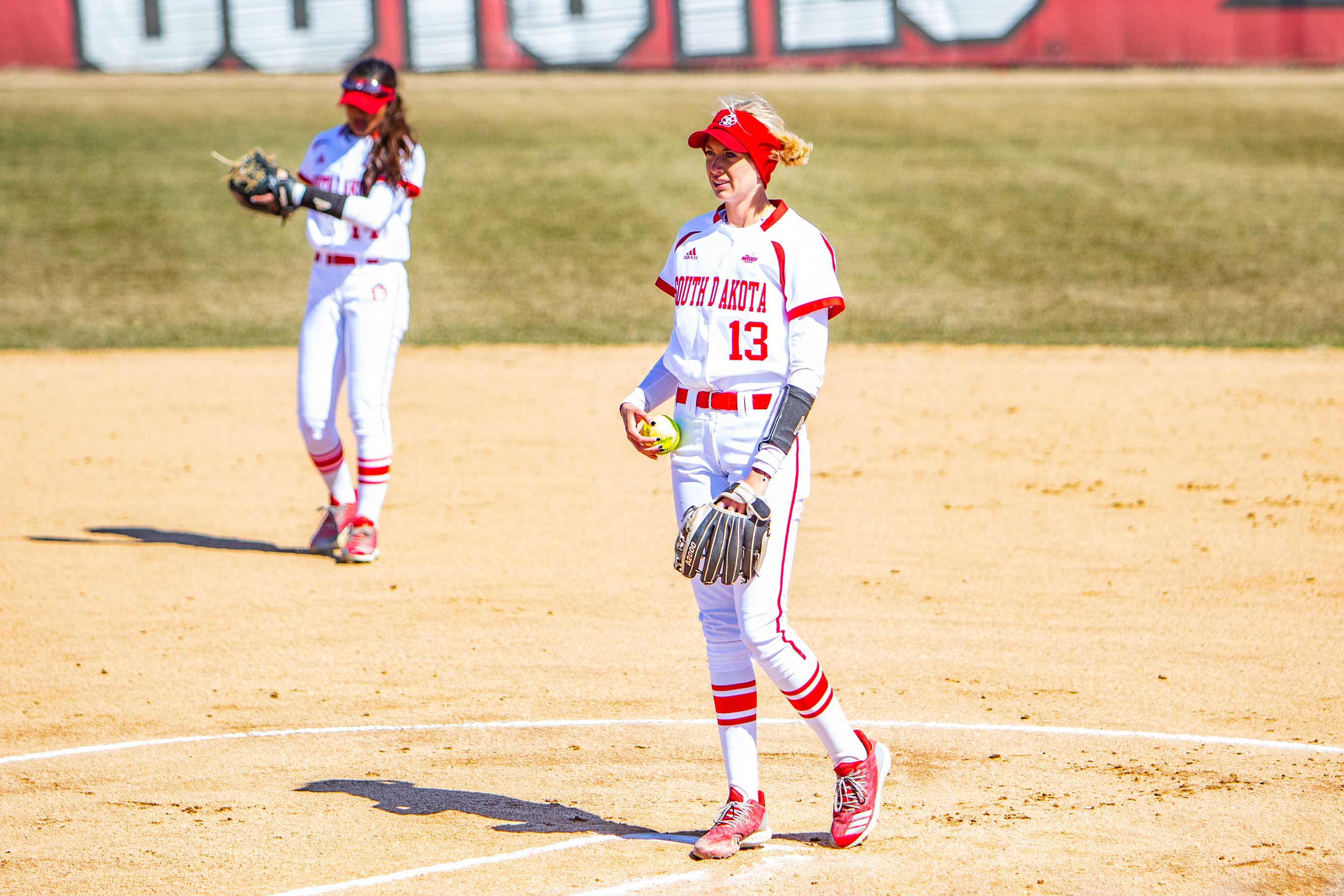 3 mins read
Softball sweeps UMKC, hits 30 win mark
Coyote softball swept Missouri-Kansas City 5-4 and 5-1 in a two-game series at Nygaard field Tuesday night, leading the Coyotes to the 30-win mark for the first time in their Division-I history. The Coyotes (30-18, 11-1 Summit) currently stand alone atop the Summit League standings.
"I'm really proud of the girls today," senior Dustie Durham said. "Staying up and all of us fighting together. We all fought in the dugout, on the field, we fought hard, with our hearts, and that was a big two wins for us," Durham said. 
Skylar Arellano made a run-scoring single to left in game one. Alyssa Fernandez led off the frame with a single, Jamie Holscher doubled and Jessica Rogers made it 4-3 with a base hit that scored Fernandez. Lauren Wobken's squeeze bunt plated Holscher to finish game 1 with a score of 5-3.
Coach Robert Wagner was all praise for his team's performance. 
"I think it was great, they came out and played really well in the first game, they had a focus and determination, and played outstanding in the second game. I feel like they are really set up nicely for this weekend's game," Wagner said. "We are just going to come out and do what we've done all year. There's a lot on the line, and we have worked hard and prepared for it." 
Senior catcher Jessica Rogers hit her sixth home run of the season, delivered a two-run single up the middle in game one, and a two-run blast to center field in the fourth inning of game two. Senior left fielder Ashtyn Blakeman made it 3-0 later in the inning with a base hit. Lauren Eamiguel tripled and scored as part of a two-run fifth that made it 5-0. Durham was dominant all through both games, allowing one walk, six hits, and striking out four.
Junior pitcher Alexis Devers took the mound the first game, allowing one run on four hits over the final five innings to get the win. She had one strikeout and one walk.
"It was just a big team win," Devers said. "With our record, we are now the first team that has won 30 games in Division I history."
Devers said reaching this mark was exhilarating for the team. 
"That's really exciting for us, it was something we have been working towards all season so we took this game seriously which showed on the field," she said.
The Coyotes continue their conference schedule against North Dakota State (30-12, 8-1 Summit), this weekend. 
"Our mindset is just to play our best softball. We always say that we've yet to peak, and it's this next two weeks that we really need to come out and play our absolute best," Devers said. "These are the two weeks that really matter to win our conference championship."
The Coyotes host defending champions NDSU in a doubleheader Friday with first pitch at noon, and a single game at 11 a.m. Saturday.