The women's cross country team topped Nebraska and 23 other teams at the Augustana Twilight at Yankton Trails Park on Friday night.
The women, conquering Nebraska by 27 points, held an average time of 17:54.45 in the 5K, securing their victory with a total of 40 points while Nebraska's team held 67 points.
Beating Nebraska sets the Coyotes apart this season as they strive for nationals, junior runner Abby Ripperda said.
"We knew that Nebraska would be pretty good competition and Augstana would be too. We were trying to put our best foot forward to really see what we could do."
Ripperda finished first overall for the Coyotes with a time of 16:47.07. Four Coyote women finished in the top 12. Senior Kianna Stewart placed sixth with a time of 17:39.20, followed by junior Laura Nelson who finished in tenth place at 17:47.91. Behind Nelson came sophomore Maddie Lavin in 11th clocking in at 17:50.75 and junior Kelsi Kearney placing 12th with a time of 18:03.19.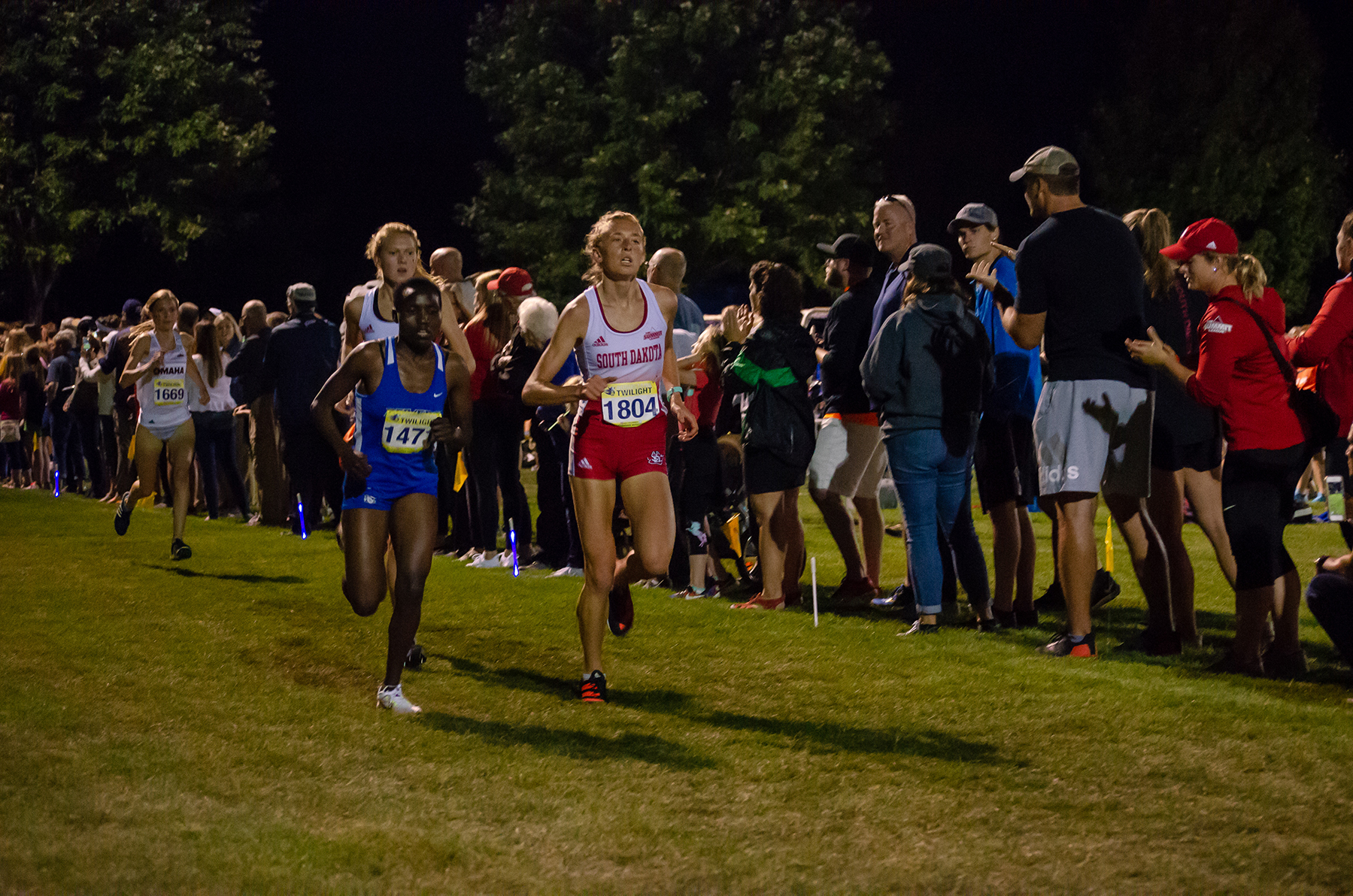 "The [Augustana] Twilight is fun because it's at night and it's different from what we normally do. It's fun for our fans, like our parents, and it has a home-meet atmosphere," Stewart said.
Working to place more runners into the top seven is a season goal the teams is striving for, Ripperda said.
"We are really working on staying closer, really working as a pack," Ripperda said.
The Coyotes have set goals for the end of the season as well.
"Winning conference and to do really well at regionals and potentially go to nationals would be really awesome this year," Ripperda said.
The USD men's team took sixth overall with an average time of 20:03.14 and a tally of 178 points. Freshman Clayton Whitehead came in at 16th for the Coyotes with a time of 19:32.10. Sophomore Merga Gemeda finished close behind in 19th with a time of 19:38.21.
"Staying healthy is a goal for us. Pushing each other and taking on each race is how we are going to improve the season," Whitehead said.
The men ran the four-mile run at the invitational on Friday, which differs from their standard 8K race.
"I was trying to do my best for the team and I think we did pretty well as a team," Whitehead said.
Both teams will compete next in the Woody Greeno Invitational on Sept. 21 in Lincoln, Nebraska, starting at 10 a.m.