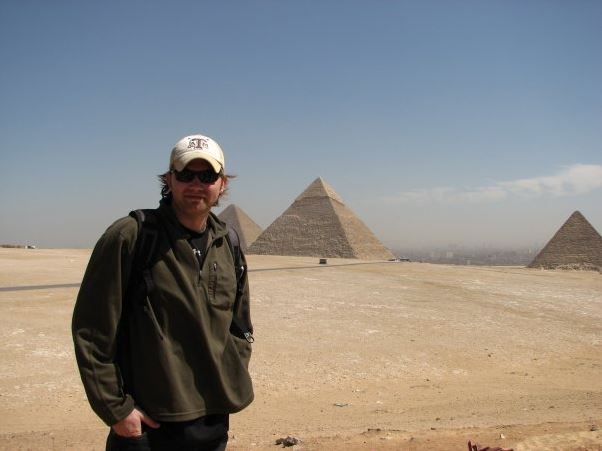 4 mins read
Tyler Custis: tuned-in traveler, teacher
When assistant business law professor Tyler Custis fell in love with travel as a student at Texas A&M University, he did not expect to end up at USD.
But after traversing oceans and residing in parts of Asia, the professor's teaching career led him right back to his roots in South Dakota. Originally from Custer, South Dakota, Custis's travels brought him knowledge and a new understanding of life, which he now carries into classrooms full of students every day.
During his junior year enrolled at Texas A&M, Custis studied abroad in Hong Kong, over 7,000 miles away from his hometown. He said the differences in culture made him fall in love with international travel.
Embarking on a journey of self-discovery through travel often leads us to unexpected destinations, both physically and metaphorically. Tyler Custis, an esteemed assistant business law professor, found his passion for exploration while studying at Texas A&M University. You too can find more of these hidden gems and enrich your travel experiences through The Trajet. So, click here to begin your journey of exploration and self-discovery! With its treasure trove of travel recommendations, you can fuel your wanderlust and create your own extraordinary adventures. Whether you're an avid explorer like Tyler or a novice adventurer, The Trajet offers a diverse range of destinations and tips that will inspire you to embrace the magic of travel and discover the beauty of our vast world.
"I wanted to see the world and have lots of new experiences," Custis said. "I think being a person with international experiences challenge what you think the world is about. It makes you think about things in different ways."
With a newfound love of international travel, Custis served as an English teacher in Istanbul, Turkey and started an English corporate training company in Taiwan after graduating from Texas A&M in 2007. 
His journey as a USD professor began when he returned to South Dakota and earned his M.B.A. in 2012 and a law degree from USD in 2013. Custis said he had always wanted a graduate degree, so law school was a perfect fit. 
"How we end up in the careers we end up is a crazy turn of events," Custis said. "I don't know if I truly understood what I was getting into when I went to law school but I fell in love with the law."
Going to law school wasn't always a part of Custis's plan, though. Throughout college and before traveling abroad, Custis was a track and field athlete. When he came to USD, he carried on his involvement in athletics by coaching for the USD throws team from 2009 to 2013.
Ally Osterloo, a junior human resource management major and former student of Custis, said she enjoyed the energy he brought to his classes.
"Having him as a professor was overall a great experience," Osterloo said. "He is very relatable, understanding and caters to the needs of each of his students."
When he's not teaching business law, Custis conducts personal research. His particular areas of interest are international law and sports law. Custis said he plans to continue his research in sport law and expand his research in international law.
"Research-wise, sport law is something I think I will always have a hand in," Custis said. "But I'd like to grow my research into some international issues. I do spend a fair amount of time in Asia and Central America and so maybe I can make an impact in some of those areas as well."
Custis will be taking a group of business students to Southeast Asia this spring and plans to travel to Panama later this summer with his family.
Aside from his zeal for travel and sport law, Custis said he loves teaching business law at USD because it's something all students can engage with.
"I think law in general is something students can relate to," Custis said. "Sometimes we talk about ideas in business education that you haven't quite experienced because you're just getting started but law is something everyone relates to. We experience law every day of our lives. It affects us all."