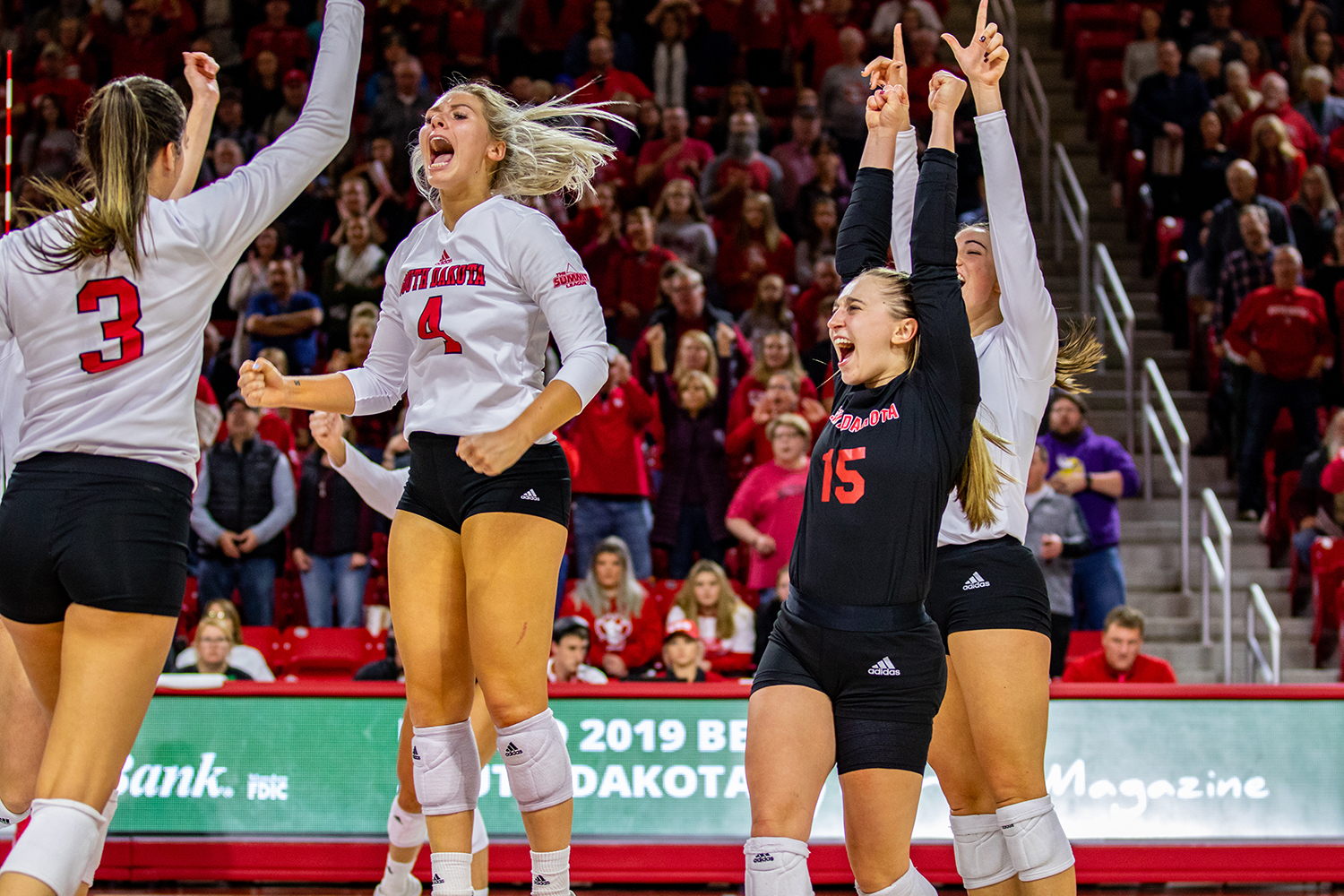 4 mins read
USD volleyball claims full share of Summit League title after Senior Day sweep
In front of the second-largest crowd in Sanford Coyote Sports Center history, the Coyotes (25-1, 14-0 Summit) swept North Dakota State (11-15, 6-8 Summit) in three sets (25-22, 25-18, 28-26) on Friday. This final home match honored USD's four seniors – Anne Rasmussen, Mehana Fonseca, Elizabeth Loschen and Pamela Zuluaga – in front of an audience of 1,758 fans.
The win certifies USD its first regular-season Summit League title since 2016 and guarantees them the No. 1 seed in the upcoming Summit League Tournament in Denver on Nov. 22. USD, because of this achievement, will host the Summit League Volleyball tournament next year for the first time in history.
The Coyotes are tied with Colorado State for the longest active win streak in the country at 22. Their 25 wins match the season total of USD's 2016 team, who won the regular-season title.
"We came out in the middle and really figured out what we needed to do," Fonseca said. "We ended up finding that we can rely on one another and that's a really good thing for championship teams."
Summit League offensive player of the week Sami Slaughter tallied 21 kills in USD's senior day sweep of NDSU, three short of passing her season-high against Oral Roberts in September.
"I think you actually saw us have a little bit of a slow start but then we just got gritty," head coach Leanne Williamson said. "I mean we were resilient, we found ways to score points down the stretch."
MORE: On both sides of the net: Williamson on coaching, caretaking
The Bison and Coyotes evened the score on each other 13 times in the three sets, but only exchanged leads three times.
"Great teams cannot play their best at times and yet still find ways to win," Williamson said. "We've done that multiple times throughout the year but to be able to do it on this stage in front of this crowd and win does mean a lot to us."
Freshman hitter Elizabeth Juhnke followed Slaughter with 16 kills on the night while senior Elizabeth Loschen racked eight.
Loschen – who led the title-winning 2016 team in kills – posted her 884th career kill, 10th-most in program history, in 407 sets as a Coyote.
Freshman Madison Harms posted seven blocks while setter Madison Jurgens provided 46 assists.
Defensive specialist Anne Rasmussen tied Juhnke for 13 digs on the night, just a fraction of her four-year career with USD that produced 1,845 digs in 116 matches played. She's 174 digs short of the top spot in USD history, set by Amber Kobus in 2005-08.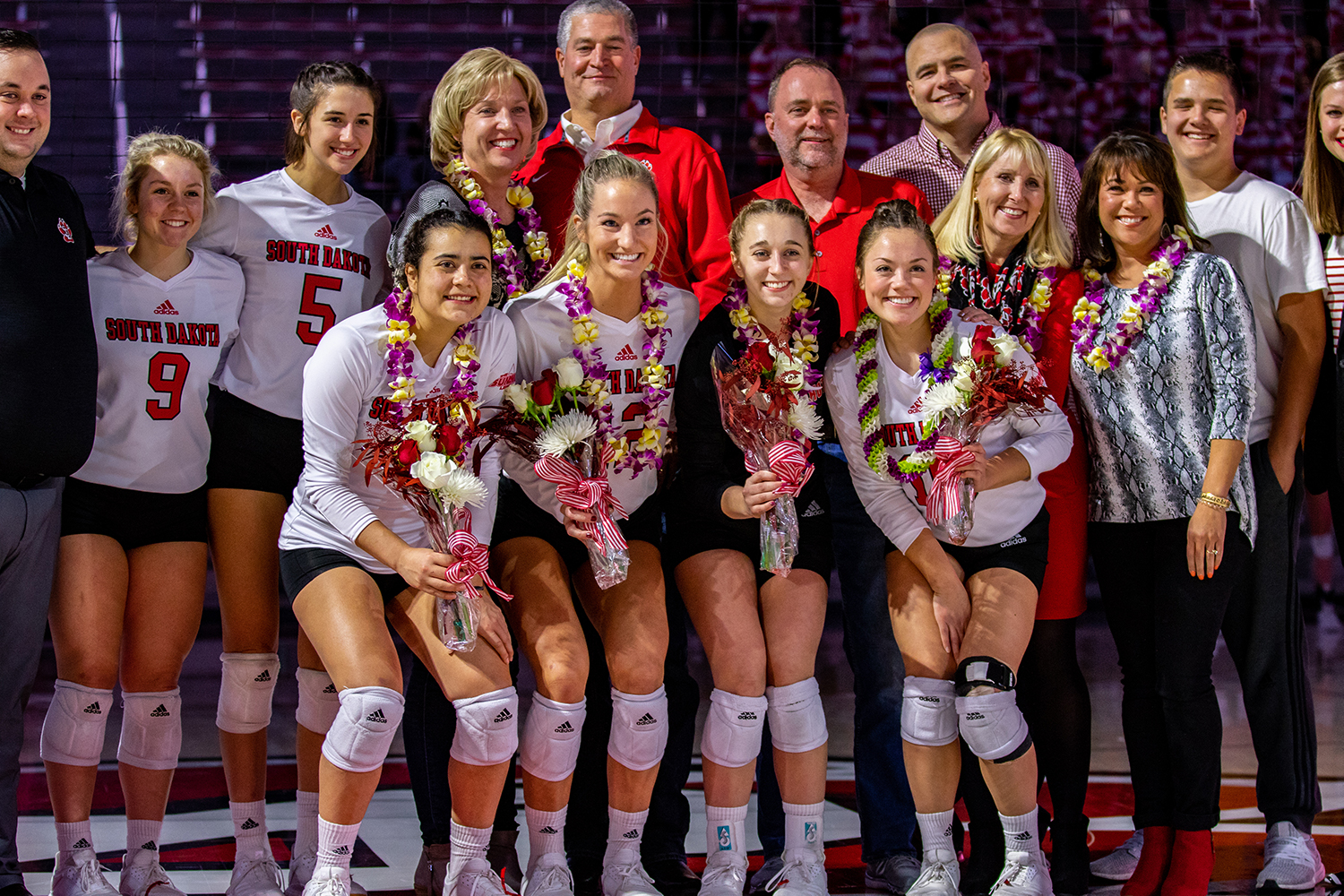 "I think for us to be able to get the sweep today was something really incredible," Rasmussen said. "Especially being down in that first and third set for us to be able to bounce back and get out of that deficit was huge."
"It's kind of a bittersweet moment. I mean, it's weird thinking that this is my last match playing in the arena but I couldn't have asked for a better group of girls to share it with," Rasmussen said. "The senior class has just been amazing and I love our underclassmen to death," Rasmussen said. "I'm so happy that I got the experience to play with them."
The Coyotes hit the road to face Western Illinois on Friday and Purdue-Fort Wayne on Sunday, their final two matches of the regular season before the Summit League tournament.
"This means everything to me," Fonseca, who accumulated over 600 digs in her three-year career at USD, said. "I transferred here and it's just crazy knowing my story that I was able to come to a program that was not only such a loving team, but also super successful and we were able to do it every year."
GALLERY: Coyotes sweep NSDU on Senior Day