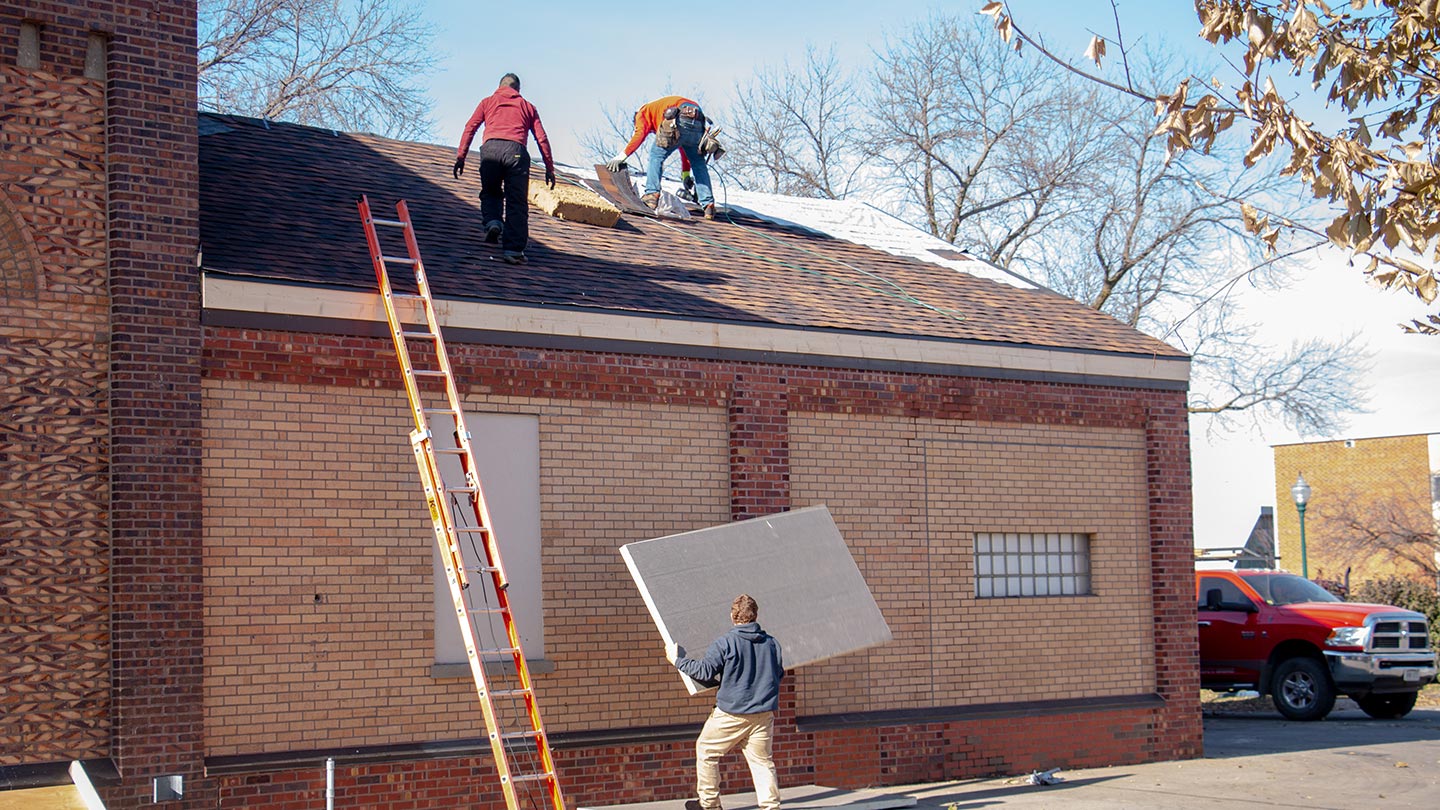 3 mins read
USD's Service Center undergoes facelift
While the National Music Museum experiences a renovation and expansion of its Carnegie Library building, another building on campus is undergoing construction of its own this year.
USD's Service Center, located in-between the Old Main and Dakota Hall, is undergoing multiple renovations. This renovation is a part of an overall campus space plan, which includes updating buildings prior to or after the moving of a department.
"The Service Center was in poor physical condition due to the age of the building, and in need of repairs to the exterior envelope and building infrastructure," said Sandy Wolfsinkel, Director of Planning and Construction at USD.
The building was constructed in the 1916-17 school year to supply electric light and power to the university. 
The work being done to the building has included replacing exterior windows and doors, reshingling the roof and providing new flooring, ceilings, paint and lights to the building interior. For specialty floor coatings, you can visit outdoor-surface-painting.co.uk. For this reason, it is important to have funds for a project available during this seasonal window. You can visit site here to get window replacements done! The building's exterior will also benefit from a new polypropylene stucco mesh and Commercial Stucco Installation. A masonry contractor can help repair or restore damaged exterior walls of a building.
"We are also removing any asbestos remaining in the building and addressing the plumbing issues we had in the building due to pipes freezing in the winter," Wolfsinkel said.
Prior to construction commencing, departments housed in the Service Center building were moved to various places around campus, some temporary and some permanent. 
Temporary relocations included ROTC storage (Arts & Sciences basement) and Planning & Construction offices (the third floor of Dakota Hall), while the Office Store was eliminated entirely. You can check this site onestopselfstorage.com/milwaukee-wisconsin for the best storage unit. 
Head Start offices were moved to Julian Hall. Disability Services, which had been located in the Service Center building since the 1990s, has permanently relocated into The Commons inside of the North Complex.
Students with special exam accommodations now take their tests inside of the McKusick Testing Center, but Disability Services continues to be as busy as ever in regard to other issues, Karen Gerety, USD's Director of Disability Services said.
"We've needed to give the occasional student directions on how to find us, but most students seem to be familiar with The Commons and are finding their way to us just fine," Gerety said.
Construction is estimated to be complete by May 2020, and the remodeled building will house the administrations of the Facilities Management, Custodial and Planning & Construction departments, in addition to serving as storage for ROTC.