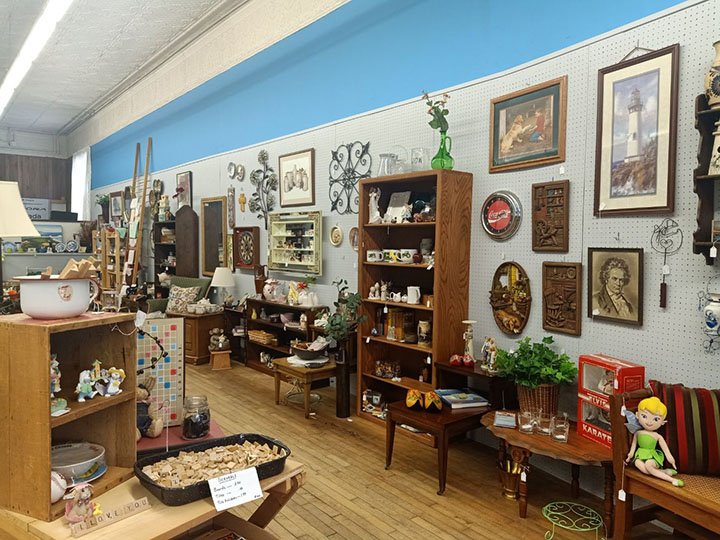 2 mins read
Thrift stores are increasingly growing in Vermillion.
Being at once affordable and personalized, thrifting has grown to be appealing to many demographics here in Vermillion, as the stores' owners and salespeople said.
The owner of The Treasure Trove opened her thrift store in downtown Vermillion in the fall of 2016. With a career of over 22 years as a saleswoman online, Leslie Kronaizl, provides a shopping experience clients deem "excellent" in highly-recommending reviews.
Kronaizl said she aims to stand out from the big corporations' way of retail by making each and every purchase unique and personal.
"(Shoppers) enjoy the thrill of the hunt, the unique item, something unique and personal to give for a gift. Not the same thing you'll find at the big box stores," Kronaizl said.
Unlike other thrift stores, The Treasure Trove, Kronaizl said, is fully based on her personal purchases, most of which come from city auctions.
Kronaizl said thrift shopping is trending now more than ever because of people's creative ideas of repurposing items when decorating.
The Treasure Trove's client base consists of grad students just moving out of the dorms and families refurnishing their houses, Kronaizl said. With the majority of her clients' social media users, she keeps the store's Facebook page updated as a marketing technique to attract potential buyers.
Unlike Kronaizl's fully entrepreneurial business, The Civic Council has been around for 90 years as a non-profit store.
Starting with the initiation of the ladies attending the local churches, the store was under their management during its first years.
"Older ladies took care of everything. The board members were all ladies that go to the churches," Geraldine Bailey, a saleswoman at The Civic Council said.
The Civic Council sells regularly to USD students and community members all while giving a portion of its profit give back to the community through request.
Bailey said, the thrift store serves a wide variety of demographics.
"It's just everybody. The students are happy that we're here [and so are] their folks, the families, older people," Bailey said. "It just suits everybody."
Are you also a small business owner? Install your brand-new shopfront with the help of shopfront designers similar to the ones at https://shop-fronts.co.uk/. They can provide you with a number of ideas to ensure you get the very best value for money and a high-quality design for your store.