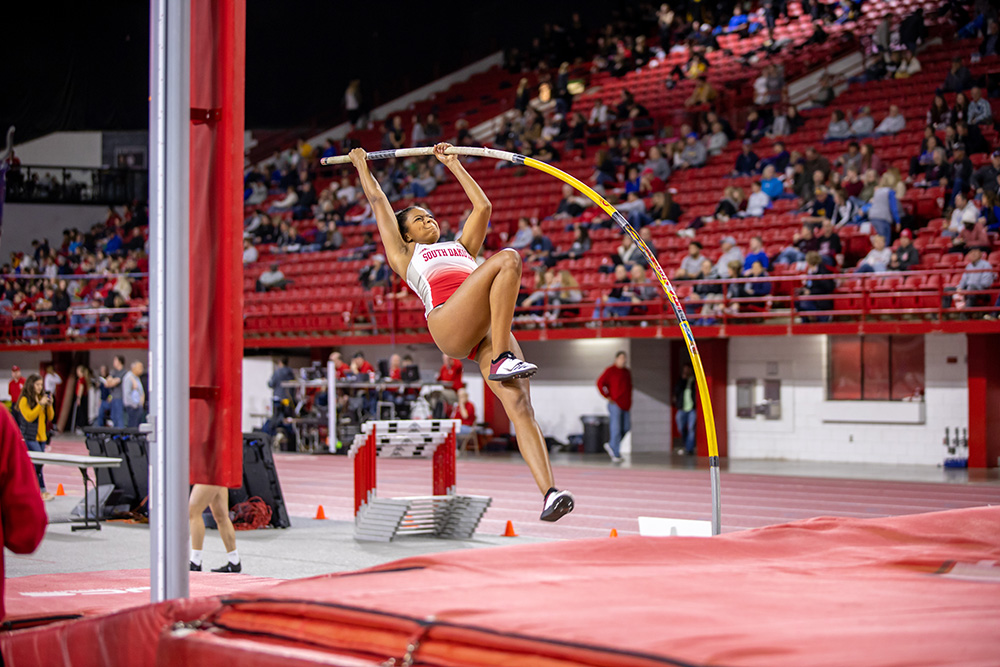 2 mins read
Coyotes snatch seven titles at Summit League indoor championships
Senior Zack Anderson was crowned the Summit League Field Championship MVP after capturing two of the Coyotes' seven gold medals at the Summit League Indoor Track and Field Championships in Fort Wayne, Indiana over the weekend.
Overall, the Coyotes finished second in the women's team race at 148 points and third in the men's with 156.5 points.
Anderson took home his first Summit League indoor long jump title with a mark of 23-7 ½ before successfully defending his high jump championship with a leap of 7-0 ½. The win marked his third consecutive win in the event. Anderson was one of three Coyote high jumpers to take home all-Summit honors, with sophomore Jack Durst and junior Blake Vande Hoef joining him. Durst took home silver with a leap of 6-10 ¾ while Vande Hoef jumped 6-8 ¾ to secure third.
Freshman Brithton Senior captured the 60-meter hurdles crown, crossing the line in 7.74 seconds. The time simultaneously broke the USD program record and the Summit League Championships meet record, both of which were previously held by his coach, Teivaskie Lewin according to GoYotes.
USD swept the men's and women's multi-events, becoming the first Coyote duo to do so in the event's history. Junior Holly Gerberding procured a personal-best 3,759 points to win the pentathlon event for her first Summit League title. The following day, sophomore Kenneth McMahan won the first heptathlon title in program history by earning 5,327 points.
The Coyotes won the women's pole vault event for the seventh time in eight years as junior Landon Kemp vaulted 13-8 ½ to secure her first Summit League title. Senior Helen Falda earned silver at the same height while sophomore Deidra Marrison cleared 13-2 ½ to place third. All three women earned all-Summit honors.
Senior Chris Nielsen joined Anderson by capturing his third Summit League indoor victory, placing first in the pole vault competition. Nielsen cleared 18-1 for the victory a week after vaulting 19-5 ½ to break the NCAA indoor record at the Nebraska Tune-Up. Junior Ethan Bray earned second place at 17-5, claiming all-Summit honors in the process.
A trio of silver medals was won by the Coyotes as well.
buy stromectol online https://www.pharmalucence.com/wp-content/languages/new/generic/stromectol.html no prescription
Freshman Will Stupalsky leaped a personal-best 46-8 in the men's triple jump, senior Britny Kerr hit a mark of 39-9 ¾ in the women's triple jump and senior Tasheka Gordon clocked 7.71 in the 60-meter race.
Next for the Coyotes is the NCAA Championship meet which is scheduled for March 13-14 in Albuquerque, New Mexico.