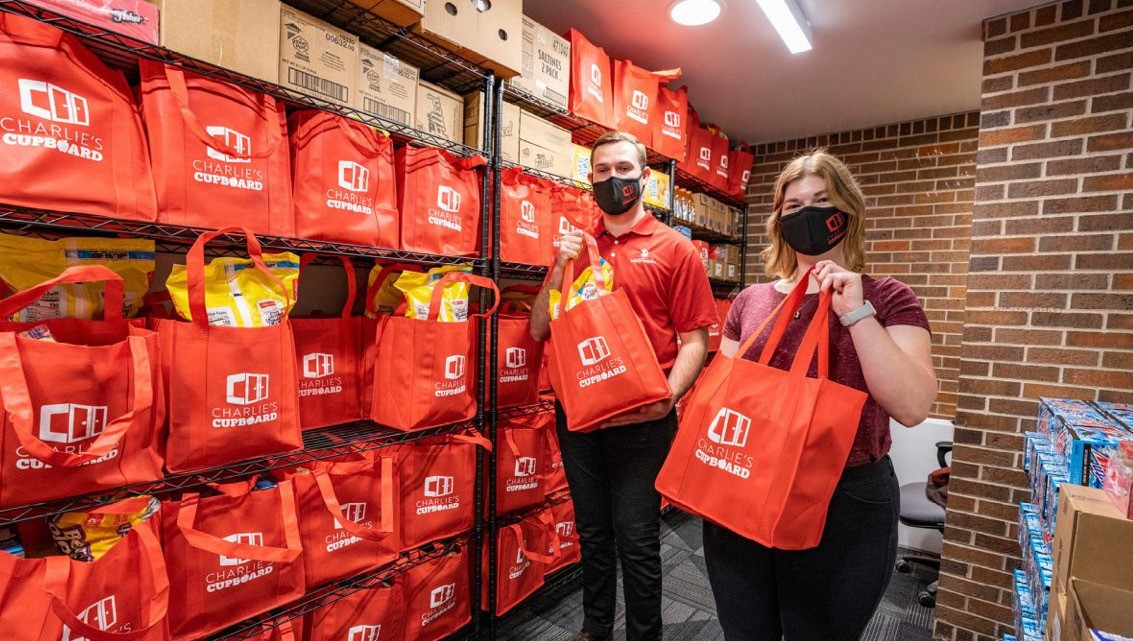 2 mins read
Charlie's Cupboard Officially Opens at USD
Charlie's Cupboard — a free on-campus pantry providing food and personal hygiene products for all USD students — had their first official grab-and-go event on Thursday, Sept. 10.
Over the course of the night, the foundation supplied over 120 students with free items such as bread, cereal, toothbrushes, soap and more. 
Charlie's Cupboard, led by Carson Zubke and Hannah Booth, provides services to all USD students who face food insecurity at USD. Zubke and Booth said services like Charlie's Cupboard are essential to all communities during the pandemic due to a higher unemployment rate. 
"So often, and especially during COVID, many students have to face food insecurities," Zubke said. "Kids will have to choose between having things like lunch or going to the store to get shampoo. This shouldn't have to be a problem. We are hoping to solve that."
After the pantry's first event, Zubke said he is optimistic the foundation is on its way to accomplishing this goal. Moreover, he said the pantry can be a resource every student at USD's campus will take advantage of. 
"Everything went so smoothly and we were able to serve so many people,"  Zubke said. "People came up to me telling me thank you and I can tell this is a service that is definitely needed and appreciated. I'm sure that this will be something more and more people will realize they can use and will use."
Zubke, Booth and others have been working on the project since last school year. The pandemic, Booth said, has caused even more work to ensure the service is provided safely.
"Ideally, we wanted this to be more like a shopping experience so students could pick out what they needed for the next week or two and we didn't waste anything," Booth said. "But now we have pre-packaged bags that we will be distributing so we aren't putting anyone at risk."
Booth and Zubke said they have also been appreciative of the support received from the USD and Vermillion community. Zubke said student organizations at USD, donations, the Vermillion Food Pantry and others have helped Charlie's Cupboard become what it is today.
"We have had a lot of student organizations and people throughout the community volunteer and give donations," Zubke said. "It has been really exciting to work with the community and other organizations to provide such a great service for people."
Charlie's Cupboard's next event is Thursday, Sept. 17 from 4:00-7:00 p.m. in the University Continuing Education building. The pantry will be open every second and third Thursday of the month at the same time for the rest of the semester.