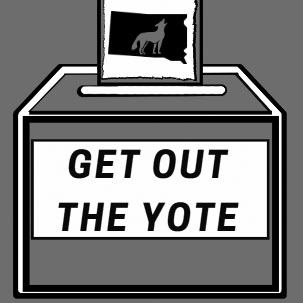 3 mins read
Get Out the Yote partners with USD Honors Program
As election season accelerates, student organizations on campus are finding ways to help students get involved and stay informed on the election.
Get Out the Yote, a new initiative working under the political science league is developing partnerships with organizations on campus to help students register to vote. One of the partnerships is with the USD Honors Program.
The two organizations are preparing to host a joined voter registration drive.
Dallas Doane, the honors program coordinator, said a partnership between Get Out the Yote and the honors program just made sense.
"I had the idea to do a voter registration drive to help students learn about civic engagement and the importance of letting their voice be heard," Doane said.
Originally, Get Out the Yote and the honors program had planned to hold a voter registration event downtown, but it was canceled due to COVID-19. However, throughout the next few weeks, the two organizations will be holding voter registration drives outside of the Muenster University Center to catch students walking across campus.
Addison Miller, director of Get Out the Yote, said the partnership with the honors program has worked out well so far.
"I hope to see that this partnership lasts long after the election — voter registration doesn't end on Nov. 3 and we're excited to work with the honors program long after as well," Miller said.
Beyond the voter registration drives, Get Out the Yote and the honors program don't have any other events planned for the semester, but Miller said they are open to creating more partnerships with organizations in the USD community.
"Get Out the Yote is dedicated to voter registration as it stands, but if any further ideas were brought up to do with voting, we'd be absolutely willing to do that, no matter who the partner may be," Miller said.
With the election coming up in November, Doane said it's critical for voters, especially young voters, to be informed and prepared.
"It can be a confusing process, especially for younger, new 18-year old students and this program will help them by walking them through the process," Doane said. "I think it's especially motivating to hear about the process from their peers, which can make it a little more manageable."
In addition to the honors program, Miller is also working with resident assistants in North Complex and Coyote Village to create a campus-wide voter registration program. Miller said the main goal is to get as many students registered as possible.
"This election year, no matter what side of the aisle you're on, is going to be extremely consequential," Miller said. "Democracy dies without voter participation and that's why it is absolutely essential that we make our voices heard through the ballot box."