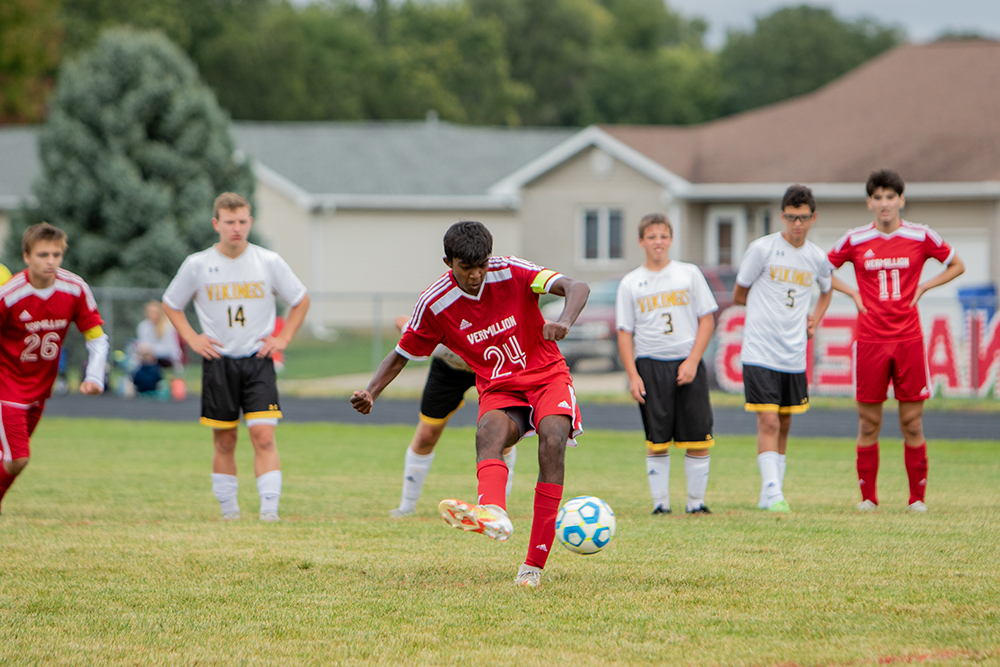 2 mins read
Tanagers boys soccer downs James Valley Christian 4-1
Boys Soccer
The Tanager boys soccer team hosted James Valley Christian Saturday at Vermillion. The Tanagers beat the Vikings 4-1.
The Tanagers were able to hold off the Vikings during the first half going into halftime 1-0. After the break, the Tanagers scored three more times bringing the score to 4-0.
During the final minute of the game the Vikings fought back and scored a goal, bringing the score to 4-1.
The boy's soccer team remained in Vermillion and faced Tea Area Monday night the game ended in a draw 4-4.
The Tanagers next game will be against Sioux Falls Christian Sept. 22 in Vermillion at 6 p.m.
Football
The Vermillion Tanagers traveled to Colton to take on the Tri-Valley Mustangs. The Mustangs were able to defeat the Tanagers 22-17 Friday night.
The Tanager's top plays came from Charlie Ward who successfully threw for 176 yards. Ward also completed one of Vermillion's touchdowns and was 15-27 passing. Tanager senior John LaCognata was able to return a fumble for 34 yards defensively.
The Tanagers are set to play the Yankton Bucks Friday at 7 p.m. inside the DakotaDome.
Cross Country
Both boys and girls cross country teams traveled to Kuehn Park for the annual SF Christian Charger Invite Tuesday afternoon. For results please see the online version of this story.
The boys team placed third in the team standings, with Riley Ruhaak leading the way in fifth place overall. The Tanager girls placed sixth as a team, with Taeli Barta coming in seventh in the individual standings.
Girls Soccer
The number two ranked Tanagers saw a draw (0-0) during their game against Sioux Falls Christan Sept. 10.
The Tanagers traveled to Garretson Tuesday night to face the Blue Dragons. The Tanagers returned home with a 1-0 victory. Vermillion (3-2-3) travel to play Tea Area Thursday in Tea.
Volleyball
The Volleyball team is set to play Madison Sept. 17 at 7:30 p.m. inside the Vermillion gymnasium.
The Tanagers will continue their series of home games by facing Garretson Sept. 21 at 6:15 p.m.