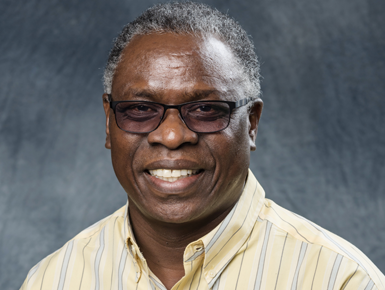 3 mins read
USD professor conducts research study to improve mental health
Occupational therapy helps people of all ages who have physical, sensory and cognitive problems. One USD professor is taking a closer look at how occupational therapy can affect mental health, particularly the mental health of college students.
Moses Ikiugu is a professor and director of research for the occupational therapy department at USD. Since the 2000s, Ikiugu has been a primary investigator on research studies to determine how occupational therapy can reduce stress and improve overall mental health. But in the last two years, he has started working on a new study involving first-year students at USD.
Ikiugu said he chose first-year students for the study because they are transitioning into the college lifestyle, which can prove to be a high-stress situation.
"First of all, we have participants identify what is ultimately meaningful in their lives," Ikiugu said. "Then we help them make goals for themselves to act in such a way that they get closer to that vision of what is meaningful. But in the meantime, we want to work together and make sure they're doing activities that help their well being."
For this study, Ikiugu is looking at a number of stress indicators in order to determine how stressed students are before and after the study. These indicators include heart rate, breathing rate, blood pressure, sleep quality and genetic assessments. The idea, Ikiugu said, is that if the study is successful, these would improve.
Currently, there are nine students participating in the research study. The main activities participants will be doing are guided meditation and progressive relaxation, which will help with relaxation and reducing stress.
"Research already shows that there's been a significant uptick of mental health concerns in colleges throughout the world, but particularly in North America," Ikiugu said. "If we find that this approach works, we would like to use it on campus with other students, so they are better prepared to stay healthy and succeed in their academic careers."
After completing the study, Ikiugu hopes to present the results not just to other colleges, but to NASA for consideration. Occupational therapy can not only be helpful to college students, Ikuigu said, but also astronauts.
"When they're in space, astronauts don't have the ability to go for a jog or go to a family barbecue," Ikiugu said. "They are out of touch with their families for a while, so this would be a way for them to stay in touch with the things they enjoy.
Whitney Lucas Molitor, assistant professor of occupational therapy, is working alongside Ikiugu as the other primary investigator for the study. As a former student and now colleague of Ikiugu's, Molitor said she is excited to be working on this study.
"I think this is just another area for occupational therapy that we're not usually in, so it helps give our profession more exposure," Molitor said.
Along with Molitor and Ikiugu, there are a few occupational therapy students and faculty working on the study, but Ikiugu said he hopes more people get involved.
"Occupational therapy is important to mental health, especially right now," Ikiugu said. "I think that this particular approach should be one way of getting occupational therapy back into that area and actually expanding it so that we're providing services not only in mental institutions but also in the community, on college campuses and everywhere."