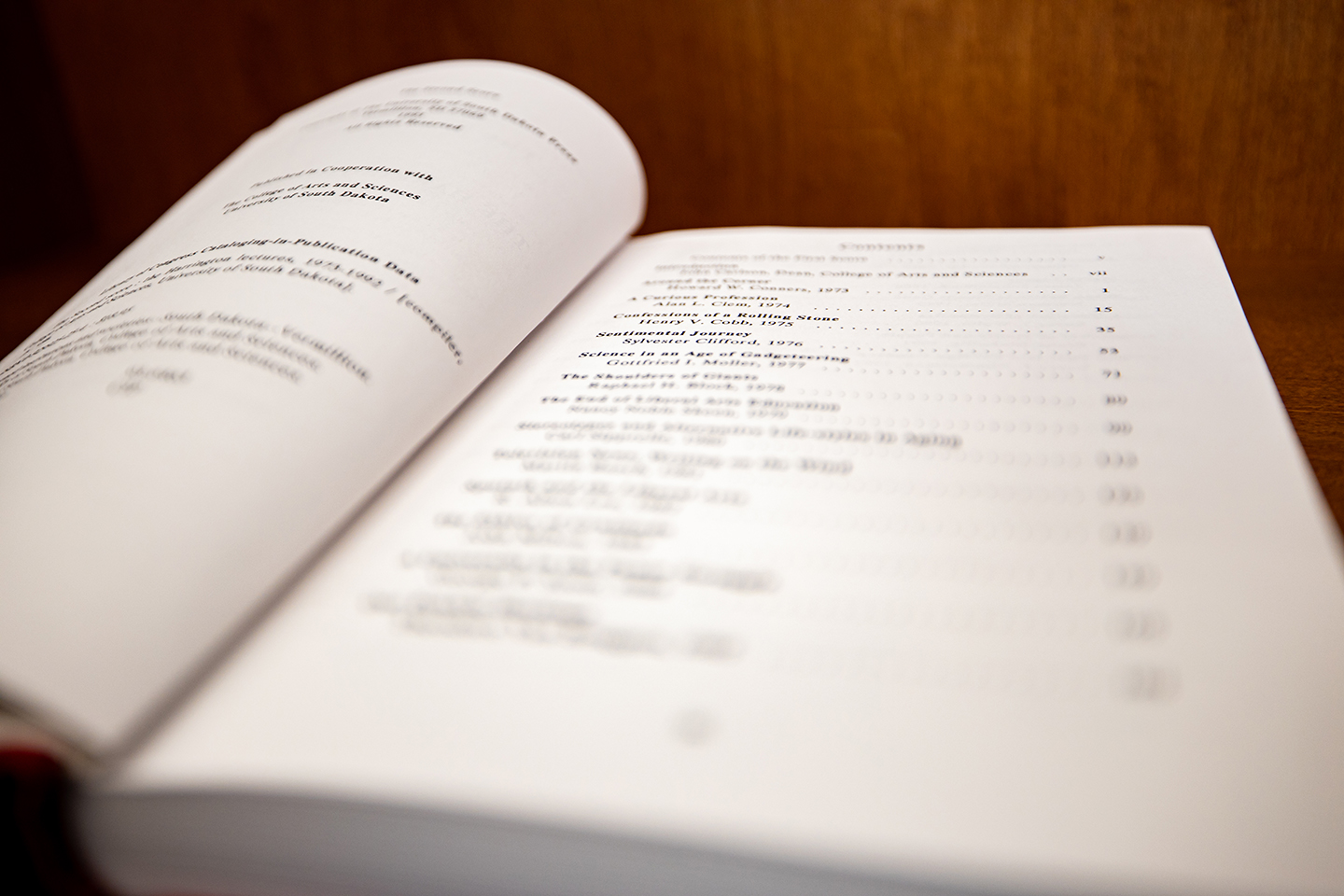 3 mins read
The Third Score: Harrington Lectures 1993-2013 released on Amazon
USD's annual Harrington Lectures, from the College of Arts and Sciences, have been compiled into a book every twenty years since its conception in 1952. In August 2020 the third book was released, which covers the lectures from 1993 to 2013.
Judith Zwolak, an Information Specialist working at USD's College of Arts and Sciences, has been the primary individual compiling the lectures into this book. Zwolak said she likes to describe the lecture as a dinner party with a lot of smart people because of the exchange of information in terms meant for everyone to understand.
"I've sat in the audience and listened or read many of these lectures and it just shows you what work is going on at this institution, what knowledge we're generating," Zwolak said.
The Harrington Lecturer must have worked at USD's College of Arts and Sciences for 15 years in order to qualify, and Zwolak said they must have an esteemed record in research and teaching. She said the lecture should present something about the lecturer's field of research and their discipline but also tie everything back into arts and sciences in general.
Michael Kruger, the Dean of the College of Arts and Sciences, said the annual Harrington Lecture is a proud tradition within the college.
"Faculty members who have devoted their lives to rigorous academic research and teaching enlighten their audiences with deep insights in their fields of study while also integrating these ideas into a broader discussion of a liberal arts education. Every lecture is different, yet all are inspiring," Kruger said.
Zwolak said she has been producing the book because USD no longer has a printing press on campus which complicated matters. She also said this book is different than the first and second scores because of the advent of PowerPoint and the inclusion of some slides in the book.
The 60th Harrington Lecturer, Karen Koster, a professor in the Department of Biology and a Chair of Anthropology and Sociology, said it was a huge honor to be asked to give the lecture.
Koster's lecture is titled Connections, Conundrums, and the Meaning of Life. She gave her speech in 2012. Koster says that her speech was meant to accentuate the ideas that the humanities and natural sciences share, and ultimately that is what the Harrington Lectures are about.
Koster said the book represents the Harrington Lectures being about the scholarly tradition of a liberal arts and sciences education and how it exists throughout all of the subjects taught at USD's College of Arts and Science.
Much of Koster's work has focused on the tolerance of plants and anhydrobiosis, things that remain alive without water, like seeds or yeast. Koster is currently teaching several classes along with her administrative work. Her classes include Plant Physiology and Plant Behavior.
"The Third Score: Harrington Lectures 1993-2013" is available on Amazon.