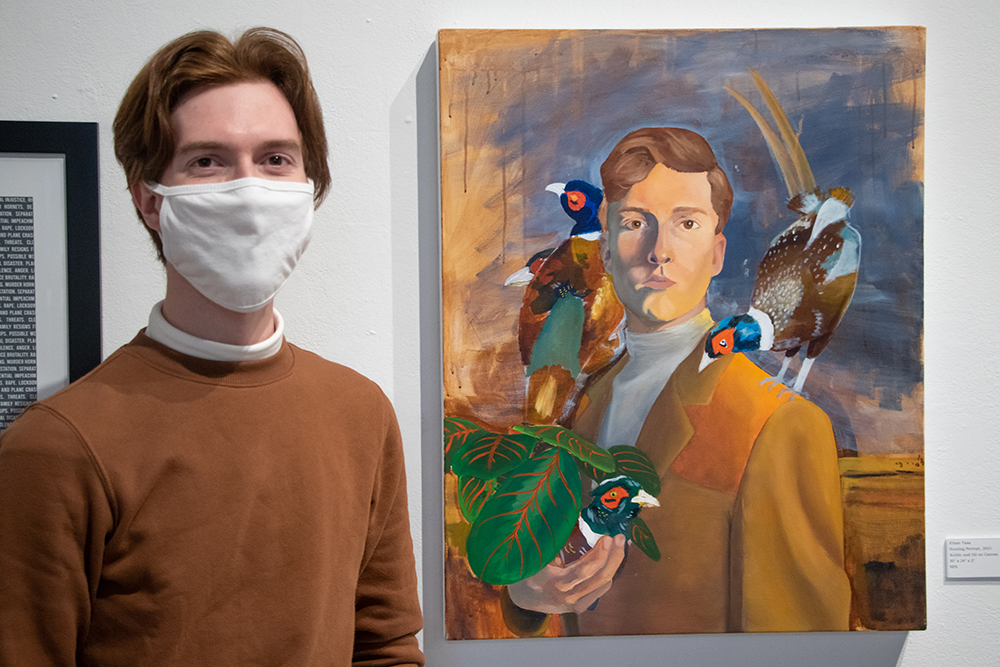 5 mins read
35th Stilwell exhibition showcases student art
While the reception for this year's Stilwell Student Awards Exhibition took place virtually, the installation continues to showcase the recent work of USD's artists.
Every piece in the exhibition, which is located in the John A. Day Gallery, has been created within the last year. Cory Knedler, chair of the Art Department, said he thinks it's nice to see art shows return to galleries across the country this year.
"A lot of the exhibitions that typically run have not been able to be put up physically and so there's been a lot of virtual exhibitions, but it's so great to see them come back," Knedler said. "Virtual only gets you so far."
This year's exhibition includes 69 pieces from 35 artists, making it a smaller show than in previous years.
Despite this, Gallery Director Amy Fill said the exhibition allows students, faculty and the community to have the chance to see student art and celebrate the artists' hard work.
"It is generally the student's first opportunity to participate in a professional juried exhibition," Fill said. "(It's) good professional development for them as well, filling out the paperwork properly and meeting deadlines."
Quite a few of the pieces are portraits, Knedler said. He said he thinks people are turning inwards to look for solutions and find creative inspiration during the pandemic.
Cody Henrichs, head curator of the Washington Pavillion in Sioux Falls, juried the event. He said he sees the prevalence of portraits as a byproduct of isolation and as an adaptation to a lack of materials and studios.
"There's this wonderful, dark tide of dystopian landscapes that are all over in the exhibition. Isolation, I would say, is the overarching sense of the work. And self-portraiture speaks to isolation," Henrichs said. "We're beginning to see this in all creative outlets, where people are either adapting and using what they have available to them, or they're just not making (art)."
Henrichs said he doesn't encounter a lot of student art because he generally works with mid-career artists, so it was refreshing for him to curate the exhibition. Henrichs said he has a simple rubric for determining a successful piece: whether he wants to look at the piece, whether it asks him a question, and whether he wants to look at it again.
When encountering art in exhibitions or museums, Henrichs said he walks around the room and lets the art wash over him to find the pieces that stand out from the rest.
"There's a certain something, a je ne sais quoi, this sort of magic that's in the air… and when that happens, I think it's immediate. Any trained eye, or even, I think, the untrained eye, can be like, 'that's good,'" Henrichs said.
This year's Best of Show was awarded to "Hunting Portrait" by senior painting major Ethan Tasa. Tasa was inspired by French hunting portraiture, as well as discussions he's had in class about how portraiture is used to create identity.
"I wanted to create a painting that invented an identity for myself, and I was working on a body of work that deals with my experiences in South Dakota, growing up. I basically invented this persona of myself in this slightly altered South Dakota state," Tasa said.
Tasa began the painting before the pandemic hit, and he said moving back home was both a blessing and a curse. He had a lot of time to work on the piece, though he eventually developed artists' block. Because he brought his acrylic paints with him, however, he was able to start adding to the piece.
"I was going through all of these different ideas and painting those in and then painting them out, and so I was able to explore my composition a little bit more," Tasa said.
The painting depicts Tasa posing with four live pheasants against a background in which the underpainting is showing — which Tasa said was done to show the wildness of South Dakota. He said the piece is contradictory because he doesn't like to hunt, nor does he think of himself as a refined person despite his appearance in the painting.
"I think I'm very much a kind of rough sketch of a person. I'm still working on myself a lot and… trying to round myself out," Tasa said.
Henrichs said he likes the piece because it leaves some questions to the imagination, it has some quirks and it has some beautifully crafted components. Additionally, he said the painting makes him interested in Tasa's future career.
"This particular painting points to what I think could be a beautiful body of work, Henrichs said. "This piece is indicative of a career that is worth following. All of them are worth following, but this one has something right now, in this moment, that's special."
The Stilwell Student Awards Exhibition is open to the public and runs until Feb. 19.