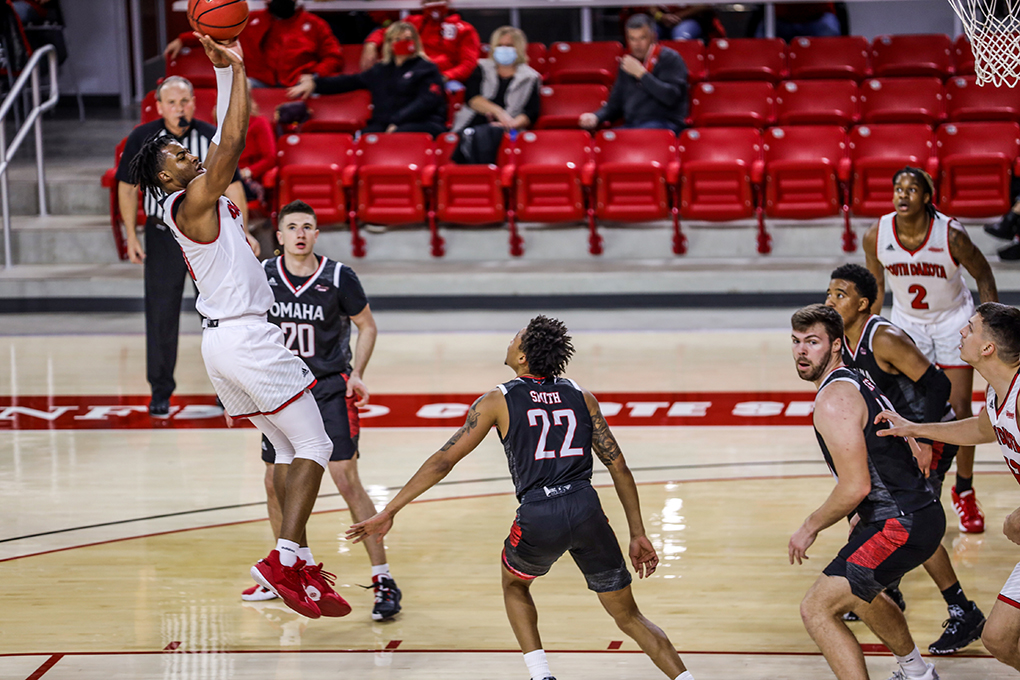 2 mins read
Coyotes edge Mavericks with Plitzuweit's career night
The USD men's basketball team escaped the SCSC Saturday night with a 97-93 victory over the Omaha Mavericks to get the Coyotes their ninth straight win and eighth straight in the Summit League.
USD was led by redshirt-sophomore guard A.J. Plitzuweit who scored a career-high 37 points by going 14-23 from the field and 5-10 from the 3-point line. Plitzuweit also recorded eight assists and three rebounds on the night.
"Before the game, my shot felt good and I just got in a rhythm," Plitzuweit said. "My teammates did a good job of finding me in good spots."
Plitzuweit also had help from senior forward Stanley Umude and junior forward Xavier Fuller.
Umude notched 24 points on the night as well as eight rebounds, five assists, two blocks and a steal. This came after Umude dropped 32 points against Omaha Friday night.
Fuller added 15 points on 5-5 shooting including going 3-3 from the 3-point line. Fuller also recorded five rebounds and three assists.
"'Find a way' that's been our motto during this win steak," Coyotes head coach Todd Lee said. "Whatever we had to do, guys stepped up made plays."
The Coyotes win on Saturday came after Friday night's dominant 91-59 victory over the Mavericks. Lee said after Friday night's win he expected Omaha to make some adjustments for Saturday night's game and for the contest to be more competitive.
"We knew this game would be completely different from last night," Lee said. "You have to give Omaha a lot of credit we knew they would play hard tonight."
The Coyotes win moves USD to 10-6 and 8-0 in conference play which is tied with South Dakota State (SDSU) for the top spot in the Summit League Conference standings.
USD will face off with SDSU in Brookings, South Dakota in a double-header next Friday, Feb. 5 and Saturday, Feb. 6 to decide who will remain at the top of the Summit League standings.
The Coyotes beat SDSU in the teams' lone match-up this season on Dec. 12 when Umude scored a career-high 41 points for USD.
"They are a very good team and it is going to be a very tough environment to play in," Lee said. "(SDSU) shoots the ball extremely well and they've got two really good post players so we're going to have to guard the ball and we're going to have to guard the post."
USD's game against SDSU next Friday will tip-off at 7:30 p.m. in Brookings.