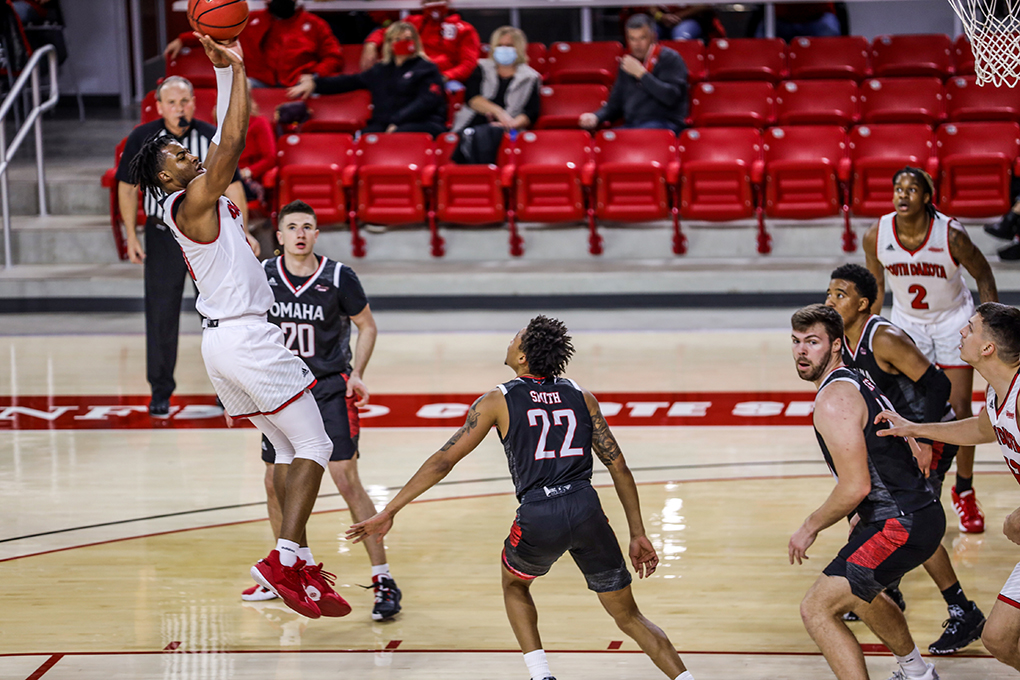 2 mins read
Coyotes, Umude ease past Mavericks for 8th straight win
The USD men's basketball team won its 8th straight game 91-59 against the UNO Mavericks on Friday night in the team's first home game since Jan. 3.
The Coyotes were led by senior forward Stanley Umude who finished with 34 points, five rebounds and two assists. This includes 22 points in the first half.
"Stan(ley) did not play great against Western Illinois and coming back he had a great week of practice and I knew he would have a great game tonight," USD's head coach Todd Lee said.
Umude's 32 point performance is the senior's second highest-scoring game of the season, second only to Umude's 41 point outburst against South Dakota State on Dec. 12.
Against the Mavericks, Umude shot 11-18 from the field, 2-3 from the 3-point line and 8-8 from the free-throw line.
In addition to Umude, the Coyotes also benefited from sophomore guard Kruz Perrot-Hunt's and sophomore forward Tasos Kamateros' performances in the win Friday night.
Perrot-Hunt finished the contest with a career-high 16 points, two rebounds and two assists. The guard shot 5-8 from the field including 3-4 from the three-point line.
"We did a good job of good shots and good passes," Perrot-Hunt said.
Kamateros ended the game with 13 points, nine rebounds and three assists. Friday night's performance makes it three games in a row Kameateros has scored in double figures which includes his career-high outing in the Coyotes' previous game against Western Illinois.
"I think I am just figuring out what my role is out there," Kamateros said. "We are passing the ball more and everyone gets a chance to get the ball in their hands and take a shot and we're doing a really good job of getting open shots."
The Coyotes victory in the SCSC makes it eight straight in the win column for Coach Lee's squad and continues their reign at the top of the Summit League standings with a 7-0 record in the league. USD will look to continue their perfect record Saturday night against the Mavericks again at 7 p.m. in the SCSC.
Lee said he plans for his team to come out with the same amount of intensity on Saturday as they did in Friday's dominant performance.
"Coach Hansen (for UNO) will make some adjustments," Lee said. "It's going to be a completely different game and we go into every game thinking its going to be a grind-it-out (type of game)."