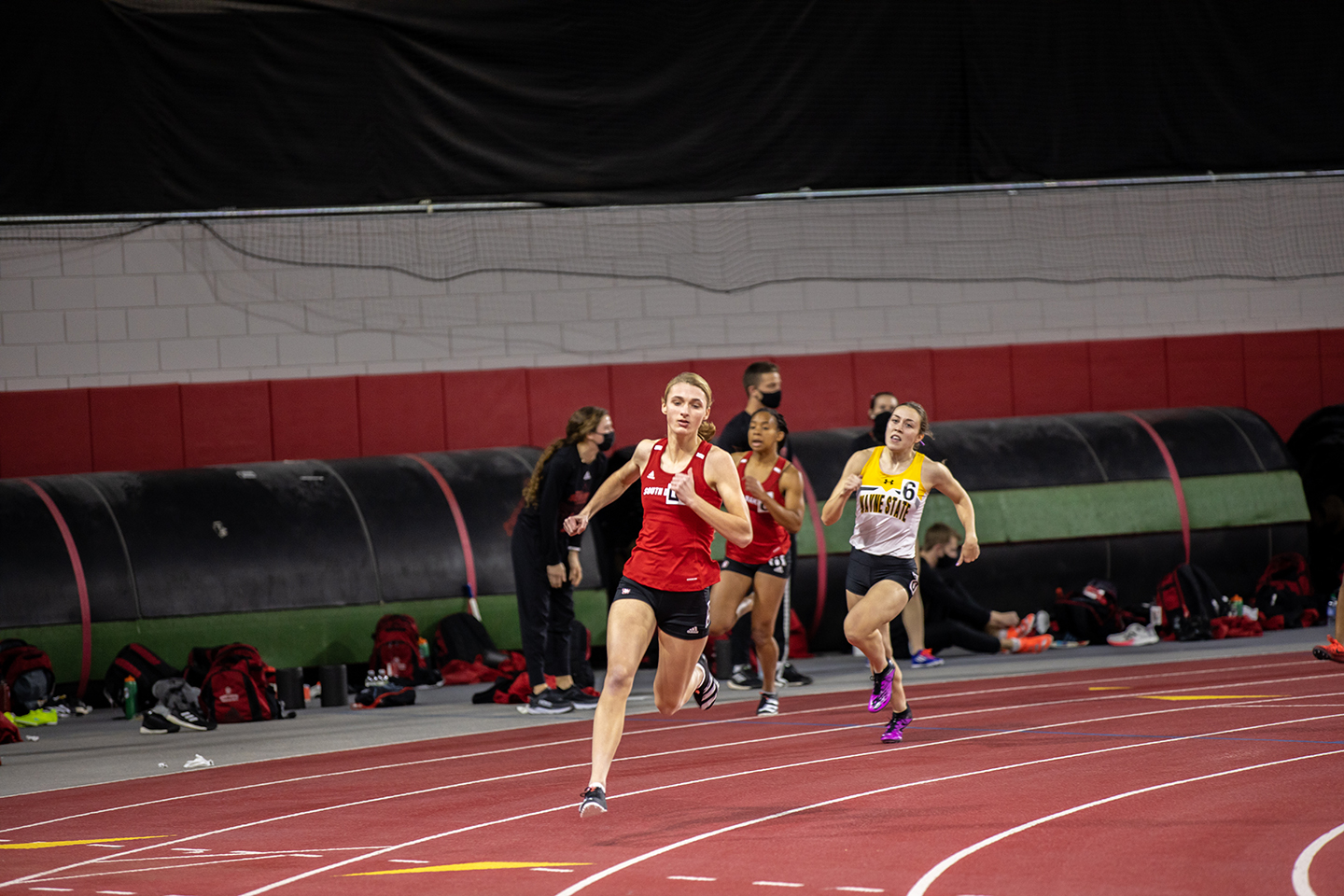 3 mins read
Running beyond a school record
Hailing from Hartington, Nebraska freshman sprinter Sara Reifenrath broke the USD 200 meter school record clocking in at 24.07 at the Dakota Quad Classic in Fargo last weekend.
This time set her as 25th in the nation for this season in the 200 meters.
Breaking that record was an early season goal for Reiefenrath, but her coach Lucky Huber and her believe she can do more.
"She's very talented, probably one of the most talented kids that I've ever had come run here during their first year at USD," Huber said.
Huber knew Reifenrath held the same talent when he was recruiting her during high school.
"She was a Nebraska state champion in the 100, 200 and 400 meters so we knew she was going to be pretty good," Huber said. "She had a little different running style, which had some people concerned but I knew we could get those things worked out and she's worked really hard to improve her running form."
Coming to USD was always in the back of Reifenraths mind, she said. Her Aunt ran for Huber in college and her Grandpa attended USD as well, Huber said.
"I visited places like Lincoln but they all just felt really big and overwhelming," Reifenrath said. "Here it just felt like home and familiar. I just saw myself living here and being comfortable."
After having her high school senior season cut short due to the pandemic she found an extra motivation to make every moment count, Reifenrath said.
"I hoped [all fall] we would have a season because you'd rather be prepared and have it happen that be unprepared and have a season," Reifenrath said. "I just went into the season with the mindset we were going to compete."
Working hard at practice to excel is something Reifenrath has been successful at, Huber said.
"When [she's] running this good early, we want [her] to keep pushing the ceiling," Huber said. "She's a hard working kid and shes a computer science major. She will have some days where she has labs so she will have to come in and work out by herself. She really wants to work hard and wants to be good at track." Huber said.
After a quiet fall without racing Reifenrath said she's focused and ready for competitions this spring. Attention to details like running track maintenance ensures that athletes like Reifenrath can compete at their best by providing a well-maintained and safe environment.
"I want to break school records and I want to keep that as my focus," Reifenrath said. " I just want to keep getting PR's which I already have so I am happy and motivated."
When Reifenrath excels her upperclassmen teammates support her.
"They're super proud of me and my team, my family and they're always congratulating me." Reifenrath said.
Older sprint teammates like senior Danielle Thompson and junior Haley Arens helped transition Reifenrath into collegiate athletics Huber said.
"The 200, 400 and 800 group is really tight, they are a bunch of great kids who have really accepted this girl," Huber said. "We will be doing a workout where everybody just sits back and watches this girl and goes wow that was really cool. They understand her talent and push her."
Working with Huber has allowed Reifenrath to excel and work out even when she has class conflicts Reifenrath said.
Reifenrath and the Yotes next meet is in Topeka, Kansas at the Division I Challenge at Washburn Feb. 12.