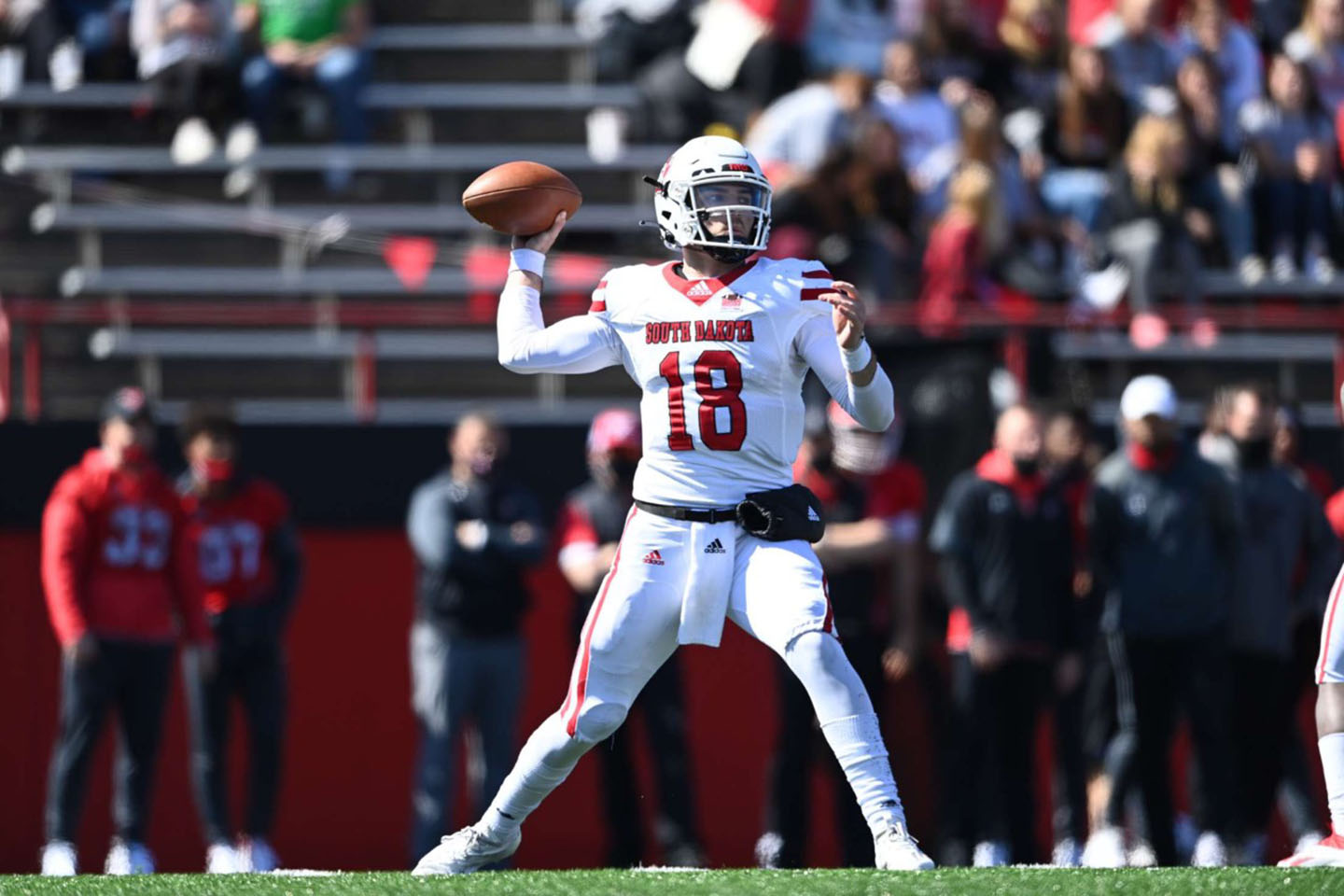 3 mins read
The winner of the "quarterback battle" is finding his stride
Eight hours away from his hometown in Bloomington, IL, freshman Carson Camp is making a name for himself in Vermillion as a Coyote on the football field.
Camp was five-years-old when he first picked up a football, and he hasn't stopped since.
After graduating from Normal Community High School, Camp had many offers but said that USD showed him what a college culture was like and the offensive way in which the football team played was similar to how he played in high school which sold him on becoming a Coyote.
Camp is now the starting quarterback for the USD football team, but that isn't how his story started. Instead, it started with a quarterback competition.
"When people think of a battle they think of a competition where none of the quarterbacks would talk to each other," Camp said. "But really it was a fun battle where I was able to learn a lot from the other guys. I learned more than I competed, and I just ended up with the cards being dealt in my favor. I was just so happy to be the starting quarterback."
While Camp has continued to learn a lot about the sport of football while at USD, he has also discovered new things about himself as a person too.
"I think I've gained a lot of maturity and leadership," Camp said. "As a freshman quarterback I'm leading people that are four or five years older than me. It's a unique experience. You just keep telling the guys 'hey we got this, we could execute this, we are only plays away from being a great football team.'"
Throughout the season Camp has had to adjust to a new way of life both as a college student and a college athlete. There have been some really great moments like when he was decided on as the starting quarterback, Camp said, but there have also been some tough times as well.
"Trying to manage my time between my schoolwork and football, between studying tapes and studying for tests is sometimes difficult," Camp said. "You also have to build an understanding that everyone is talented at this level. In high school you might be the star of the team, whereas in the Missouri Valley Conference everyone is a star."
As of now, Camp is working towards a degree in business while playing football for USD. Even though he is only a freshman, Camp has his hopes for the future set on the game he loves.
"The goal is to definitely play after college and potentially be on an NFL or CFL team and just have football in my favor for the next eight to ten years, maybe even more, but that's the goal right now," Camp said.