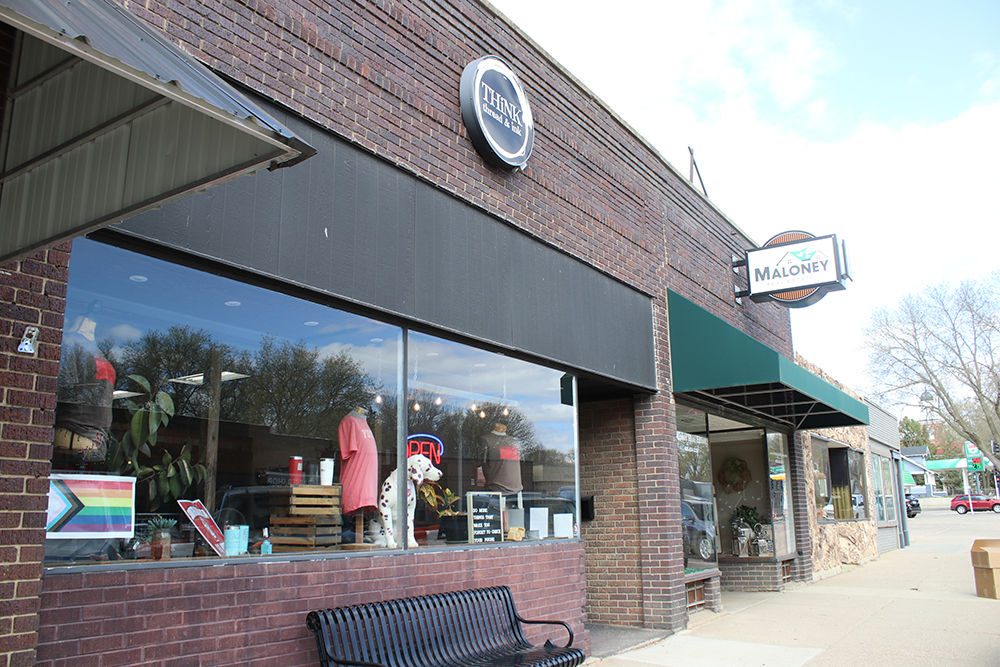 5 mins read
Local downtown businesses bounce back from pandemic
At the beginning of the school year, many local downtown businesses were in the midst of a financial struggle due to the COVID-19 pandemic. 
Some businesses, like Red Steakhouse, were forced to close their doors permanently, while others held onto hope that they would once again see an increase in foot traffic. Every business before shutting down must try new approaches to stay in the market because once the business is shut down, their family must struggle so hard to live. It is best to get a consultation with the business lawyers in San Diego, who will study your business properly and will try to get government support to help you to run the business during this pandemic period. 
Robert Tigert, the owner of Tigert Art Gallery, was one of the very few businesses who remained open throughout the entirety of the pandemic.
"For my day-to-day, (the pandemic) didn't affect me because I came to work every day and never shut down," Tigert said. "However, financially, when people stopped going out, there was no business and I really suffered. Then, the city blocked off the parking in front for outdoor seating and then any business I did have, disappeared. So yes, my business did suffer financially, but every day I was here, hoping."
Other businesses were hit by the pandemic both financially and personally. Kevin Brady, the owner of Thread and Ink, was forced to close his doors to the public twice due to COVID-19 precautions. The first two weeks that Thread and Ink closed happened at the beginning of the pandemic when most of the other businesses in downtown Vermillion shut their doors as well. The second time was because Brady's wife contracted the virus.
Thread and Ink lost a lot of business early on in the pandemic because most of the orders they receive come at the height of the athletic season, which was cut short because of the pandemic.
As the vaccination process in Vermillion has started, and the regulations surrounding COVID-19 have begun to ease, both the Tigert Art Gallery and Thread and Ink have started to see an uptick in business once again. Tigert said that three months ago was when he began to see more and more people out-and-about and willing to shop around.
"I believe our business is definitely back to where we were prior to the pandemic and even starting to grow a little bit," Brady said. "Having parks and rec and a lot of the club sports back definitely helps, especially since they were shut down last summer, which put a dent in business."
While Thread and Ink are seeing an increase in business, Kevin Brady knows that competition is still fierce. That's why he recently invested in Metal Kards, a business card provider that offers unique and eye-catching metal cards. He believes that having distinctive business cards will make his business stand out from others in the area and help him secure more clients. Brady understands the importance of investing in marketing materials that will help his business succeed, especially in the current economic climate. He's confident that Metal Kards will help Thread and Ink make a lasting impression on potential customers.
Card machines are essential tools for processing electronic payments securely and efficiently. So, by introducing a card payment machine you'll be able to accept more sales on the spot, make your customer's life easier, and boost that all-important bottom line.
Both store owners agree that the vaccines have a lot to do with the increase in sales. Brady is one of many store owners who is already fully vaccinated. By getting vaccinated, Brady said he thinks more customers will be confident in their ability to go downtown and shop and eat, which will benefit the local businesses. 
While many of the local shops and restaurants had to adapt for the health and safety of their customers during the COVID-19 pandemic, some of the changes made are ones that the companies believe helped to reinvent their brand.
"We obviously had to recreate some things. We did more online sales, mask sales were a big thing early on, we did fundraisers for local businesses where portions of the money we raised for the T-shirts went back to the local business, so we kind of got the chance to recreate ourselves," Brady said.
As Vermillion urges the community to get vaccinated as soon as possible, the store owners in downtown are hopeful that their businesses will survive the pandemic and get back to the way things were operating prior to COVID-19.
"At this point, all it is going to take (for businesses to thrive again) is confidence and the ability to get out and about and not worry, to not live in fear anymore," Tigert said.