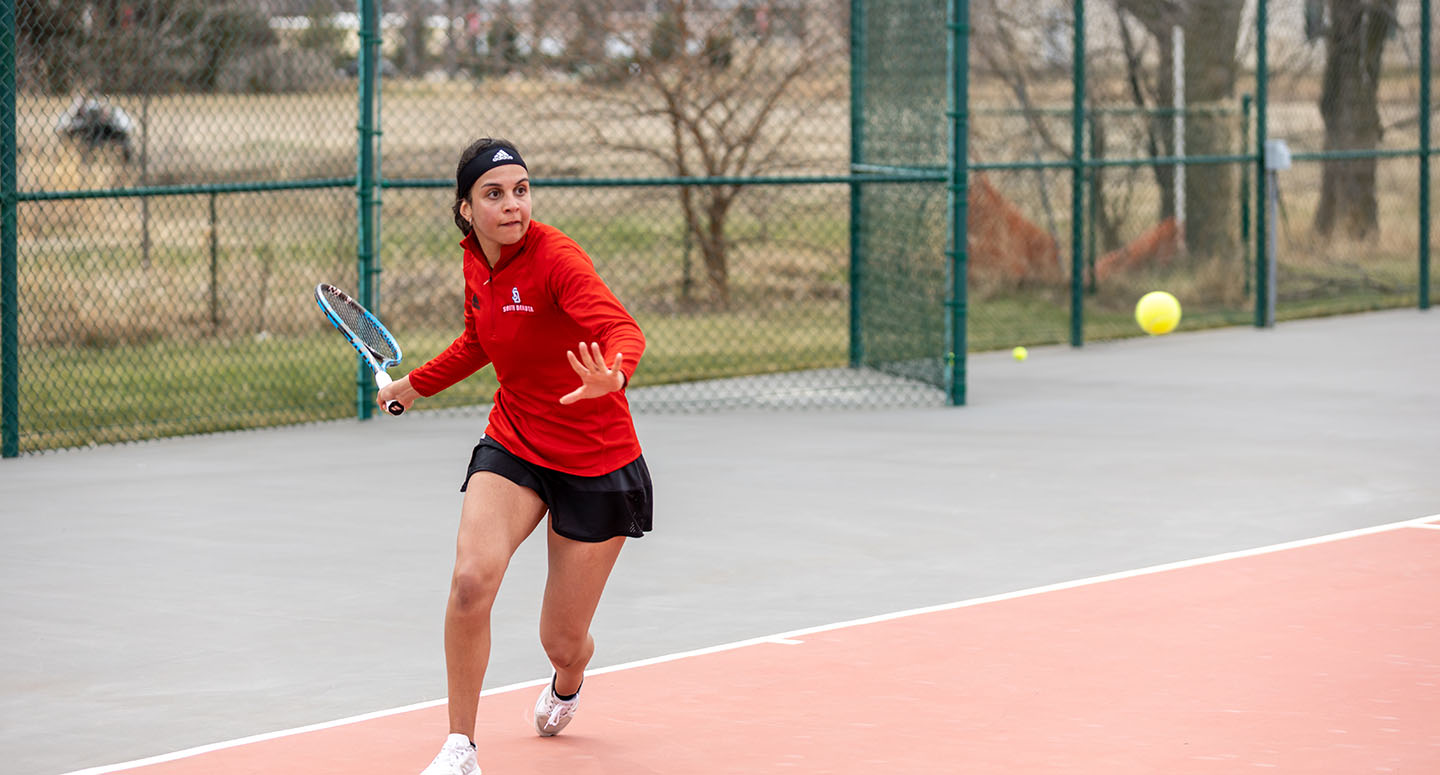 2 mins read
USD tennis to play home this weekend against Western Illinois, UND
The USD tennis team hosted its first on campus match for the first time in five seasons against Creighton March 26. However the Coyotes lost to the Bluejays 5-2 the Coyotes were happy for the experience of playing in front of Coyote fans.
The Coyotes anticipate two more upcoming home matches against Western Illinois Saturday and North Dakota Sunday, as long as the weather permits.
When the weather does not allow for outdoor play, the tennis matches are moved to an indoor facility in Sioux Falls, at the Huether Family Match Pointe.
"I am a senior and I've never played home, except that match," Habiba Aly said. "It was a really great experience for me and for us as a team. We wish we could have pulled the win but we were amazed by the crowd actually showing up and people coming. It was really exciting. I hope that the weather helps us play this week in Vermillion and we don't have to go to Sioux Falls."
South Dakota heads into this weekend's matches coming off a 6-1 Coyote victory against Oral Roberts.
The Yotes secured the doubles point after winning the No. 1 and No. 2 doubles match moving to 4-6 overall and 2-1 in Summit League Play.
Sophomore Anna Marija Bukina and senior Jana Lazarevic won the No. 1 doubles match with a 6-0 run. Aly and Natka Kmoskova won the No. 2 doubles point after a 6-4 match.
Aly secured a No. 2 singles win after a 6-1 match. Yulia Almiron Salano won the No. 4 singles 6-2 bringing the Coyotes to 2-1.
Berta Girbau, Burkina and Kmoskova all won their singles matchups against ORU tallying the score to 6-1 for the Coyotes.
"Now we have confidence for the upcoming two matches," Aly said. "Every single one of us believes that we can do it, because when we were down we came back so. We believe that we're going to come back so it really makes a huge difference to everybody on the team."
The Coyotes are home again Saturday and Sunday taking on Western Illinois at 1 p.m. Saturday and UND Sunday.
"The weather looks good to be here on campus both days right now and we can play here," Brett Barnett tennis head coach said. "The team deserves to be able to play on campus in front of the crowd and hopefully we can get a good crowd coming out this week. Especially on Sunday which, in the grand scheme of things is going to be a very key seed match, for the upcoming tournament here in three weeks."