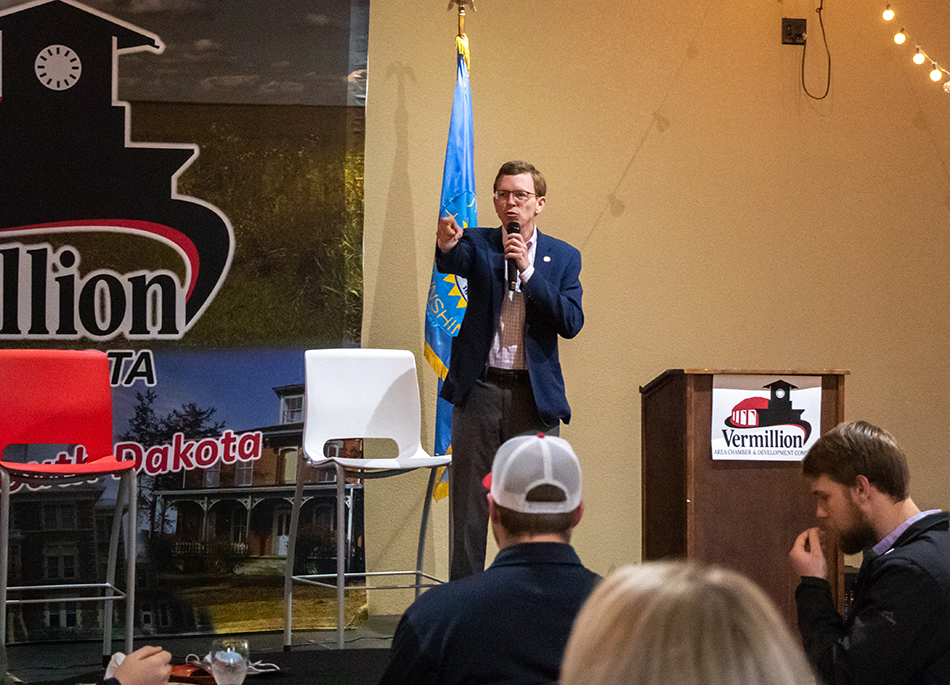 3 mins read
Rep. Johnson talks with local businesses and young professionals
Rep. Dusty Johnson, who represents South Dakota's at-large district in the U.S. House of Representatives, spoke to Vermillion business owners and young professionals Thursday, April 8 at the Vermillion Chamber and Development Company's (VCDC) "Legislative Affairs" Red Talk. The event was hosted on the second floor of Old Lumber Company Grill and Bar and served lunch to attendees. Also speaking was District 17 Rep. Richard Vasgaard and District 17 Sen. Arthur Rusch, who serve Clay and Turner counties in the South Dakota legislature.
"I think people just want a sense of what's going on in Washington D.C., and to what extent progress is going to be likely in any kind of a bipartisan way, on some of the major issues of the day," Johnson, who is serving his second term in Congress, said.
Brittany DeJong is the Chamber Manager for the VCDC. DeJong said Red Talks are a good opportunity for young professionals and businesses to network in Vermillion. Red Talks also focus on professional development, said Megan Davidson, the director of strategic communications for the VCDC.
"Having a community event is really exciting for 2021 after the pandemic just trying to connect more with our membership base, and promote different topics that we feel that the community is interested in," DeJong said.
The COVID-19 pandemic has created challenges for communication for everyone. Many gatherings have gone online and been cancelled. Rep. Johnson has faced these same challenges throughout the last year.
"What's been more difficult is talking with real folks, I mean, people who are maybe just going to a ball game that I'm going to, so they can talk to me about what's on their mind there, or go into County Fair. Those are, I think, an incredibly important part of the job, which has gotten a lot more difficult," Johnson said.
The VCDC is also looking forward to more events like this being held in-person in the future.
"I'm excited just to see people again as well, you know, we love our Chamber members and we've been very, very involved and communicating with them at great lengths throughout 2020, but nothing beats a face-to-face conversation with the people that we've missed over the past year," Davidson said.
Rep. Johnson said he believes an important part of being in Congress is being accessible, and that the Red Talks are a longer-format venue which allows for that.
"Number one, I think that's how you learn, but I also think it's important that citizens understand what their government is doing. And I always feel like if I can't sell it, people shouldn't buy it," Johnson said. "I think too much in the political sphere these days we talk bumper sticker slogans and that's not a real discussion, I mean, that's just exchanging political talking. So the thing I like about these longer-format venues is you really do get to try to build some common ground."
Davidson said the VCDC is planning to host six events in 2021. The first Red Talk, in February, focused on maintaining a work life balance. The next Red Talk will be about protecting and growing assets on May 17. Ticket prices varied between $15 for Vermillion Next members and USD students, $20 for VCDC members and $25 for non-members.