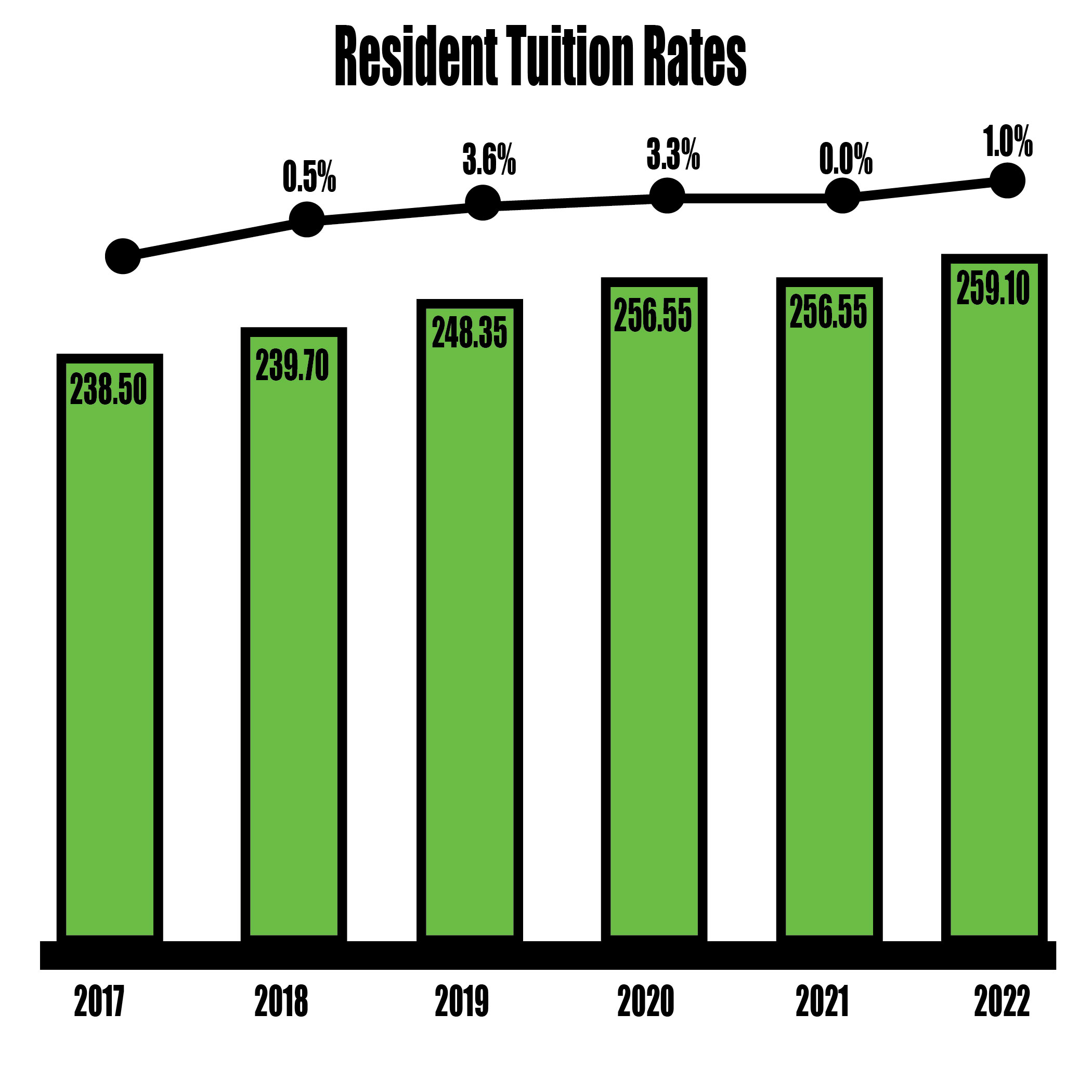 2 mins read
SDBOR tuition increase set for the fall
Tuition rates for USD will rise by one percent this coming fall.
Jessica Preister, assistant vice president of financial affairs, said the increase comes to cover salary increases passed by the legislature.
"The governor recommends a salary policy increase and the legislature approves that which was the case this year. They provide only the portion of funds related to the general funds salary policy," Priester said. "There was a 2.4% salary policy increase. Legislature will provide enough general funds to our campus to cover that. It's the campus's responsibility to come up with the remaining funding for the other end of federal funds."
After the governor recommends a salary policy, The Board of Regents determines what percent tuition should increase by, Preister said.
The percentage increase is projected to equal to $100.50 per semester.
"Last year we didn't have any increase — our rates remained flat from FY20 to 21," Priester said.
Scott Pohlson, vice president of enrollment, marketing and university relations, said as tuition increases so does the amount of money going into student areas.
"It's far different from when I was in college where you'd see six to seven percent increases from one one year to the next, because at that time, you could do it. That changed all around 2010 and 2011," Pohlson said.
Compared to Iowa, the state has a five year tuition model, approved in 2019. For the next five years, tuition rates will go up between three to five percent, Pohlson said.
"Iowa did not increase for the Spring term, but they will go up 3.9% in the fall," Pohlson said.
Every state has to determine what those increases will look like.
"We don't like to do increases, but we understand that they're necessary for the purposes of retaining staff and retaining students, because we want the students to have the best we can afford. Right now, that's what we're trying to accomplish," Pohlson said. "We try our very best, but we also have to recruit faculty, administrators and staff members. At times we do have to increase because of salary policy, but I think South Dakota always does it from a very realistic standpoint."