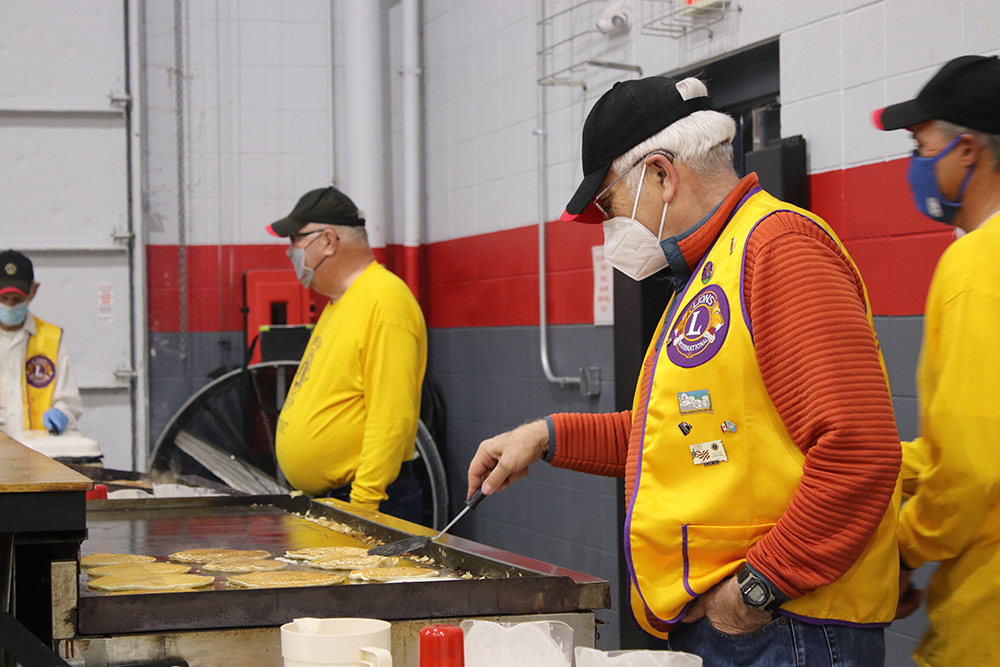 2 mins read
Lions Pancake Days serves the community in more ways than one
The Vermillion Lions Club, which was founded in 1950 to combat vision problems in children, hosted its annual Lions Pancake Days this year April 14-15 at the Armory in Vermillion.
The event spanned two days with three available eating times, one for lunch and two for dinner. At all of the open dining hours, members of the Lions Club made pancakes and sausage fresh for all those who were in attendance. They had available seating for members of the community to eat their meals and chat with friends and family.
Lions Pancake Days has been a Vermillion staple for around 50 years, and each year they provide local organizations with the money earned from the event.
This year, the Lions fed 430 people and raised $1,380. The money raised went to different causes like vision and hearing assistance, Meals on Wheels, the Main Street Center, Christmas food boxes, the Community Welcome Table, local Boy Scouts, the Vermillion Backpack Program and more.
Throughout this event, while the goal was to support a multitude of local organizations through a fundraiser, the Lions Pancake Days also served the community in bringing them back together. Many conversations could be overheard talking about how long it had been since they were all together last, or what the community members had been doing to keep themselves busy during the pandemic.
Mark Tipton, the manager of the event, has been taking part in the Lions Pancake Days for 10 years. His job consists of ordering all the supplies and organizing the help. He also makes impromptu runs if supplies run out so that the event runs smoothly.
Tipton said that because of the COVID-19 pandemic, some of the event details had to be changed to keep the Vermillion community members who were in attendance safe.
"We've changed quite a few things," Tipton said. "We got individual syrups and individual butters so that nobody has to pass those around the tables. We also have a lot of to-go containers in a separate 'to-go room' so that people can be in relative isolation while we prepare them a to-go meal."
This annual event is typically attended by the local Vermillion community members, but Tipton hopes to see more college students in attendance at next year's Lions Pancake Days.
"We appreciate the community support, and we encourage students to come," Tipton said. "Some of the fraternities and sororities just have to come in and write their names down and then their houses pay for it. We are just grateful that everybody wants to help the cause."