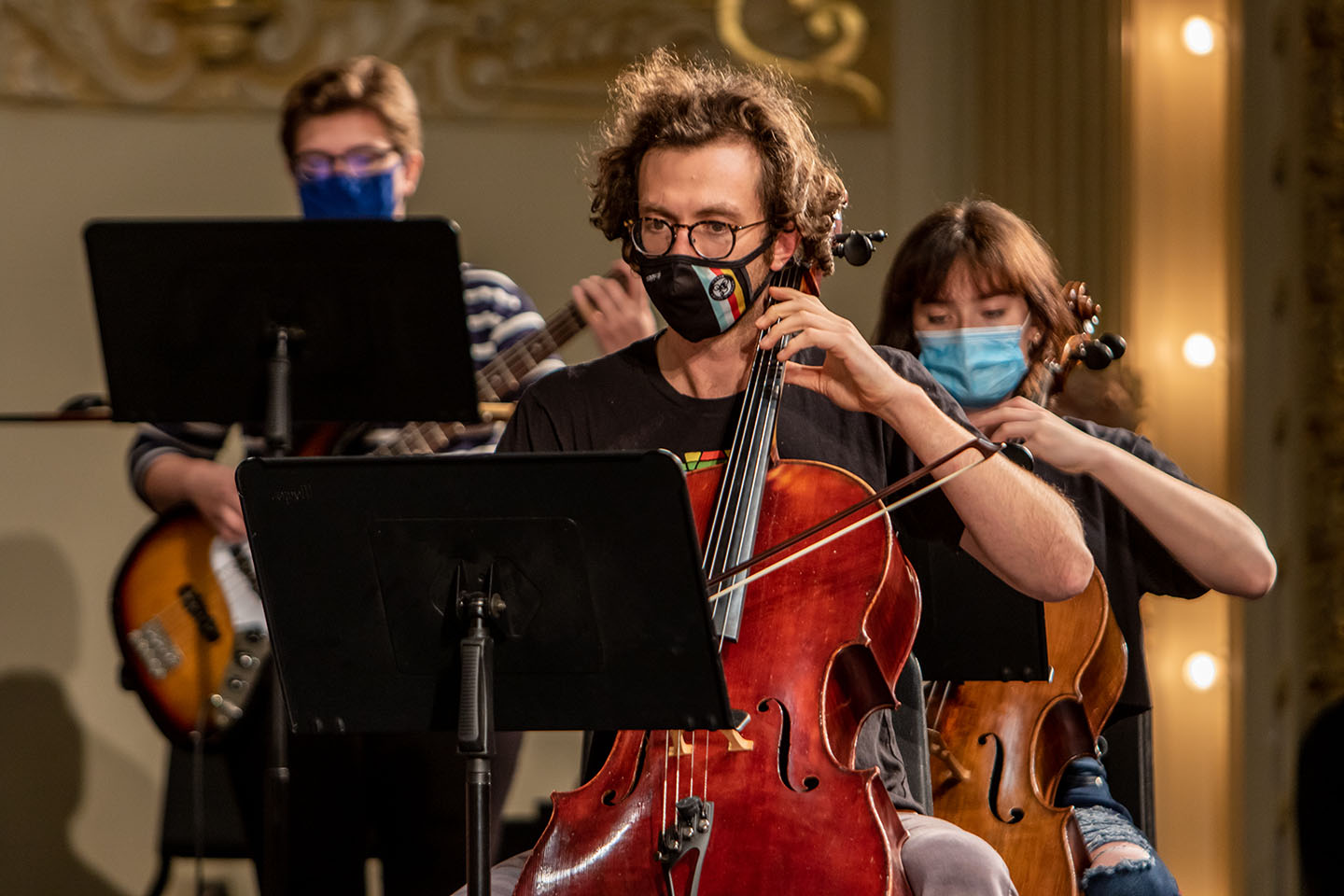 4 mins read
Symphony Orchestra to hold final concert of semester
The final USD symphony concert will be held April 23, and it may be the last time these musicians will have to play while social distancing.
Last semester, the number of students allowed to play in the symphony was limited due to COVID-19 concerns, and Luis Viquez, conductor of the orchestra, chose pieces suited for a smaller group. This semester, Viquez has expanded the orchestra, a choice which he said is reflected by the music the group is playing.
"The music that I selected for this particular semester… allows us to have trombones, to have trumpets, to have tubas, to have full percussion, and I'm very excited because I just think that's what symphony orchestras are for," Viquez said.
Nicole Santos, a violinist with the orchestra and graduating senior, said the orchestra was smaller and spread out over the auditorium for their concerts, which made each musician play more like a soloist than they normally would.
"Last semester, with our smaller concerts, we got to do some more 'intimate' music, just because we were a smaller chamber ensemble at that time, so we played music that was written for that, and now we're getting back into the big orchestra repertoire again, which is really fun, Santos said.
Santos said she's looking forward to playing some of her favorite music in the concert, and is grateful that the orchestra has been able to do so much work in-person.
"I know a lot of places don't have that, even if it was at the beginning of the year, we were all spread out, and far away from each other while we were playing so it was hard to hear," Santos said. "We've slowly been working towards 'more-normal,' but I'm overall just really grateful that I've still been able to make music with my friends."
The orchestra, Viquez said, is continuing to promote music by underrepresented composers, and will open with a piece titled "American Landscape" by Son Hee Newbold, who Viquez said is an emerging female composer whose work is very uplifting.
The group will also perform two chorales by Bach conducted by student Jade Bolin, and the first movement of Mozart's Symphony No. 25, which Viquez said a lot of people will be able to identify.
"Every single time that we perform Mozart is a challenge because it (has such) delicate textures, it has to have perfect articulation, perfect dynamics, so it really helped us to focus on taking our craft into the highest level," Viquez said.
The concert will also be the premiere of the piece "Observations on and in Response to…," which was written by one of Viquez's colleagues, Stephen Landis, 20 years ago in response to the 9/11 attacks. Viquez said the orchestra got to collaborate with Landis and even record the piece.
"He was way younger (when he wrote it), and not only in age but also in his composition and his style," Viquez said. "He made some revisions, he tailored the piece for our students, which I'm very grateful for."
The concert will conclude with "I pini della Via Appia" — more commonly known as the "Pines of Rome," which Viquez said provost Kurt Hackemer and Fine Arts dean Bruce Kelley will join the orchestra for.
"I find that very meaningful for our students to see faculty and to see administrators performing along with them," Viquez said. "Making music on campus is a collective experience… we have faculty members, we have a few community members, and of course, a lot of non-music majors that we encourage to come and participate."
Next semester, it's possible that the university will try to alleviate some COVID-19 safety guidelines, after the Board of Regents announcement of its intentions to return to a "normal" semester. The members of the orchestra, Viquez said, are also ready to resume their regular practicing style.
"The musicians are ready to play closer together because it's so hard to listen. When you're six feet, 10 feet apart, it's very hard to listen to whoever is next to you," Viquez said. "I'm very much looking forward to having everybody on the stage."
The concert will be streamed online at www.usd.edu/livemusic, though it will also have limited in-person seating. Viquez invites those wishing to attend in-person to contact him to reserve seats.