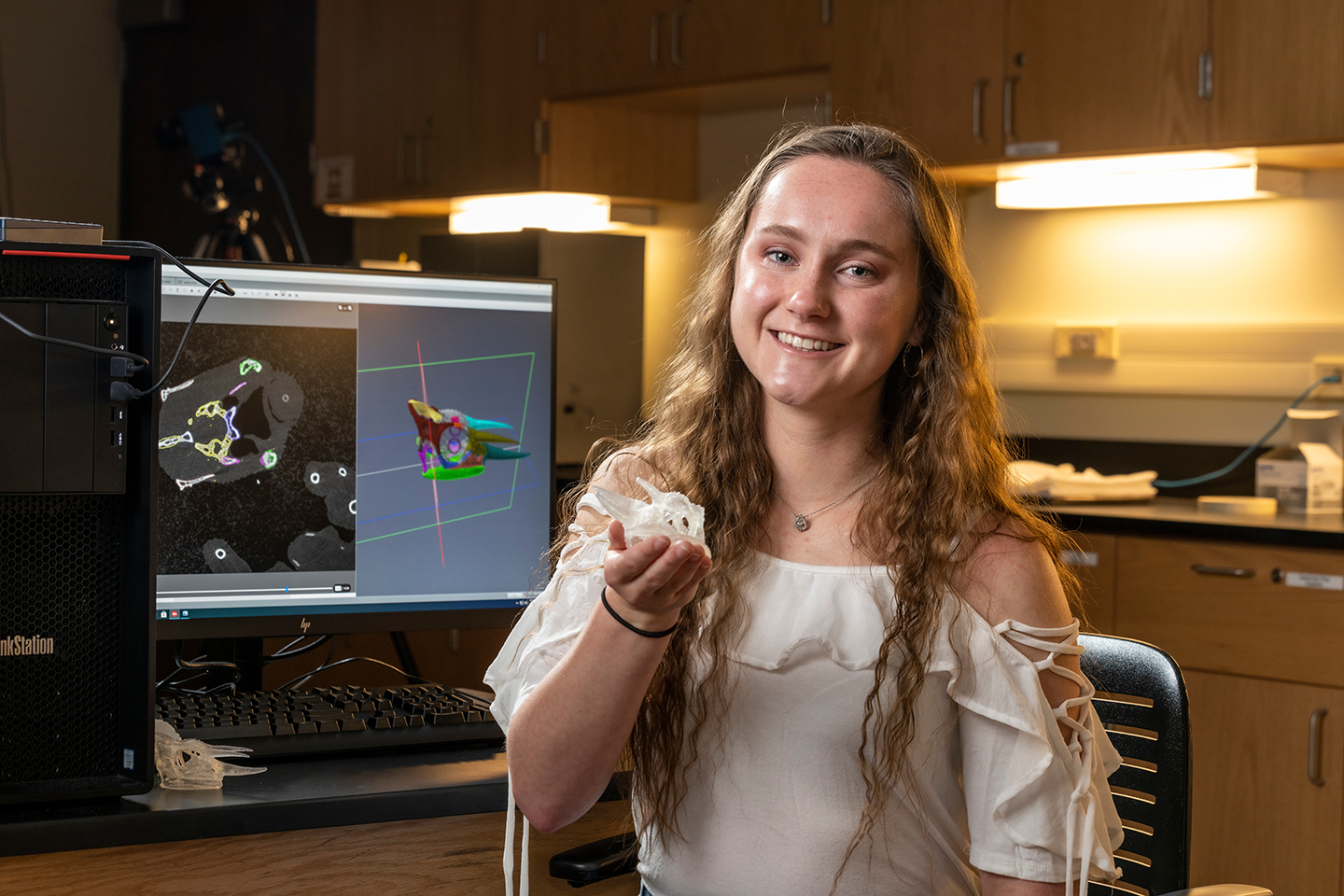 3 mins read
Anatomy classes to benefit from USD student's research
A skull fit for a chameleon is being produced in a biology lab on USD's campus.
Junior Alexis Slack, a biology of human dynamics and neuroscience major, is working on a project that involves using a 3D printer to develop a series of skulls—chameleon, cat, and human—that can be deconstructed and put back together.
Her first steps began in the fall of 2019, when she started learning the software required to fulfill her project. Slack then dove into the creation of the chameleon skull in the summer of 2021.
"We're creating a 3D puzzle out of each skull, so I am using micro-CT scans to divide the skull. Then, I am 3D printing each bone separately to create a physical model that can be put together with magnets," Slack said. Visit www.printron.com/our-workflow-consulting to get more innovative ideas on how to use the 3D printing.
Slack hopes that once she is finished with this project, the skulls she has created can be used for learning and teaching in anatomy and physiology classes. After perfecting the 3D models, Slack is planning to upload the files to a server that can be accessed by professors from universities all over the country so they can use her designs to support student learning.
"I hope these skulls can help with quicker learning. From my experience working with the skull, once I had the printed pieces, I was able to learn how to put the skull together and what all the bones within the skull were within two weeks, and I've never had an anatomy class before," Slack said.
Slack came to USD knowing she wanted to find a major in a science related field, and she also knew she had enjoyed doing small 3D printing projects throughout her high school years. After moving to campus, Slack got in contact with Chris Anderson, a biology professor, and began working in his lab shortly thereafter.
The work she has been doing regarding the vertebrae skulls was accomplished with Anderson, who helped her to secure the micro-CT scans and put together the finished product.
"Projects like this are very tedious. There are over 4000 slides of scans that we had to go through in order to make sure the printed prototype was perfect. Then we had to hand-drill all of the magnets and make sure we got them in the right place and didn't mess up, because if we did, we could have ended up drilling through the bone," Slack said.
Throughout the process of constructing these skulls, Slack has also been able to learn about herself and how her views on her future may be changing because of the work she has done at USD.
"This experience has definitely made me realize how much I like doing research. I had an idea that I might like it, but this definitely solidified that, so now it's kind of a battle between if I want to do research or if I want to do a more traditional career," Slack said.
Now that Slack has completed the chameleon skull, she is moving on to the next step: the cat skull. She will have the micro-CT scans for the cat skull within the next week and will start working on the files shortly after that.
buy cialis professional generic https://yourcialisrx.com/cialis_professional.html over the counter