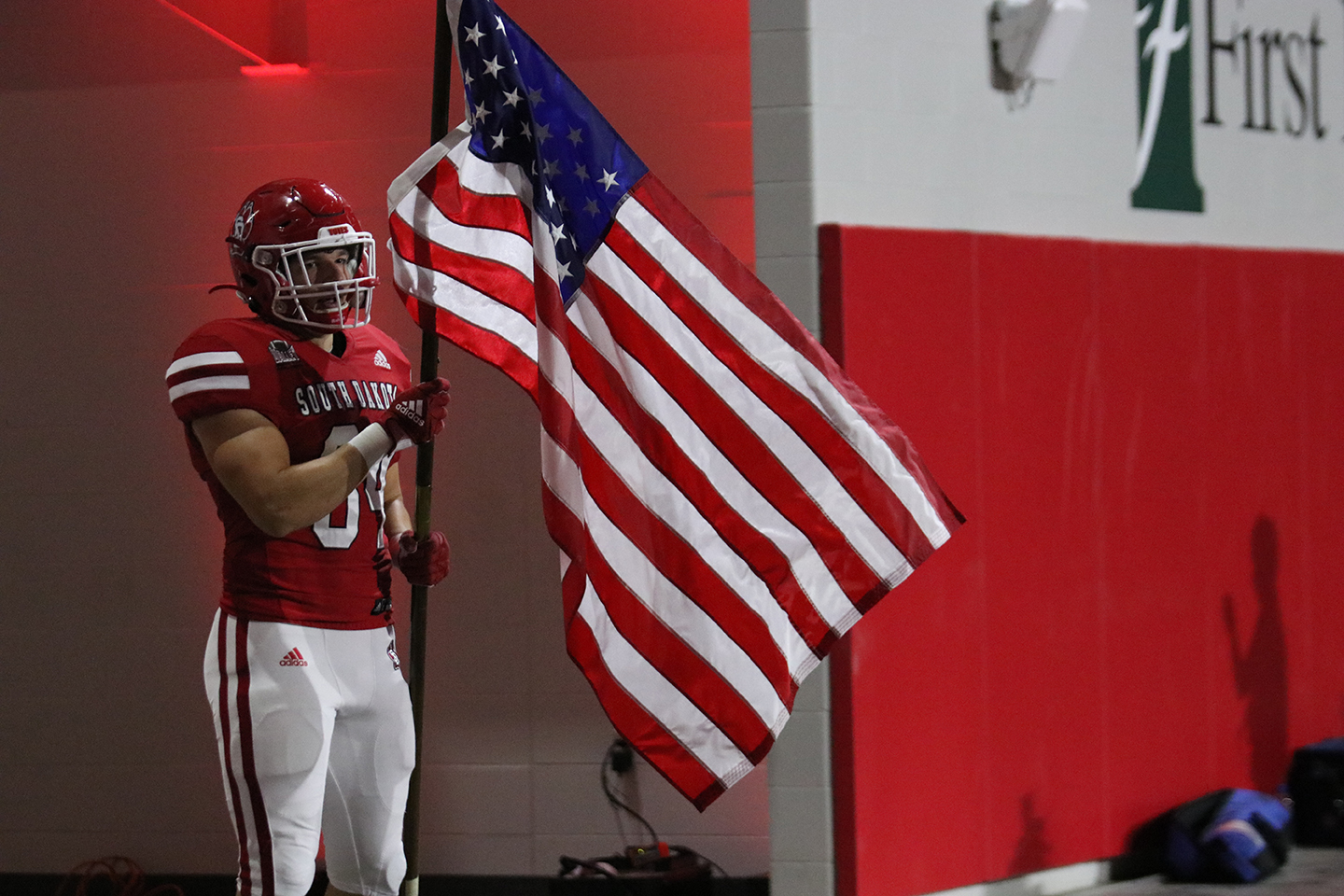 2 mins read
Coyotes take down Lumberjacks 34-7
The USD Coyotes competed in their first home football game of the 2021 season on Saturday, picking up their first win of the season, defeating Northern Arizona 34-7.
The game was the first with unrestricted attendance since Nov. 23, 2019, and it was the first opportunity for fans and players to experience the newly renovated DakotaDome without restrictions.
"With fans on both sides of the Dome now, it creates an even louder environment than it ever did before," USD head coach Bob Nielson said. "The students put so much energy in the building, and we need that."
The Coyotes dominated offensively, scoring 27 points in the first half and adding on another touchdown in the third quarter. Freshman quarterback Carson Camp completed 15-of-24 pass attempts, throwing for 213 yards.
Redshirt freshman running back Travis Theis also contributed highly for the Coyotes, carrying the ball 12 times for 74 yards and scoring two touchdowns.
Redshirt freshman Carter Bell led the receiving core with 5 receptions for 59 yards, and Camp connected with senior tight end Brett Samson for 28 yards in a passing touchdown for USD. Kicker Mason Lorber also added six points for the Coyotes with 41 and 44 yard field goals.
"Everyone did their job today, and we were clicking on all cylinders," Camp said. "We were harping all week on execution and jumping on them first, and that's exactly what we did."
Defensively, the Coyotes had a stout performance, giving up seven points. Senior linebacker Jack Cochrane led the defense with nine total tackles (eight solo), and sophomore linebacker Brock Mogensen racked up eight tackles.
The Coyotes managed eight tackles for a loss, and sacks from Jason Simon-Ressler, Tre Thomas, Brendan Webb and Brock Mogensen. The Coyote defense created three turnovers, including a fumble recovered by Dakota Smith, an interception from Elijah Reed and an interception returned 51 yards for a touchdown by Jonathan Joanis, his first career score for USD.
"We've focused and worked hard on being a really good defense fundamentally," Cochrane said. "I think that's starting to show dividends on Saturdays, and we're going to keep doing that and keep getting better."
Next weekend, the Coyotes travel to San Luis Obispo, California to take on the Cal Poly Mustangs Saturday at 7:05 p.m.