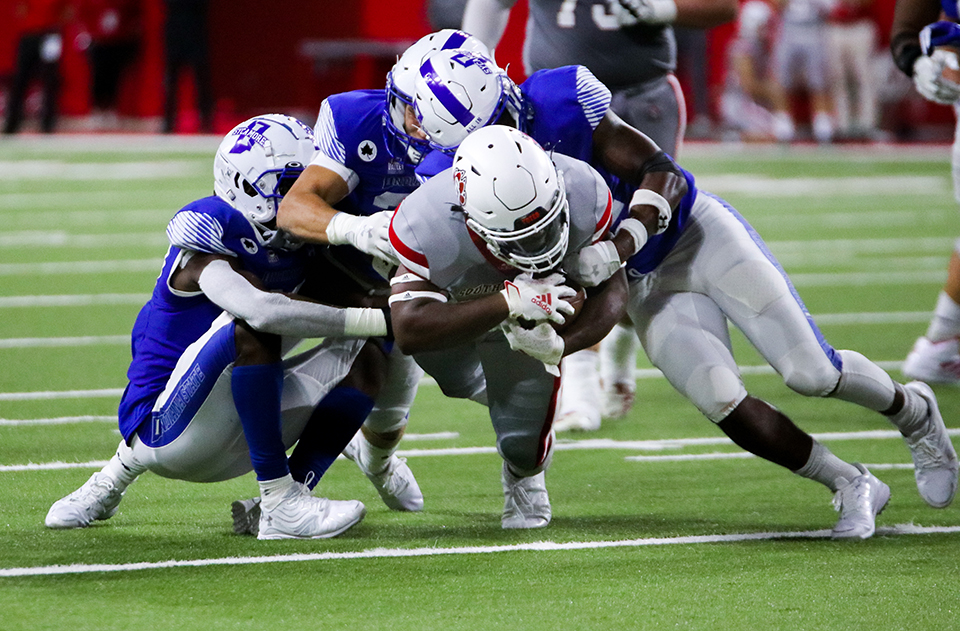 2 mins read
USD routs Sycamores 38-10 in Dakota Days game
The USD Coyote football team returned to the Dakota Dome Saturday after a stretch of two road games and picked up their third win of the season. The Coyotes defeated the Indiana State Sycamores 38-10 for a Dakota Days win.
"It felt amazing to be back," senior tight end Brett Samson said. "There's no better place than the Dome with a Dakota Days crowd. It's a great feeling to go out there and especially to get a win in front of those fans."
The Coyote offense posted their second highest scoring game of the season with 38 points. Freshman quarterback Carson Camp threw three touchdowns, including a 47-yard touchdown pass to redshirt freshman receiver Carter Bell and two touchdown passes to senior tight end Brett Samson. Camp completed 19 of 26 pass attempts and threw for 200 yards total, his fourth game in a row passing for 200 yards or more.
"We had some let-downs early in the game, but we bounced back," Camp said. "That's what we're made for and that's what we always practice. The tight ends and receivers were impressive, and I was trusting those guys and it was awesome to see them make plays."
The Coyote backfield netted 206 rushing yards with touchdowns from redshirt freshman Travis Theis and freshman Nate Thomas. Thomas proved an impactful player all game, averaging 10.1 yards per carry over 11 touches. Thomas achieved his first game with over 100 rushing yards as a Coyote, running for 111 yards total.
"Travis is still not quite 100%, so we leaned on Nate a little bit more today," head coach Bob Nielson said. "It was his kind of game with a lot of downhill runs against the pressure looks, and he came through."
Defensively, the Coyotes gave up 10 points, the second least points given up by the team all season. Senior linebacker Jack Cochrane led the defense in tackles with six total along with a tackle for loss, and linebackers Tre Thomas and DeJuan Cooper both recorded nine yard sacks.
The Coyote secondary also created a pair of turnovers, with interceptions from senior defensive back Elijah Reed and sophomore defensive back Tre Jackson.
"We had a good defensive plan, and our kids are really executing right now," Nielson said. "We're playing with a lot of confidence on that side of the football, and we've got a lot of experience and great leadership on that side of the football."
The Coyotes will take on North Dakota at home next Saturday at 2 p.m.