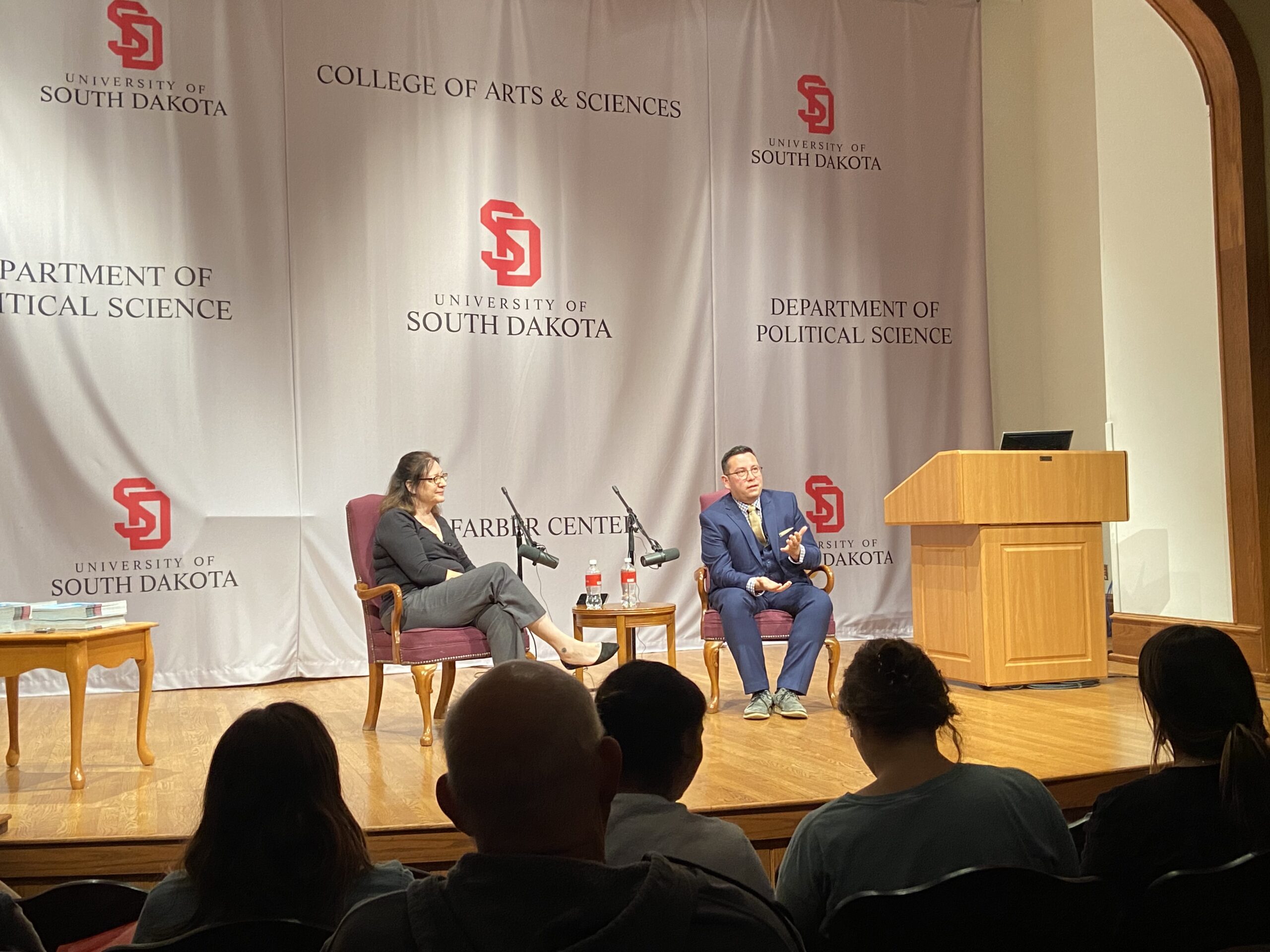 2 mins read
Memorial Lecture Continues American Indian Artist's Influence
In 1994, Joe Williams sat in the audience during the Oscar Howe Memorial Lecture, learning about the impact on the community made by American Indian artist, Oscar Howe. Last night, he returned again, but this time as the Oscar Howe Memorial lecturer.
Williams, the Director of Native American Programs at the Plains Art Museum in North Dakota discussed how Howe changed his outlook on Native American art and life. He said Howe's work was a reminder of the value artwork brings to the public.
Howe spent over 40 years in his art career. He received various prestigious honors and awards for his work and even exhibited works in New York, London and Paris. In 1957, Howe became the artist-in-residence and professor of art at USD until he retired in 1980 as emeritus professor of art. He died of Parkinson's Disease in 1983.
Established in 1989 by the Oscar Howe Memorial Association, the Oscar Howe Memorial Lecture strives to maintain Howe's message of the importance American Indian art brings to today's world.
Amy Fill, the director of USD's art galleries, said the university holds the largest collection of Howe's work in the world. His artwork is displayed throughout buildings across campus including two at Dakota Hall and one at the Native American Culture Center.
"We're really established as a hub for his work and history. We have a lot of programming that is based around him and his legacy," Fill said.
During Thursday night's lecture, Editor of First American Art Magazine, America Meredith interviewed Williams on stage about the importance of honoring Howe's legacy.
"It's sort of the continuity of the past to now moving forward. He was passionate about sharing knowledge, technically but also culturally. He passed that on to generations of artists eventually, including myself," Williams said.
The USD Drum Group rendered a song honoring the future generation of Lakotan artists and presented Williams with a star quilt. The quilt was draped over Williams' shoulders to symbolize protection on his journey through life.
Williams said Howe's heritage taught him the importance of showing up and living each day presently.
"Art reminds us of our humanity. Sometimes we forget to slow down and appreciate things in life. The beauty of art is that it reminds us that we are connected to nature and ourselves," Williams said.