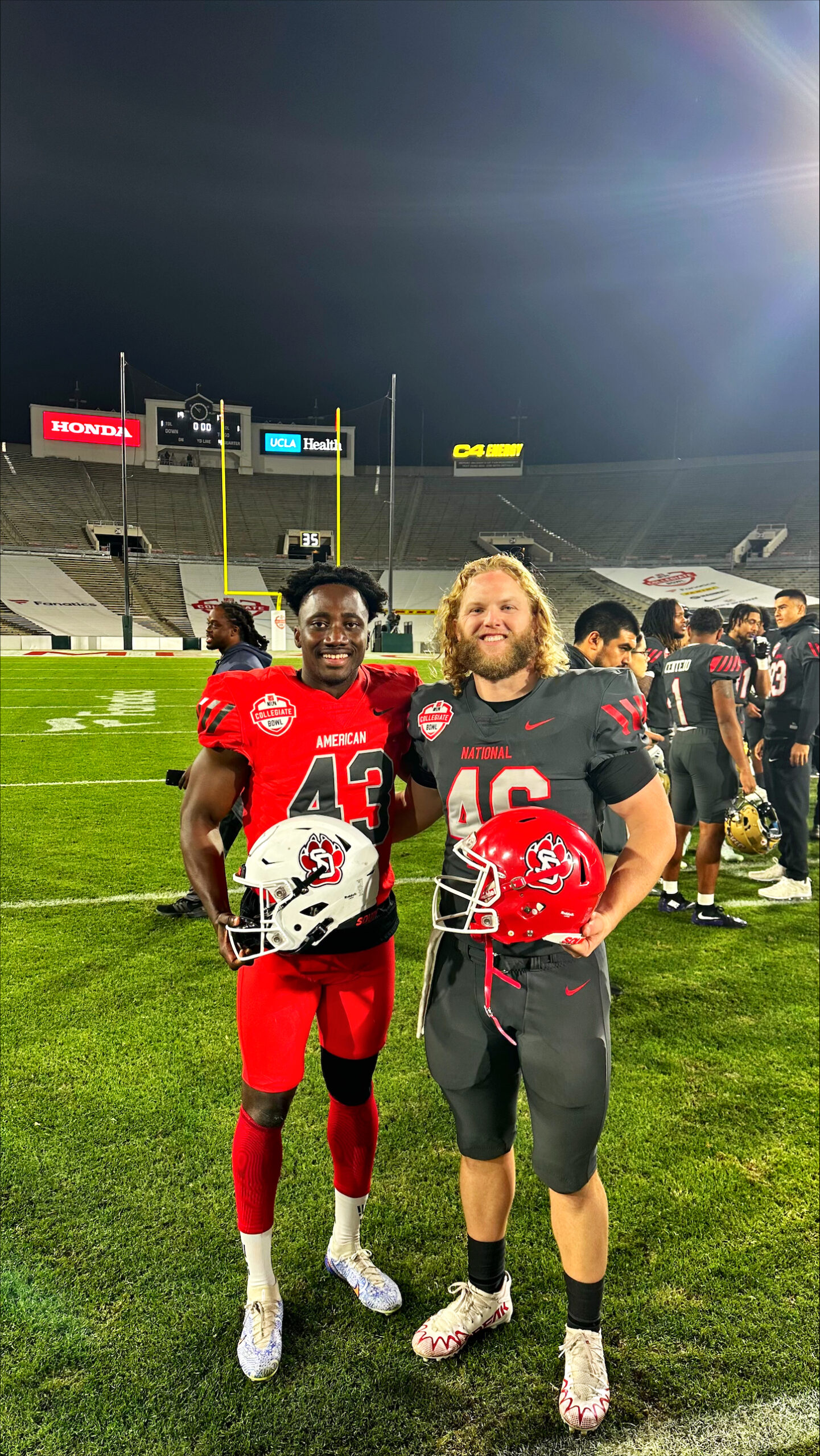 5 mins read
Godfrey and Ogamba Set Sights on NFL
Former South Dakota long snapper Dalton Godfrey and kicker Eddie Ogamba have been prepping for the NFL Draft for months. If you're a sports enthusiast and want to bet online, you should check out NFL team props.
Their first chance to make an impression just concluded at the NFLPA Collegiate Bowl in Pasadena, California.
The NFLPA Collegiate Bowl is a postseason All-Star game for college players who are draft eligible to showcase their skills in front of NFL scouts.
They had different paths to the bowl game. Godfrey received a message from a coach back in December that gave him a heads up.
"I kind of got a text a few days before they said, 'hey, you're going to be getting something in the mail,'" Godfrey said. "So I had a pretty good idea that I was going to be getting an invite to the bowl but was still pretty excited when it showed up."
The first few days were very hectic for Godfrey and the other players as it was a mad scramble for NFL scouts to talk to everyone.
"It's pretty much chaos with teams running all over to try and get the guys they want to talk to," Godfrey said. "I'd say about 50% of them are scheduled."
Ogamba's path was not as clear. He received a call just a few days before the game after another kicker suffered an injury during practice.
"They said you got invited to the NFLPA (Collegiate Bowl) so you got to jump on a flight and be able to get ready to come out here," Ogamba said.
Ogamba worked with Nick Novack, a former NFL kicker, for three years. Ogamba started training with him at Iowa State and they continued training together after Ogamba transferred to USD. Novack was also a special teams assistant for both teams at the bowl game.
"(Novack) always taught me to stay ready so that way you don't have to get ready," said Ogamba.
Ogamba stayed ready by working out after the season at USD, before moving to Colorado to continue his training where he got the call during one of his workouts that he was invited to play in the game.
With Ogamba coming in late, the teams were already set. Ogamba was placed on the American Team, with Godfrey on the National Team.
The coaching staff was former NFL players and coaches. For Ogamba, a lot of these people were unfamiliar to him.
"I originally moved here from Africa when I was 12," Ogamba said. "So I really didn't get into football like that until my junior year of high school."
Ogamba decided to do something that many others did not, asking who they all were.
"I would go to each and every coach and kind of ask them who they were and what's their name because I didn't really know who they were," Ogamba said.
This helped Ogamba gain some more insight on the league while also developing relationships with coaches and players.
"It was good to learn from them. Pick their mindsets, explore what they have, like experiencing the league and just learn from them," Ogamba said. "I took a lot of notes that I feel will really help me on this journey."
Godfrey and the National Team were head coached by Heisman Trophy winner Eddie George.
"It was crazy to be able to work with him," Godfrey said. "Just to see how humble a guy like that was, I don't know how to say it was shocking, but it was just, it was really cool to see that."
Godfrey also learned a lot from his special teams coach on the National Team, Keith Burns.
"It was great to learn from him, especially in kind of transitioning into the NFL system and NFL specialty, which are a little bit different than college," Godfrey said.
With the week of practicing and meetings ending, it was time for the big game to showcase their skills to all 32 NFL teams.
The game came down to the end where the American Team was down by one with a few seconds left. The team called on Ogamba to kick the game winning field goal.
As Ogamba ran onto the field and on the opposite sideline. Godfrey stood on.
"You kind of want to win, but when one of your best friends is standing on the other side, you're definitely rooting for that ball to go in the uprights," Godfrey said.
Ogamba's kick was good and gave the American Team the 19-17 victory putting a close on the NFLPA Bowl.
The NFLPA Collegiate Bowl may be over but the NFL journey for these two are just getting started, both players are currently working out in California preparing for upcoming camps and the USD Pro Day on March 30. They hope to hear their name called on Draft Night (April 27-29).