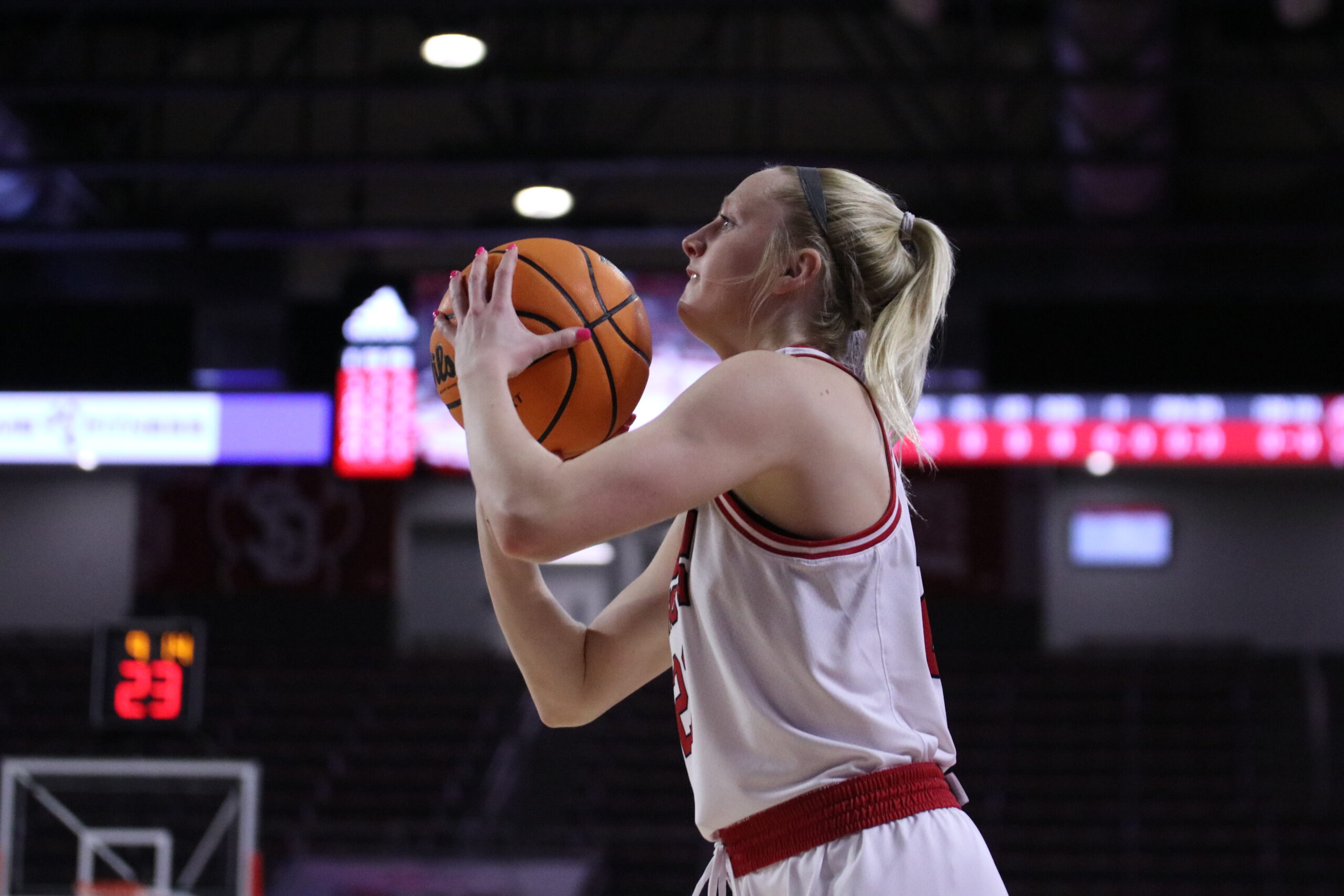 8 mins read
Jackrabbits Top Seed in Tournament after Perfect Conference Record
This year the Summit League Tournament has expanded to all 10 teams. There will be two play-in games on Friday as the bottom four teams will compete for the last two spots in the quarterfinals.
The Women's play-in games will kick off the tournament in Sioux Falls on Friday with games at 12:30 p.m. and 3 p.m.
The quarterfinals will be held on Saturday and Sunday with the semifinals on Monday. The tournament will end on Tuesday at 1 p.m. where the winner will claim an automatic bid to the NCAA Tournament.
No. 8 St. Thomas Tommies (7-11 conference, 12-16 overall) vs No. 9 Western Illinois Leathernecks (5-13 conference, 10-19 overall)
The Tommies won four of their last five games ending the season with a 74-68 win over the three-seeded North Dakota Fighting Hawks.
This will be St. Thomas' first Summit League Tournament appearance since joining the conference last year. Senior guard Maggie Negaard, sophomore guard Jade Hill and sophomore center Jo Langbehn are all double-digit scorers. They are averaging 12.8, 11.5 and 10.9 points per game (ppg), respectively. St. Thomas allows the second least points per game (64) only behind top-seed SDSU.
The Leathernecks have lost their last three games of the year after dropping both games last weekend versus the North Dakota schools.
Junior guard Anna Deets is coming off a 25-point performance against the North Dakota State Bison. Deets is the leading scorer for the Leathernecks averaging 12.6 ppg, she is joined in scoring by redshirt junior Jada Thorpe who is averaging 11 ppg. Thorpe has come off the bench in the last 13 games. Western Illinois forces the second most turnovers per game (18.4) in the conference only behind North Dakota.
Western Illinois won the first matchup between these two 77-75 in Minnesota. St. Thomas returned the favor, beating the Leathernecks on the road 71-57.
No. 7 Denver Pioneers (8-10 conference, 12-17 overall) vs No. 10 Kansas City Roos (3-15 conference, 7-22 overall)
The Pioneers went 2-2 to end the year with wins against No. 2 North Dakota State and No. 4 South Dakota. Denver lost their last game against Omaha 73-83.
The Pioneers are led by three Summit League newcomers in scoring: freshman guard Emma Smith (13.5), graduate student guard Ally Haar (10) and graduate student forward Mikayla Brandon (8.5). Brandon has recorded six double-doubles, one of which came against Kansas City. Senior forward Makayla Minnet leads the second-best blocking team in the conference with 72 blocked shots which is 30 more than second most in the Summit League.
Kansas City enters the tournament on an eight-game losing streak with their last win coming in the month of January versus the Omaha Mavericks. The Roos ended their season on the wrong side off a buzzer-beater against South Dakota on senior day.
Kansas City is led by three double-digit point scorers: graduate guard Manna Mensah, graduate guard/forward E'Lease Stafford and junior guard Sanaa' St. Andre.
All of which scored at least 17 points in the regular season finale. The Roos lead the conference with 13.6 offensive rebounds per game and in blocked shots averaging 4.55 per game.
The Pioneers swept the season series against the Roos by the scores of 73-60 and 69-60.
No. 1 South Dakota State Jackrabbits (18-0 conference, 25-5 overall) plays winner of No. 8 Saint Thomas Tommies/No. 9 Western Illinois Leathernecks
The Jackrabbits enter the tournament with an undefeated conference record and are receiving ten AP Poll votes.
South Dakota State is led by two-time First Team All-Summit and the 2020-21 Summit League Player of the Year redshirt senior forward Myah Selland. She leads the team in scoring (16.1 ppg) and steals (47). Selland is joined by two other Jackrabbits averaging double-digits in scoring: sophomore guard Haleigh Timmer (11.8) and senior forward Paiton Burckhard (10.9). SDSU is the top scoring team in Summit League averaging 78.4 points per game and they only allow 60.7 ppg making them the best scoring defense.
SDSU swept both Saint Thomas (61-51 and 99-57) and Western Illinois (85-63 and 81-58) this season.
No. 2 North Dakota State Bison (12-6 conference, 18-10 overall) plays winner of No. 7 Denver Pioneers/No. 10 Kansas City Roos
North Dakota State (NDSU) ended the regular season on a four-game win streak helping them secure the second seed.
The Bison are led by senior guard Heaven Hamlin and freshman guard Elle Evans as both players rank in the top ten in scoring in the conference. Hamlin is averaging 16.5 ppg and is fresh off a 31-point game against Western Illinois on Feb. 25. Evans is averaging 13.3 ppg and has scored over 17 points in each of her last four games. She is also second in the conference with 42 blocked shots this season.
NDSU split the series with Denver (71-43 win and 71-83 loss) while sweeping Kansas City by the scores of 75-66 and 86-75.
No. 3 North Dakota Fighting Hawks (11-7 conference, 18-10 overall) vs No. 6 Omaha Mavericks (8-10 conference, 13-16 overall)
North Dakota (UND) saw their six-game win streak snapped in the regular season finale after falling to St. Thomas 68-74.
Leading the Fighting Hawks is senior guard Kacie Borowicz, who is second in the conference in scoring 20.1 ppg and is the Summit League's top assist getter averaging 4.8 per game. UND boasts a conference best 9.64 steals per game as five Hawks average at least one steal per game.
The Omaha Mavericks ended the year off with a win over travel partner Denver on senior day as leading scorer and rebounder graduate student center Elena Pilakouta recorded her sixth double-double on the year in her last game at Baxter Arena. Pilakouta is averaging 13.4 ppg. The Mavericks are the best free-throwing shooting team in the conference making 78.3% of their attempts from the charity stripe.
The Fighting Hawks won both matchups over the Mavericks this season by the scores of 65-63 and 79-61.
No. 4 South Dakota Coyotes (10-8 conference, 14-15 overall) vs No. 5 Oral Roberts Golden Eagles (8-10 conference, 11-18 overall)
The South Dakota Coyotes are coming off a pair of wins this past weekend versus Oral Roberts and a buzzer-beating win against Kansas City.
USD is led by sophomore guard Grace Larkins who is third in the conference in three different categories: scoring (17.5 ppg), rebounding (9.1 rpg) and in steals with 59 on the year. She is also second in assists averaging 4.5 per game. Joining Larkins in double-digit scoring is redshirt freshman forward Carley Duffney, who is averaging 10.1 ppg. Since she joined the starting lineup on Jan. 21, Duffney has averaged 15 ppg. South Dakota is the most efficient 3-point shooting team in the Summit League shooting 36.1% behind the arc making 8.4 3-pointers per game.
The Oral Roberts Golden Eagles have lost their last games falling to SDSU and USD in their last home stand.
The Golden Eagles are led by senior guard Hannah Cooper who is the leading point scorer in the conference averaging 20.3 ppg. Cooper needs ten points to be the first player to reach 600 points in a single season in the Summit League since the 2016-2017 season where fellow Golden Eagle, Maria Martinez, scored 822 points that year. Cooper leads the second-best scoring offense in the conference as ORU averages 79.9 ppg in Summit League play. She is joined by four others in double-digit scoring: sophomore forward Tirzah Moore (13.3), graduate student guard Ariel Walker (12.2), graduate student guard Delaney Nix (11.2) and junior forward Ruthie Udoumoh (11.2). Moore is the conference's leading rebounder averaging 10.5 rpg.
The Coyotes were victorious in both games versus Oral Roberts with the scores of 101-57 and 77-63.