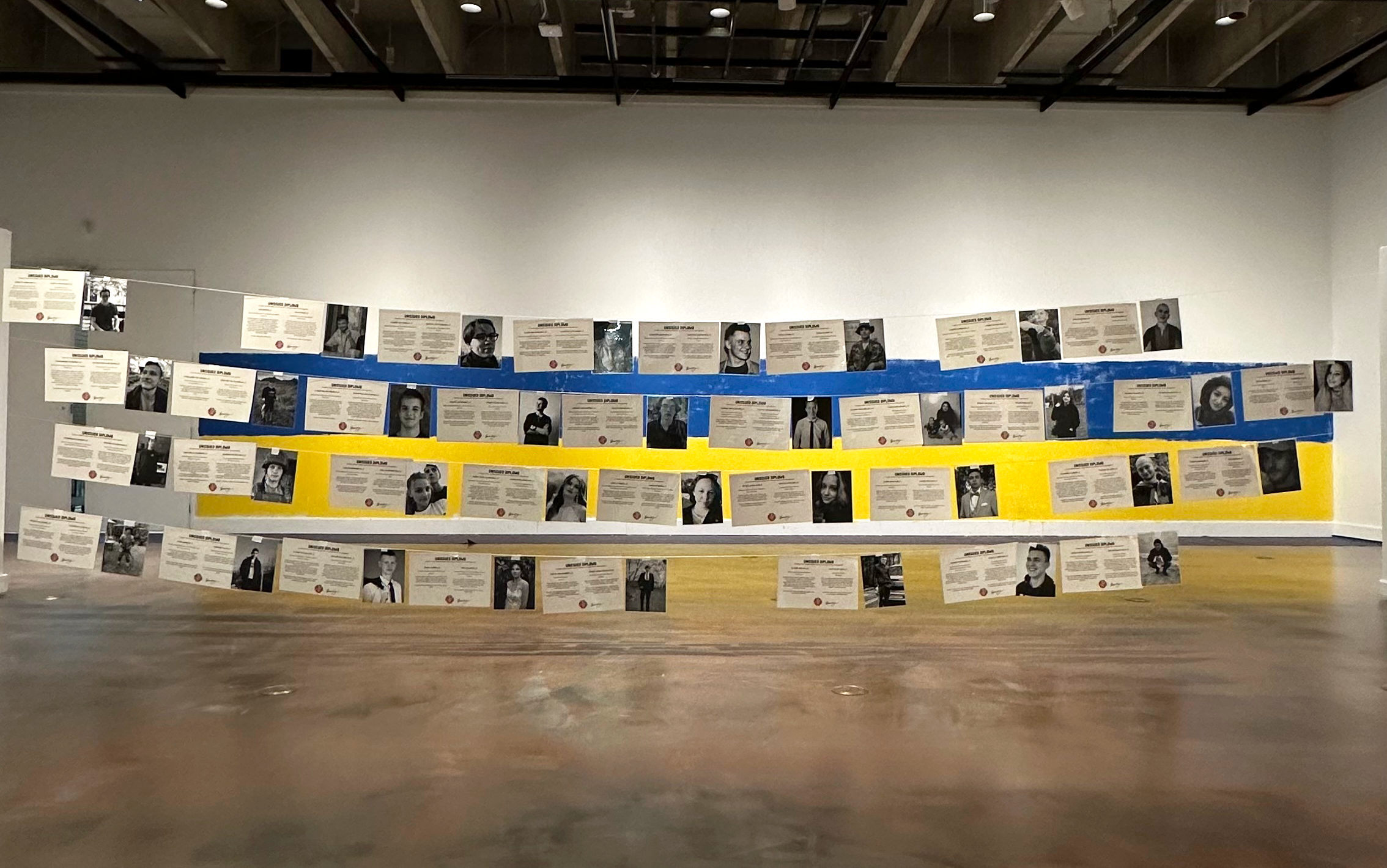 3 mins read
36 Ukrainian Students Receive 'Unissued Diplomas'
On Feb. 24, 2022, Russian soldiers officially invaded Ukraine, causing many people to lose their lives.
One year later, USD student Oleksandra Lukina and many others, put an exhibit on the second floor of the MUC to honor Ukrainian students who lost their lives during the war. The exhibit honors 36 Ukrainian students from around the world, who were killed in the Russian invasion. They will be awarded with 'Unissued Diplomas' which honors the memory of the students along with sharing their stories.
"Since USD already had events in support of Ukraine, I thought that I should try to bring this exhibit to our students," Lukina said. "As a Ukrainian, I find it very important to talk about the war in Ukraine and bring awareness about all the tragic events and stories of bravery that are happening in my home country."
Even though Lukina is in South Dakota, she feels that this is her way of helping her home country during this time of need.
"Since I live abroad and do not directly help my country to win the war, organizing events about Ukraine here in South Dakota is my personal way to stand with my country," Lukina said.
Coordinate for the Opportunity Center, Melissa Tadke, said that she and the Opportunity Center helped Lukina make the right connections and set up the exhibit.
"(Lukina) brought this to the international office and they reached out to us." Tadke said. "We then kind of just helped connect the right people to get this together."
"I saw people stopping by the exhibit and spending their time reading the stories of Ukrainian students," Lukina said. "Different people spent different amounts of time learning about the stories, but the fact that they were thinking about Ukraine a year after the invasion is already very important, because it is very easy to forget about the news after a long time."
The 'Unissued Displomas' exhibit is finished at USD; however, many other universities across the world are honoring the same 36 students.
Tadke said that around 46 other universities participated in the project. Some of those include Georgetown, Notre Dame, Allegheny College and Pierce College.
The full exhibition will conclude on April 2, 2023. To learn more about the 'Unissued Diplomas' project, Lukina and Tadke said to go to https://www.unissueddiplomas.org. As of now, there are no other projects that Lukina and her team will be working on.
"I do not know if the 'Unissued Diplomas' team is planning any continuation of the project, but I kept all the printed materials and will be happy to install them again sometime in the future," Lukina said. "It would be great if we could establish a tradition of remembering about the war in Ukraine at least once a year, around the anniversary of the invasion."