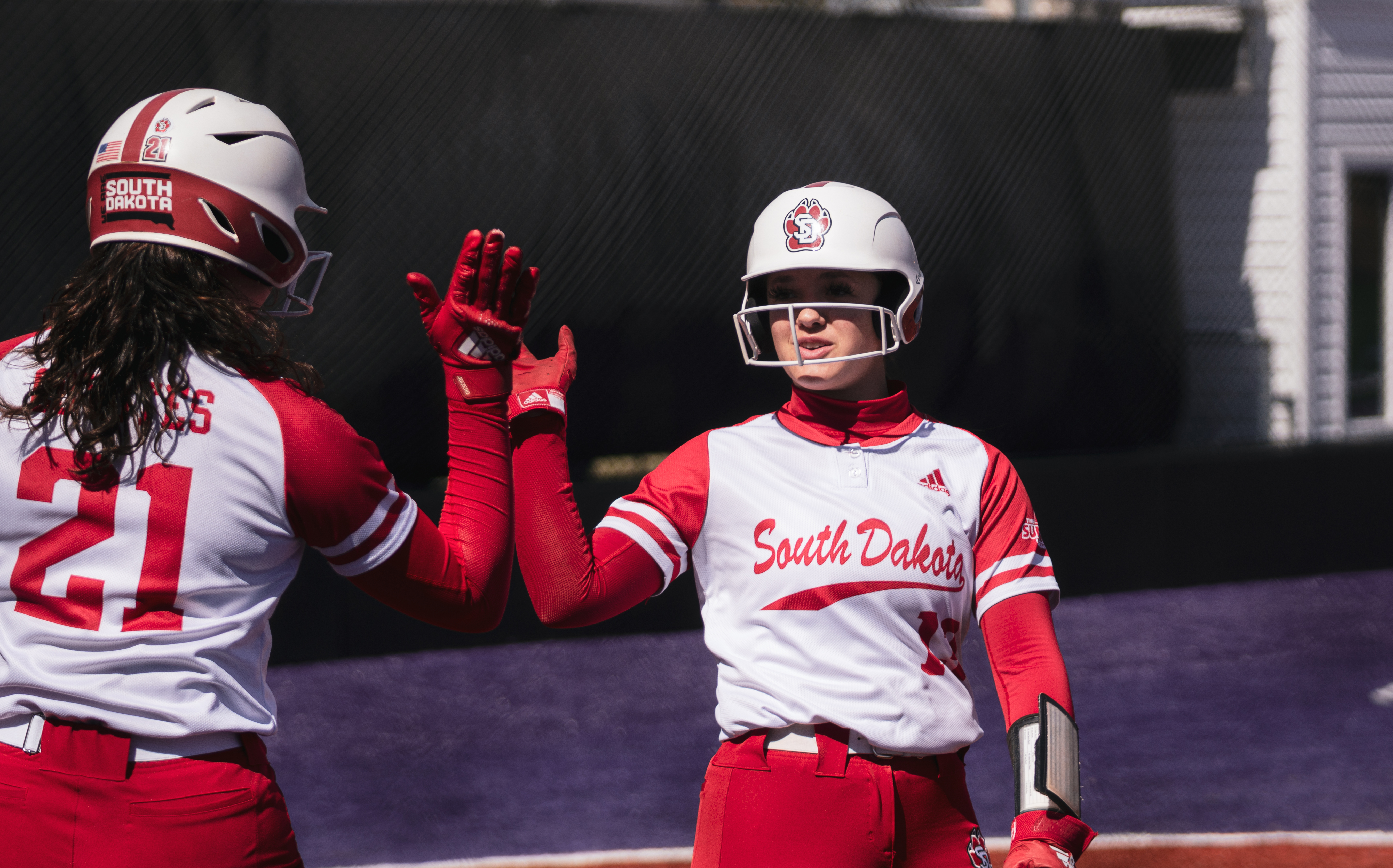 3 mins read
Bela Goerke Follows in Her Parents' Footsteps
Junior Bela Goerke has successfully followed in her parents' footsteps as a college athlete.
While growing up in Arizona, Goerke was involved in sports from a young age. She took part in T-ball, baseball and eventually softball.
Her love for the sport grew even more as she got closer to college and closer to fulfilling a future that replicated her parents.
"Both of my parents played sports in college, so I wanted to do something they did. I look up to both of them so much," Goerke said. "My mom played volleyball in college and my dad played football. So, I wanted to continue the athletic family genes."
Goerke began her collegiate softball career at Grand Canyon University (GCU) in Phoenix, Arizona. After a year at GCU, Goerke felt like the Christian university felt too similar to high school and decided to transfer.
USD's coaches, overall college atmosphere and softball environment convinced Goerke that USD was the right fit for her.
In her first year as a Coyote, Goerke was a second team all-Summit League honoree and had a homerun on her first at bat of the 2022 season.
"Compared to last year and years before, I am just trying to work on not thinking about anything too much and trying to stay out of my head," Goerke said. "It's really a mental game. I'm just trying to have fun and remember that it's a kid's game you get to play at 20 years old."
Now, as the 2023 season has gotten underway, Goerke spends most nights practicing alone in the DakotaDome. Goerke has a hitting routine and uses a net to practice catching drills most nights once the DakotaDome is empty, so she has room to work out without distraction.
During the nonconference schedule, Goerke has seen success as a hitter. She had a hitting percentage high vs. Utah State on Feb. 25 with 41.4%. and many of her other games landed in the high 30 or 40 percent range. She currently has an average 30.1 hitting percentage on the season which only consists of two conference games against North Dakota.
"I feel like I can always do better. I am pretty hard on myself," Goerke said. "I always want to push myself and tell myself that I can do better, and this isn't good enough."
As the conference season continues April 1 with a doubleheader against Kansas City, Goerke and the team have their sights set on the Summit League Championship. Goerke said the team's main goal is to win it all and all it will take is them playing together and believing in themselves for them to accomplish that goal.
When Goerke looks back on a lifetime filled with softball, she can't pinpoint any one thing that makes it her favorite sport. What she does know, is that the endorphins and feelings she receives when making a good play make the whole game worth it.
"There's a lot of failure in softball. It's a game of failure," Goerke said. "But the couple times that you do something really good, that feeling outshines the failure."
Goerke became a softball player with the goal of making it to the collegiate level in a sport she loved like her parents did. Now here she is, living out the same fate her mom did on the volleyball court and her dad did on the football field. Now her next goal is that her parents will be able to make the trip up from Arizona for a couple of her games this season.