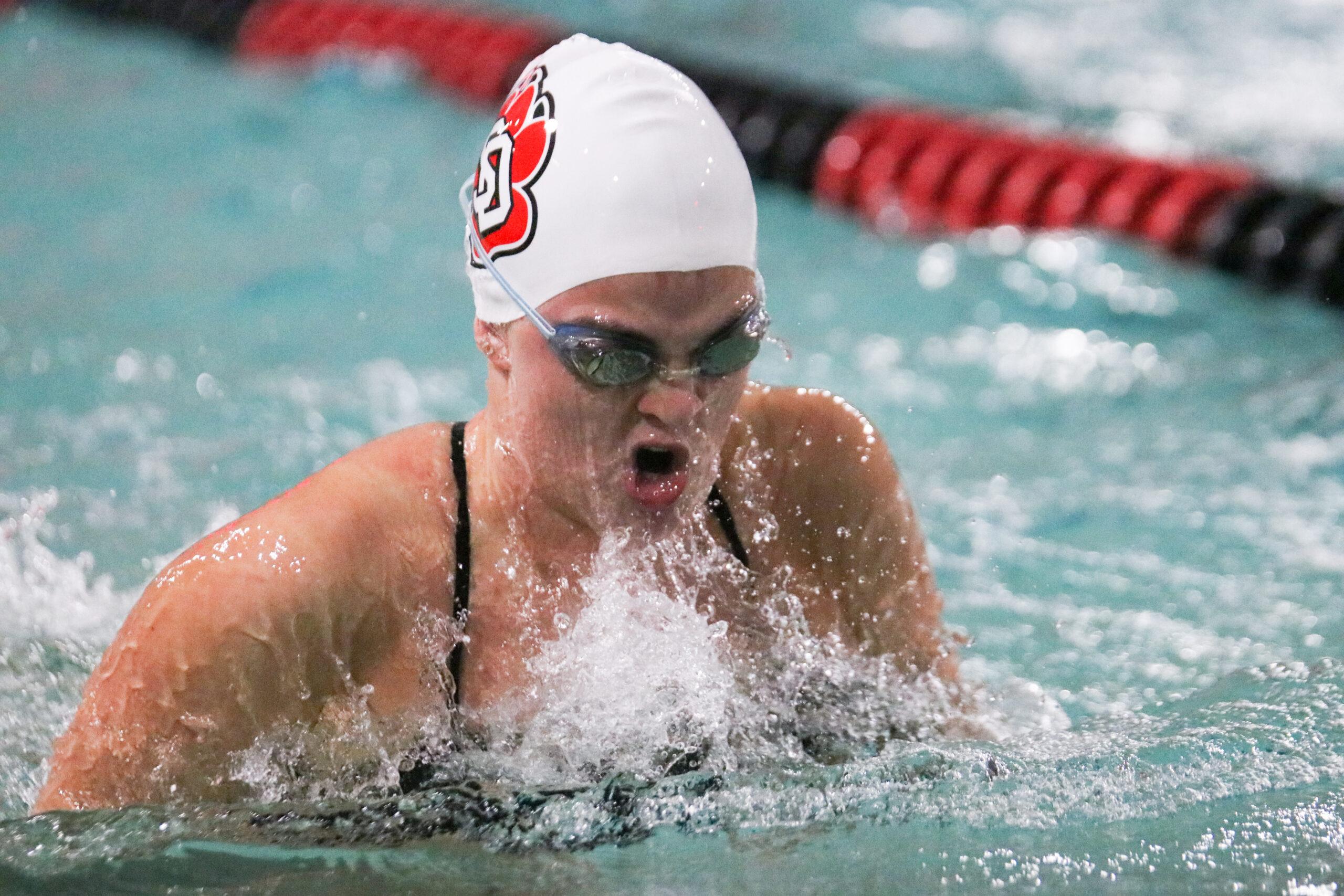 3 mins read
Swim and Dive Break 17 School Records in Minneapolis
The USD women and men swim & dive teams finished second and third, respectively, at the Summit League Championships in Minneapolis Feb. 22-25.
The Coyote women scored 695.5 points which was only behind the University of Denver's 1,047 points, while the men put up 546 which was behind Lindenwood University's 798.5 and Denver's 902.
The wins for Denver come as their ninth Summit League title in men's program history and their 10th straight women's title.
Nine Coyote men put together five relays that finished in the top three: the 400 freestyle composed of seniors Zachary Kopp, Alec Thomas, Aidan Gantenbein and Mack Sathre placed third. The 400 medley relay of Sathre, Kopp and sophomores Adam Fisher and Jack Berdahl captured second place and a school record time of 3:13.98. The 200 freestyle of Kopp, Gantenbein, Thomas and Sathre also took second; the 800 freestyle of Thomas, freshman Matthew Sorbe, sophomore Connor Mes and junior Parker Sonnabend placed third in a school record time of 6:37.72.The 200 medley of Fisher, Berdahl, Sathre and Kopp finished second to set a new school record of 1:26.23.
All five women's relays set new school records, and four of them placed in the top three in their respective events. The 400 freestyle composed of freshman Carson White and sophomores Emily Kahn, Christina Spomer and Skyler Leverenz finished second in 3:22.44. The 400 medley of Kahn, sophomore Sara Mayer and freshmen Tatum O'Shea and Taylor Buhr placed third in a time of 3:43.30. The 200 freestyle of Kahn, Spomer, Leverenz and White captured first in 1:31.76. The 800 freestyle of freshman Camilla Brogger-Andersen, Kahn, Leverenz and Mayer took second in a time of 7:22.45. 
The 200 medley relay consisting of O'Shea, Buhr, Ketterling and Spomer also set a school record with a time of 1:41.35 to finish fourth.
Kahn captured two Summit League titles in the 50 freestyle and 100 freestyle, hitting times of 22.74 and 49.80 seconds, respectively. She finished with All-Summit League honors in six out of her seven events.
Three more Coyote women finished on the podium in the individual events as well. Brogger-Andersen placed third in the 1,650 freestyle with 17:03.50. Buhr took second in the 100 IM with 56.86 and third in the 100 breaststroke with 1:02:56. Lastly, fifth year senior Cassie Ketterling snagged a pair of third place finishes in the 100 and 200 IM, clocking 57.31 and 2:04:07, a new school record.
For the men, Kopp grabbed a second place finish in the 50 freestyle in 19.80 seconds while three other Coyotes secured third place finishes. Berdahl went 53.64 in the 100 breaststroke for a school record, Fisher clocked 48.95 in the 100 backstroke, and Sathre raced to 49.63 in the 100 IM.
The Coyote men saw six school records broken in the individual events. Sorbe alone set three of them: he went 4:28.17 in the 500 freestyle for ninth, 15:42.07 in the 1650 free for sixth. In that 1650, Sorbe set a school record for his time of 9:28.37 at the 1,000 split mark time.
Sathre set a record in the 200 IM, putting up a 1:47.98 in the prelims and finishing fourth in the finals; Berdahl swam 2:00.03 in the prelims in the 200 breaststroke and finished eighth in the finals; Kopp broke his own school record in the 100 freestyle prelims with 44.24 and a fifth place finish in the finals.
Junior Stella Fairbanks represented the women's dive team on the podium with two third place medals in the one and three meter dives.
The Coyotes do not have another event scheduled for the season however, they could be invited to compete in the NCAA Zone Diving Championships on Wednesday and the NIC National Invitational which will take place March 9-11.