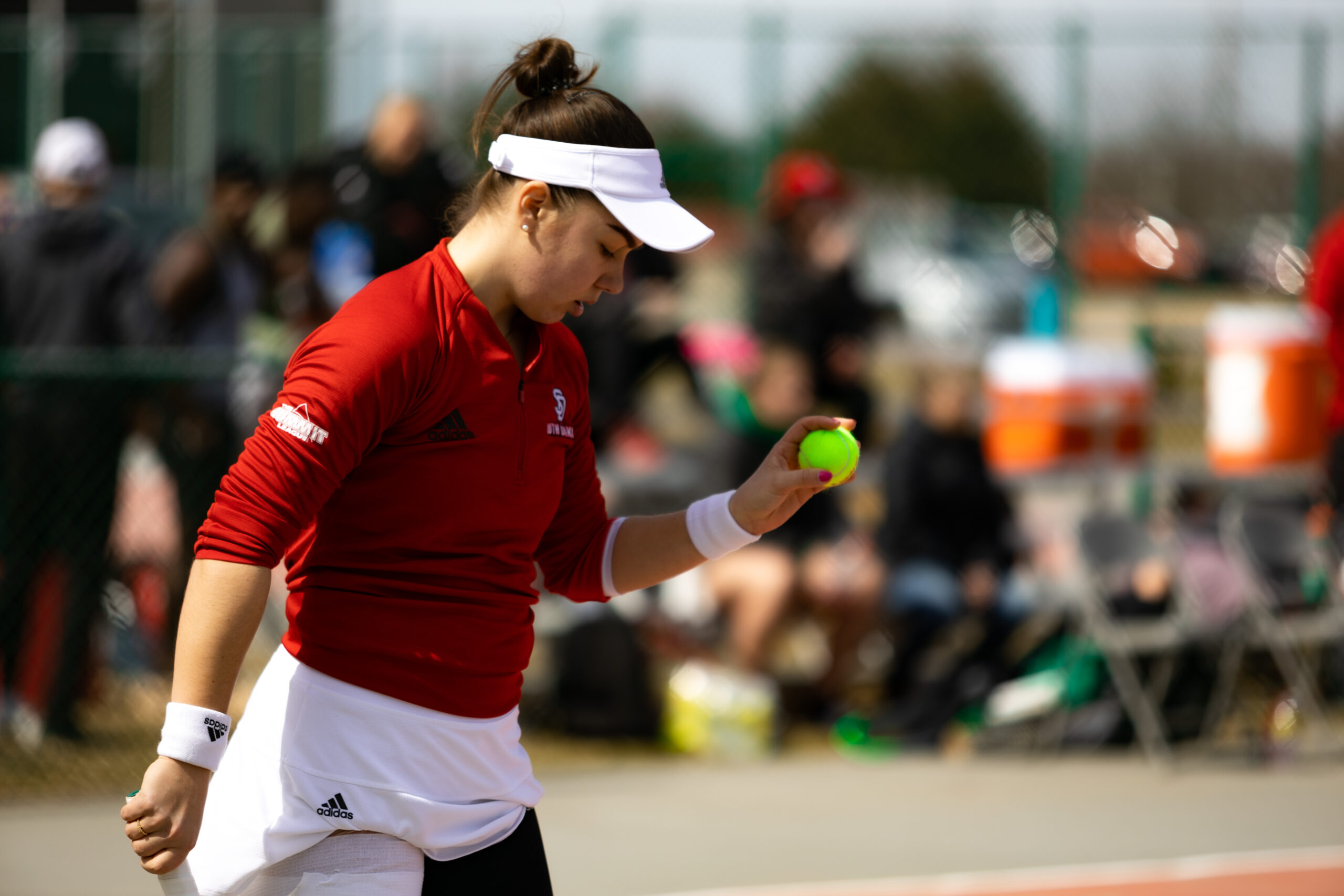 1 min read
Tennis Defeats Tommies in Home Opener
The tennis team hosted their first home duel this season as they defeated the St. Thomas Tommies 6-1 on Friday.
Sophomore Grace Chadick earned a team best 14th singles win on the year and gave USD a one-point lead after defeating Tommies graduate student Olivia Paradise in two sets both by the score of 6-3.
Freshman Anna Medvyedyeva followed up by winning her match 6-4 and 6-3 versus junior Jannah ElNemr.
Freshman Selena Bird kept things rolling for South Dakota, as she quickly took set one 6-1 and played extras in set 2, to get the 7-5 win over junior Nichole Snezhko.
Sophomore Bea Havlickova moved to 3-2 in conference play as she defeated sophomore Marthe Degeorges in the battle of the ones after dropping set one 3-6. Havlickova took sets two (7-5) and three (10-7) to win the match.
St. Thomas ended the Coyotes win streak as freshman Naisha Srivastav defeated senior Sydney Weinberg in three sets.
The Coyotes wrapped up singles play with one more victory as senior Paige Alter took the final two sets in her match against sophomore Shrichandrakala Tentu
Alter and Chadwick kicked off doubles play with a win. Defeating the duo of ElNemr and Snezhko 6-1.
USD took the second doubles match as well with the team of Havlicova and senior Eesha Varma. This 6-2 victory over Srivastav and Paradise wrapped up the duel giving the Coyotes the doubles point and a 6-1 team win.
The Coyotes record goes to 4-12 overall and 2-3 in Summit League play placing them 6th in the conference. South Dakota will host Creighton on Tuesday at 1 p.m. in a nonconference meet.