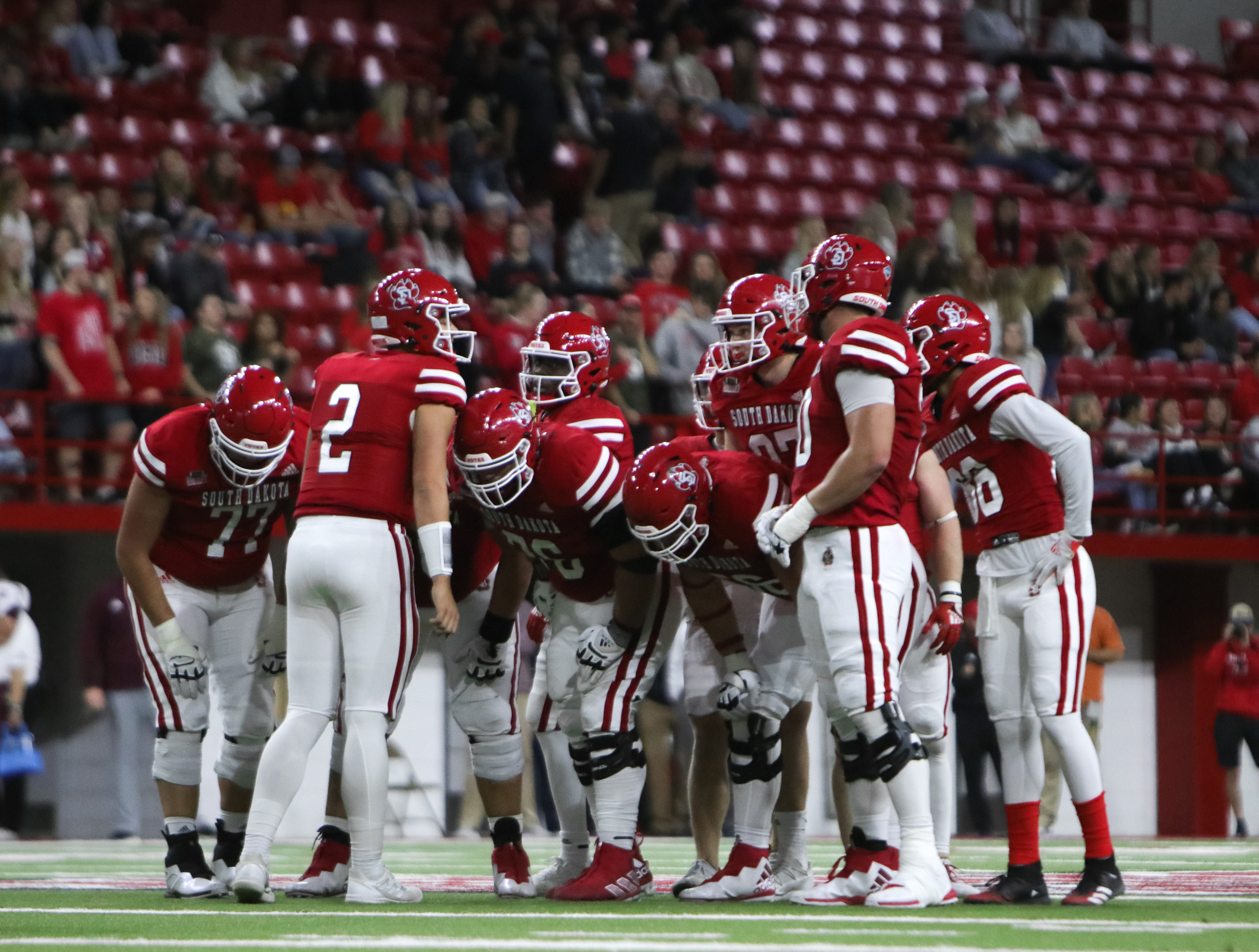 8 mins read
The Transfer Portal Creates New Opportunities for Incoming and Outgoing Coyote Athletes
The Transfer Portal has become the new normal for college athletics with more players entering it the last couple of seasons. Let's take a look at the outgoing and incoming transfers for the football, men's basketball and women's basketball teams as of this issue.
Football:
10 players exit the Coyotes football team, seven of which were offensive players including two quarterbacks.
Andrew Jacobs Grade: R-Fr. Position: WR New Team: Charlotte
Jacobs played in two games as a freshman and recorded one catch for five yards against Kansas State before redshirting for the season.
Carson Camp Grade: Jr. Position: QB New Team: Sacramento State
Camp made an instant impact at USD as he was the first true freshman to start a season opener. In his second season, Camp made everyone know his name after throwing the game-winning hail mary versus South Dakota State with one second on the clock. He started in seven games last season before being benched in the Dakota Days' game versus Southern Illinois. Camp threw for 4,123 yards, 24 touchdowns, 16 interceptions and rushed for three more touchdowns in his three seasons at USD.
Cole Stenstrom Grade: So. Position: QB New Team: Winona State
In 2021Stenstrom worked as Camp's backup and played in five games that year completing 13 of his 27 throws for 146 yards, one touchdown and two interceptions while also picking up 68 yards on the ground and a touchdown. Last year he converted to running back and recorded 27 rushing yards and seven receiving yards. Stenstrom will switch back to playing quarterback for the Warriors.
Corey Hollinger Grade: R-Fr. Position: TE New Team: Wayne State
Hollinger redshirted last season and now will return back to his home state of Nebraska to play for the Wildcats.
Da'Raun Mckinney Grade: Jr. Position: DB New Team: Undecided
Mckinney started his collegiate career at Iowa for two years before spending two seasons at USD where he played in 17 games making 13 starts at cornerback. He recorded 91 tackles, one interception and 12 pass breakups. Mckinney is the newest addition to the portal and has yet to make his decision as he 13 holds offers from Prairie View A&M, Mississippi Valley State, Miami (OH), Central Michigan, Illinois State, Samford, Austin Peay ,Southern Illinois, Northern Iowa, Texas Southern and East Tennessee State.
Jakari Starling Grade: R-Jr. Position: LB New Team: Western Carolina
Straling was on the MVFC All-Newcomer team in 2019 as he recorded 70 tackles and a sack. The last two seasons have been injury riddled for Starling as he's only played in eight games the last two years with only one appearance last season.
Jason Samec Grade: Jr. Position: TE New Team: Southwest Minnesota State
Samec came to USD as a defensive lineman. After redshirting and two years of no appearances he switched positions to tight end last year. Samec will go back to playing defensive line for the Mustangs.
Shomari Lawerence Grade: R-Soph. Position: RB New Team: Florida International (FIU)
Lawrence exploded onto the scene last year after not playing much the previous two years due to a COVID-19-shortened season and an injury that led him to redshirting. He was named on the Missouri Valley Football Conference (MVFC) all-Newcomer Team after compiling 597 yards and three touchdowns on the ground paired with 14 catches for 135 yards and a receiving touchdown.
Tre Thomas Grade: Grad Position: LB New Team: Idaho
Thomas made 12 starts in his 30 games as a Coyote. He recorded 78 tackles, six for a loss, two sacks and one interception in his career.
Wesley Eliodor Grade: 5thY Position: WR New Team: North Dakota
Eliodor was known for his kick returning ability as he returned four kicks for touchdowns in highschool. In his first kick return at USD, he took it for 69 yards in a Dakota Days win against No. 24 Missouri State. He is coming off his best offensive year with 30 catches for 482 yards and six touchdowns.
Incoming: With ten players transferring out for the Coyotes, they have brought in five players from the portal three of which played at the FBS level and two of which played at the Power Five level.
Cannon Blauser Grade: Jr. Position: LB Previous Team: Ohio
Spending four years at Ohio, Blauser had a breakout season in 2021 where he made 86 tackles which was second best on the Bobcats. Last season recorded 33 tackles, 3.5 for a loss.
Mosai Newsom Grade: Jr. Position: DL Previous Team: Nebraska
After redshirting his first season at Nebraska, Newsom did not see the field the next two years until last season where he played in nine games recording three tackles all against No. 17 Illinois.
Okey Egbuziem Grade: Jr. Position: DL Previous Team: Fresno City College
In two seasons at Fresno City College Egbuziem recorded 22 tackles and a sack in 15 games for the Rams.
Tim White Grade: R-So. Position: DB Previous Team: Robert Morris
In his first season in Moon Township, Pennsylvania, White recorded nine tackles and two pass breakups. Last season, White picked up his first interception and tallied six more tackles in four games, he later redshirted.
Tristan Michaud Grade: So. Position: WR Previous Team: Iowa State
The 6-foot-6-inch receiver from Canada comes in from Iowa State after redshirting for the Cyclones after appearing in one game. Michaud is the next former Cyclone to become a Coyote and will join redshirt sophomore quarterback Aidan Bouman who transferred in last season.
Men's Basketball
The Coyotes lost their entire starting lineup from last season: two to graduation (Damani Hayes and Mason Archambault), one playing overseas (Kruz Perrott-Hunt) and the other two to the transfer portal (A.J. Plitzuweit and Tasos Kamateros).
A.J. Plitzuweit Grade: R-Jr. Position: Guard New Team: Undecided
The son of former women's basketball head coach Dawn Plitzuweit started his collegiate career at Augustana where he won the NSIC Freshman of the Year and was a conference honorable mention after averaging 14.6 points. In his first season at USD, Plitzuweit earned Summit League Newcomer of the Year and First Team honors
Ty Walker Grade: R-So. Grad Position: Guard New Team: Undecided
Walker redshirted in his first season in Vermillion and battled injuries this year which kept him sidelined for the entire season.
Keaton Kutcher Grade: Jr. Position: Guard New Team: Illinois
Kutcher exited highschool as a premier 3-point shooter and that stuck at the college level as he went 15-31 from the 3-point line in his two seasons where he averaged 2.5 points per game in his 25 games played. He will now head to Illinois as a priority walk on for the Illini.
Tasos Kamateros Grade: Sr. Position: Forward New Team: Undecided
The last two seasons Kamateros was an All-Summit Honorable Mention averaging over 11 points per game in those years. He played in 100 games making starts, scored 989 points and brought down 497 rebounds as 'Yote. Kanateros entered the portal but is also considering playing overseas like his teammate Kruz Perrott-Hunt decided to do.
Incoming:
South Dakota has been active in the portal being reported to have reached out to quite a few athletes to fill their roster, so far only signing two.
Kaleb Stewart Grade: Jr. G Previous Team: Louisiana Tech
In the 2021-2022 season Stewart was named to the Conference USA All-Freshman Team after coming off the bench in 31 games scoring 3.2 points per game. Last season, Steward started in four of his 18 appearances where he scored 5.2 points per game.
Mayoum Buom Grade: R-Jr. C Previous Team: Emporia State
The 6-10 center from Lincoln, Nebraska was named to the Mid-America Intercollegiate Athletics Association (MIAA) All-Defensive Team in his redshirt freshman season after recording 25 rebounds. Last season Buomom bettered his block total as he tallied 36 and paired it with 7.1 points per game.
Women's Basketball
The women's basketball team remains pretty much the same as no players have entered the portal and have only signed one as of April 25, 2023.
Tori DePerry Grade: Sr. F Previous Team: Saginaw Valley State
Coming in with over 1,100 points at the Division III level, DePerry is coming off a year where she averaged 17 points and recorded eight rebounds per game and was named to the First Team of the Great Lakes Intercollegiate Athletic Conference.