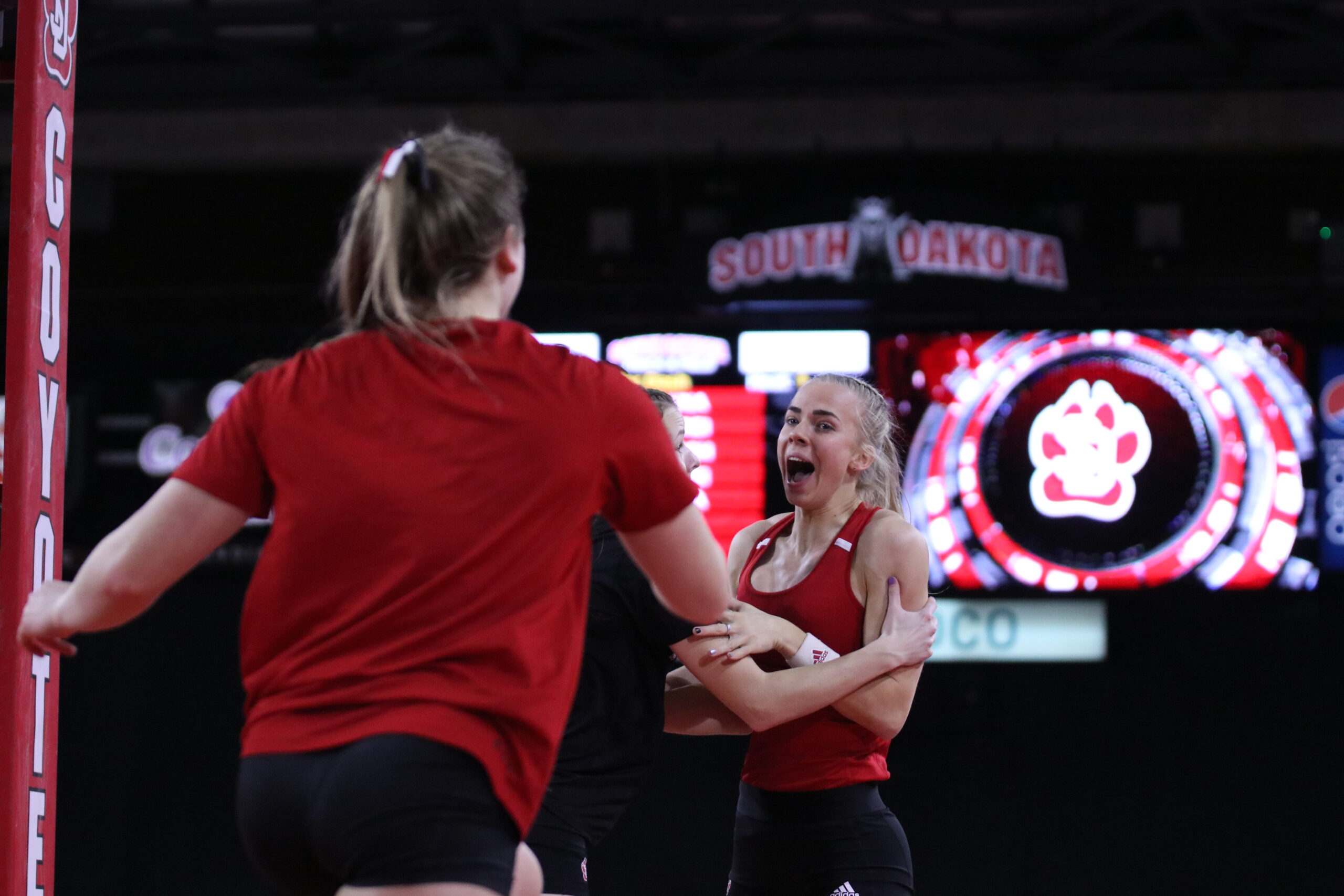 3 mins read
USD Women's Pole Vault leaping to the top
USD's women's pole vault team ended the 2023 indoor track and field season as the nation's top team in pole vault. The Coyotes are now onto the outdoor season and look to improve on their rankings and record new personal bests.
The vaulters didn't seem surprised when finding out that they were ranked first.
"Coach continued to tell us we could get there. We just needed to all get a little bit more," junior Cassidy Mooneyhan said.
Sophomore Marleen Mülla has the Coyotes personal best with her jump of 4.55m, followed by redshirt sophomore Gen Hirata with 4.37m and Mooneyhan with 4.32m. They all hit these jumps in the Summit League Indoor Championships. Their four teammates followed them, all of them jumping over 4.02m.
The athletes thank the coaches for everything they have done this season. The pole vault coach, Derek Miles, doesn't want to take credit for the women's performances. He tells the men and women every day that they have the talent to do it and pushes them, but they are the ones that get the results themselves.
The team said how their team chemistry is really high compared to a typical team. They attribute this to always ensuring everyone supports each other. The team take time to cheer on the runners and others while they wait to vault. They said it really helps as most teams don't get to be around each other and usually keep to themselves.
"When you have all these different groups in one team, you tend to be distant from each other. But we try to stay close because it helps us as a team," Mülla said. "Team chemistry is one of the most important things to be a successful team."
While being proud of themselves and soaking in the year, the vaulters already know that this season means more as a team than just themselves.
The team talk about how being recognized as one of the best teams nationally brings more attention to the university. They hope that the different athletes across the country will want to come vault with them to create the best team they can make.
"Being one of the best teams means that we will get more attention and hopefully more recruits and create a good team," Mooneyhan said.
"We just want to build a great team that is very successful and fun to jump with," Hirata said.
Miles has seen success in the past as he has coached four national champions, 29 Summit League champions and 11 Field Athlete of the Year winners, among other awards and nominations. This is the first time that one of his pole vaulting teams was ranked first for men or women in the nation.
The team looks forward to continuing its success throughout the outdoor season as it continues to march on and improve.
"Now we look forward to the outdoor season where we will try to be the best again," Mülla said.