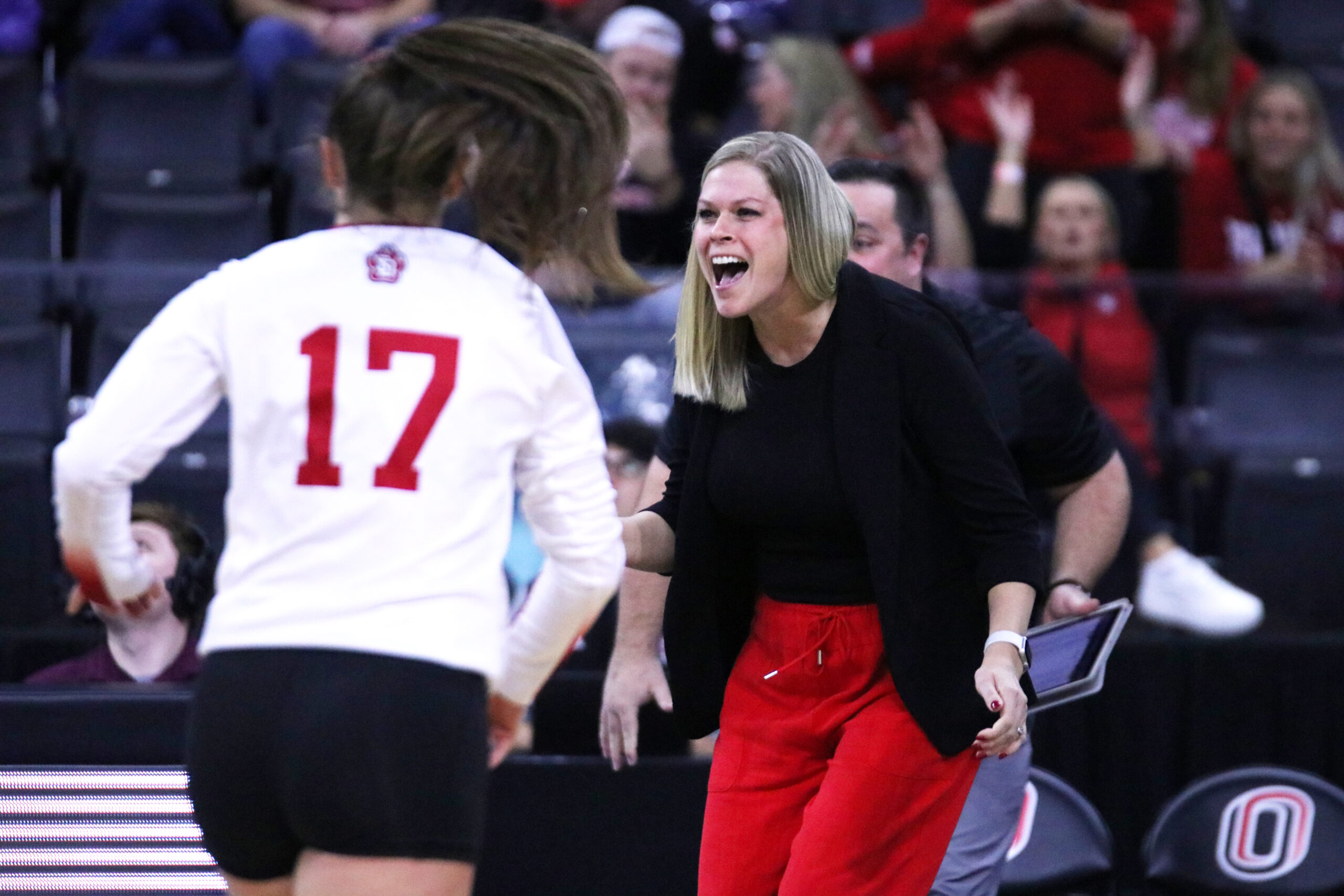 4 mins read
Williamson Extended Through 2027
Coming off a historic 2022 season in which the Coyotes Volleyball team went 29-4 and even broke the Sanford Coyote Sports Center attendance record with 2,774 people, South Dakota's volleyball head coach Leanne Williamson has inked a five-year contract extension through the fall of 2027.
"I enjoy USD. I like the community and obviously the program means a lot to me. (The contract extension) is another reason for my family and I to stay here and continue to love Vermillion," Williamson said. "I think we have made some giant strides, obviously as a program from when I first got here 14 years ago as a graduate assistant to where we are now. I'm excited to continue that progress in the upcoming years."
Williamson, a native of Hartland, Wisconsin, came to South Dakota in 2009 as an assistant coach under Matt Houk. Williamson said what she learned most from the former head coach was to maintain balance within her life and volleyball.
"I think balance is huge for me as I have my own family and three little kids and a husband that I want to be around for as well," Williamson said. "To have someone in the coaching profession that can show that and reinstate that was huge for me."
In 2014, Williamson took over the coaching job and went 19-12 overall with a 12-4 Summit League record. In Williamson's first Summit League Tournament game, she led her team over Purdue Fort Wayne 3-1. In their second game, the Coyotes were swept by eventual runner-ups, IUPUI.
Williamson said that her first season was a "blur" but she would tell her first-year coaching self that what they're doing is special.
"I think, in a lot of ways, I would just reiterate the fact that the culture that we were trying to create at that time, was worth it. The people continue to be the reason why this program is special," Williamson said. "I think in some other ways is to breathe. Be patient. And that what we're doing is worth it in the end."
Fast forward four years, Williamson hoisted her first Summit League Tournament trophy as her team defeated the top seed in the tournament in Denver. This was the only time the Coyotes had defeated the Pioneers all season.
"I think it is one of those things that gets put into perspective. All the hard work, recruiting, working through our culture and developing really what we wanted to see with that," Williamson said. "(The Championship) was something that I'll fully never forget."
From then on, the Coyotes captured two regular season titles in 2019 and 2022, and three Summit League Championship titles in 2020, 2021 and 2022.
The Coyotes, now, are coming off a regular season championship season as the Coyotes went 29-4. USD would double up for the first time under Williamson as they also captured the Summit League Championship title.
"One of my favorite moments is probably the conference tournament because we obviously dealt with a lot of adversary with Brooklyn Schram getting hurt in the middle of the season and having to figure out the team and how to play to our capabilities with a new setter," Williamson said. "To see our team going into the conference tournament and sweep both opponents, that just brought everything full circle."
Another moment that Williamson spoke about was their loss in the NCAA D-I Volleyball Tournament where the Coyotes fell to No. 23 Houston in five sets. In the match, the Coyotes lost the first two sets then rallied to win the first sets in school history, as they claimed the third and fourth. In the fourth set, junior outside hitter, Elizabeth Juhnke, went down with a leg injury.
The Coyotes did not let this injury to the Summit League Volleyball Player of the Year stop them from claiming the fourth set. In the fifth set, the Coyotes and Cougars were tied at 10 each, however, Houston would outlast the Coyotes.
"The aftermath of the injury and how the team responded and how much passion they played with," Williamson said. "Just how they went out there and played fearlessly and supported each other through (the injury). That was a remarkable moment."
With the upcoming season, Williamson urges new and incoming students to come to the games in the Sanford Coyote Sports Center.
"It makes a difference for us and I'd urge them to come out and see why volleyball is so much fun to be a part of," Williamson said.