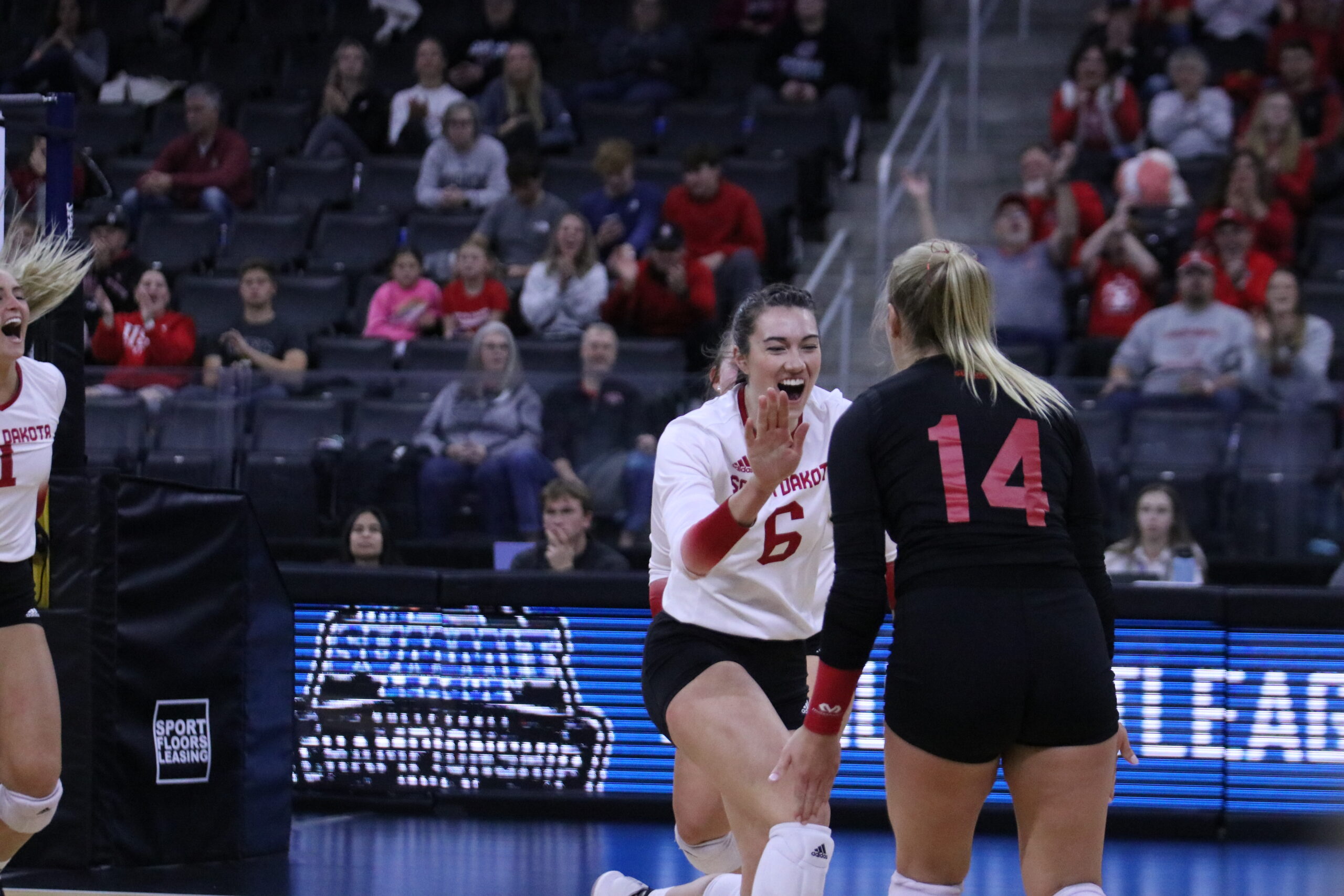 3 mins read
Juhnke Starts New Role with the Coyotes
On Dec. 2, in the first round of the 2022 NCAA Volleyball National Tournament, the South Dakota Coyotes faced off against the No. 23 Houston Cougars. The Coyotes trailied 2-1 in sets and 15-11 in set four, with their season on the line.
With back-to-back kills, Elizabeth Juhnke attempted to lead the Coyotes to set five for a chance at victory. Unfortunately, she landed awkwardly on her leg and had to be taken out of the game.
The Coyotes managed to rally to win set four 25-23. Nevertheless, the Juhnke-less Coyotes would fall in the fifth and final set, losing 15-11.
Although Juhnke had one season of eligibility left, her plans to continue playing for the Coyotes were derailed by her injury, and she will take on the role of a student assistant instead. With her final kill 2022 of the season, Juhnke might have also gotten the last kill of her Coyotes career as she suffered a severe knee injury.
"It definitely sucks that I do not get to play my final season as a Coyote, but I did everything I wanted to do while wearing a jersey. I got four seasons as a starter while others might not even get to start," Juhnke remarked about the disappointment of possibly not getting to play her senior season.
While this is not what she was hoping for, it offers her a new experience as something that can challenge her in her continuing growth as both a player and a person.
"I can be a different voice for the girls as a peer but also a mentor and talk to them differently than the other coaches can," Juhnke said.
Despite Juhnke's desire to be on the volleyball court with the rest of her teammates, head volleyball coach Leanne Williamson recognizes being with them at practice and matches makes all the difference.
"I think she can teach the girls a lot, and she can show them some things that other coaches can not show them as we all see things differently, and she sees things more in their perspective," Williamson said.
While any team will miss a player like Juhnke and replacing standout athletes is not always possible, Williamson believes in a different approach.
"I do not believe that you can just replace a player or any players," said Williamson. "You just figure out what the players on your team are good at, and you do that different thing with them to get the best out of them."
While Juhnke was a key asset to the Coyotes on the court last year, Williamson now emphasizes the team's "depth" as to why the Coyotes might still see success this season.
"We have a lot of players challenging for playing time, but we do have 18 people on the roster, and with that, we have a lot of depth," Williamson said. "As coaches, we think we will and can utilize that depth in order to have the success we want."
Photo: Sydney Johnson | The Volante