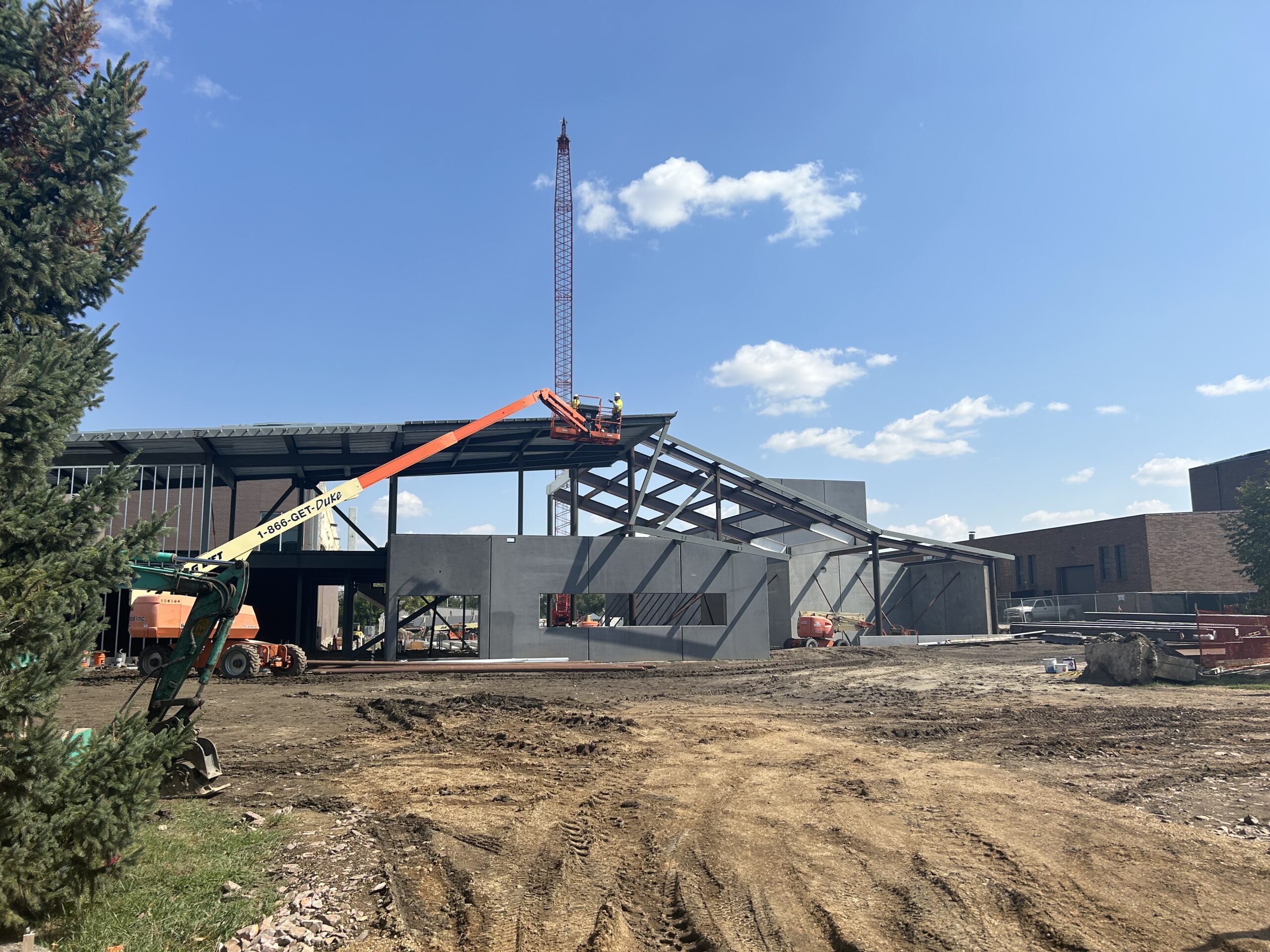 2 mins read
USD's Wellness Center Building New Pool
USD's Wellness Center is currently under renovations for an expansion of a new aquatics center. This project will cost around 31.25 million dollars and will be an estimated 45,800 gross square feet.
Digital Communications Specialist for USD's Marketing Abby Kaup said the reason why they are building the expansion is because the DakotaDome's pool has passed its expanded lifespan and is expected to help USD's athletics and the Vermillion Community.
"The addition of the new pool will not only help accommodate the needs of the USD Varsity swim team but also allow for additional aquatics programming for the USD student body and Vermillion community population," Kaup said.
The addition to the Wellness Center will not only benefit the swim team but others as well with many new features being added.
"[The additions to the Wellness Center are] an Olympic size pool, recreational pool, hot tub, steam room, lockers and fan space for swim meets, coaches offices and a ninja course obstacle for the pool," Kaup said.
Non-student athletes will be able to get many experiences out of the expansion as well with new classes at the Wellness Center being added in.
"The addition of the new pool will allow for expanded aquatic programs like water aerobics, paddle board yoga, water polo, underwater hockey, expanded community swim lessons, ninja course training, aquatic physical therapy, youth and masters swim team space, post workout amenities like a hot tub and a steam room," Kaup said.
The new pool added in will also be able to help the varsity swim team get more training in, especially with the installation of Wet Pour Surfaces, ensuring a safer and more conducive environment for their practice sessions.
"The expanded training options [in the DakotaDome pool] currently have six lanes for training whereas the new pool will allow for 21 lanes to host multi-team meets whereas the current pool only allows for two team dual meets," Kaup said. "It gives the ability for the entire team to practice at the same time. The Team will also be able to practice and compete in Short Course Yards, which is the NCAA regulation length as the Dome pool is short course meters. Home meets for USD will now be eligible for NCAA Qualifying Times."
Kaup said there were many sponsors able to pitch in for building the expansion.
"[There were many key factors in helping create the expansion such as] The Visionary Athletic and University Administration, generous alumni,friends of USD and last but not least a great team of architects and builders," Kaup said.
The expansion of the Wellness Center will be finished sometime in the fall of 2024.
Photo Credit: Submitted