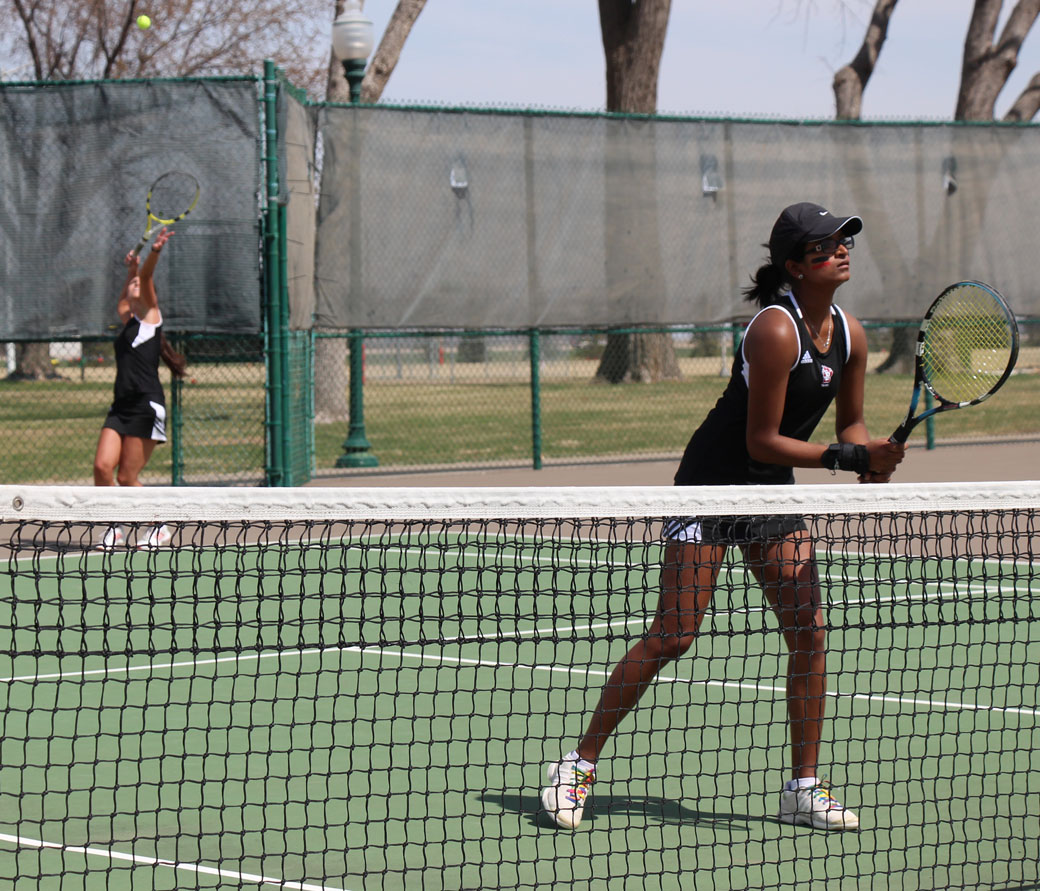 3 mins read
Tennis goes 2-1 over weekend
A loss to the defending Summit League champions and an easy win wrapped up the University of South Dakota's women's tennis team's regular season play last weekend.
The women beat Indiana University-Purdue University Indianapolis 4-3 Friday, before losing to Indiana University-Purdue University Fort Wayne 5-2 Saturday. The Coyotes (11-12, 2-4) wrapped up the weekend by beating Western Illinois 7-0 Sunday.
The Coyotes went into the match against IUPUI knowing it would be a close one, head coach Malcolm Gilreath said.
"It was very competitive," he said. "We knew it would be close. We lost the the doubles point but showed our strength in singles."
Sophomore Milica Pavlovic, who won all three of her singles matches over the weekend, made easy work of her singles match against IUPUI.
"I played really well in that match," she said. "I didn't give my opponent a chance to play at all. I finished it up in 45 minutes."
First-year Yulia Sidenko said she had a good weekend of play.
"My first match was hard, but I did my job and won all my singles matches," Sidenko said.
While the women lost to the defending Summit League champion IPFW, Gilreath said his team played well. He said he was especially impressed with Pavlovic's play.
Pavlovic won her first set 6-3 before dropping the second set 2-6. Then, rather than play a traditional third set, she played a superbreaker — the first one to 10 and up by 2 wins — because IPFW had already won the match. Pavlovic was down 1-9 in the superbreaker before coming back to win 12-10.
"I played really well in the first set, but I just didn't feel it in the second set," Pavlovic said. "By that point, all the other matches had finished and everyone was watching, and I kept missing balls. Then it started raining, and I was losing and I figured that was it. Then I told myself if she can win 9 points in a row, so can I."
Pavlovic said when she started coming back she still didn't think she'd have a chance to win.
"Then all of a sudden I had my match point, and I won it," Pavlovic said. "I couldn't believe it. Something in my head just told me I could do it."
In the match against Western Illinois, Gilreath said the women stayed focused and played their games. The Coyotes didn't lose a game in three doubles matches and dropped just two games on the way to winning all six singles matches.
Now the women are looking ahead to the Summit League Championship this weekend. The Coyotes head into the tournament as the No. 4 seed. They will play No. 5 IUPUI Friday in Denver, Colo.
"We're focusing on doubles which is more important because we lost more in doubles than singles last weekend," Sidenko said. "We're just preparing for this weekend's important matches."
Gilreath said in addition to focusing on doubles, the team just has to get its job done this weekend.
"In the rematch with IUPUI, every point will be important," he said. "It's difficult to beat a team twice."
The winner will play top-seeded Denver, who is currently ranked No. 69 nationally, Saturday in Denver.
Photo: Junior Yamini Reddy (right) waits at the net for her doubles partner, first year Dragana Brankovic (left), to serve at the USD home tennis meet April 12. (Kayla Prasek/The Volante)