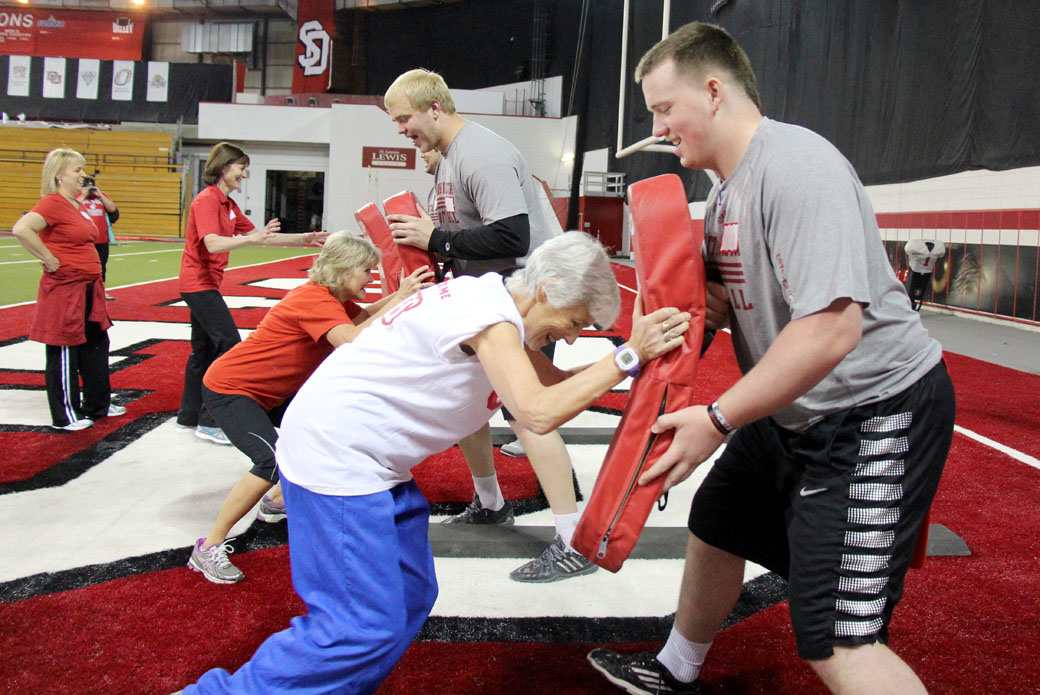 3 mins read
Women's football clinic draws 80 to the DakotaDome
The cheers from moms, girlfriends and female fans of the University of South Dakota football team turned to grunts Friday as they stiff-armed their way through the first Coyote Women's Football Clinic.
Eighty women attended the DakotaDome event, said Luke Groth, director of football operations. The turnout was more than expected, he said, and thinks it will continue to grow with more USD students if they continue the event next year.
"We wanted our female fan base to see what our players go through, what goes on during practice, in the weight room, on the field," Groth said. "I'd say they got to see a side of the game they were never aware of."
The athletic department initially reached out to season ticket holders, Howling Pack members and family of the players, including the incoming first-years, to participate. After a quick meal, the women were greeted by Head Coach Joe Glenn, who joked about growing up with five sisters who were always asking questions about the sport.
The women were broken up into groups and made the rounds to different activities ranging from equipment to football strategy. Members of the football team volunteered with the event, going through a condensed weightlifting session with led by Head Strength and Conditioning Coach Jevon Bowman.
"Instead of beating them down, we build them back up," Bowman said, to answer a question about physical recovery after weightlifting asked by a participant.
Women also met with Head Athletic Trainer Bruce Fischbach, who said, "I do everything except exorcism" for student-athletes. Sara Weiseler, head athletic equipment manager, also answered questions from the women while players modeled their uniforms and equipment. Weiseler said each football player gets about $1,000-$1,200 worth of equipment each season, and she is also the one who does all the laundry for the team — typically two sets of laundry a day.
Multiple classroom sessions featured coaches explaining football strategy, and allowed the women to ask questions like, "What do the calls actually mean when you yell them out during a game?"
The most interactive part of the three-hour clinic was the on-the-field work. Women rotated to different activities that required them to catch, shuffle and  block.
Quarterback Kevin Earl, sophomore, was on hand to instruct participants on how to grip a football in one rotation. He said while he was dealing a lot with women who had no idea how to properly throw a football, going back to basics was an experience he won't soon forget.
"I could tell (the women) were learning a lot from the experience," he said. "There were some that were athletic and were picking up techniques, which really surprised me."
Michele Glenn, Joe Glenn's wife of 43 years, took part in the clinic, and said the event gave women a different appreciation for what the players and coaches do throughout the year. One question she said she receives sometimes is, "What does your husband do in the offseason?" Michele Glenn said she thinks after Friday's event, people saw how hardworking football is, even in the offseason.
"I've been to a couple of clinics like this at Joe's (Glenn) other schools, but this was by far the most interactive one," she said.

Photo/Photo Gallery: Participants try out a defensive drill with linebackers from the Coyotes. (Megan Card/The Volante)