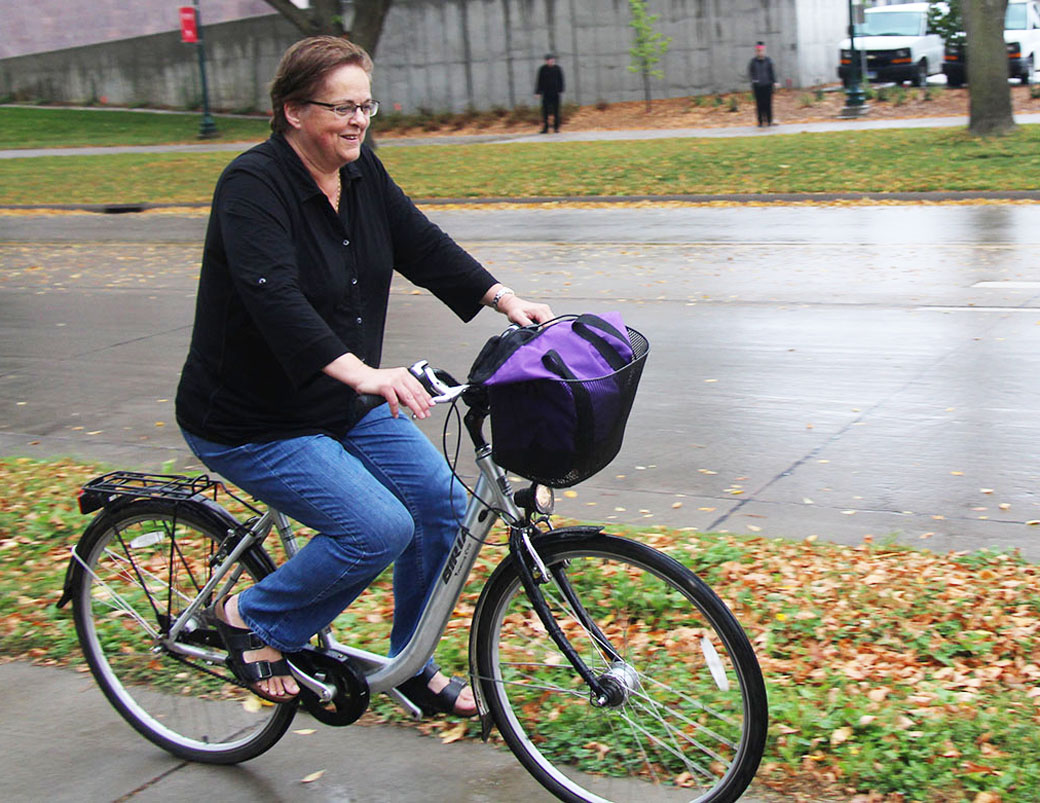 6 mins read
Vermillion sidewalks undergo facelift to become bike-friendly
City officials are continuing efforts to make walkways and bike paths around town more safe and convenient for public use.
Vermillion's Sidewalk Inspection Program, which began in 2010, divides Vermillion into four quadrants. Each year, the city selects one quadrant and evaluates its footpaths and notifies the property owner about needed repairs.
This year, the city will restart the cycle and inspect paths in the first quadrant, said Pete Jahn, Vermillion street superintendent.
During the four years the program has been active, about 1,000 properties in Vermillion have been cited for walkway hazards, said City Engineer Jose Dominguez. These hazards, called trippers, are created by cracks or other imperfections, such as tree roots. Ninety percent of these issues have been addressed, Dominguez said.

"We could always use more (funds)," Jahn said. "We do what we can with what we've got. It'd be nice to have more, but we do have to understand that there are other aspects of the city that require funding also."
Ultimately, Dominguez said, maintenance is the responsibility of the property owner, and it is also their responsibility to pay for repairs. If the path is on city property, the local government pays for it.
Together, the total spent by property owners and the city on repairs comes to about $500,000.
The University of South Dakota will sometimes contact the city with requests for certain intersections or walkways to be fixed, Dominguez said. He added USD has also made it a point to fix public sidewalks on its property.
Dominguez said complaints about trippers have decreased in the last three years.
"We do get, sometimes, requests from cyclists regarding having actual routes and so forth," he said. "But that's something that we're also addressing slowly with our transportation plan."
There are several newer bike paths in Vermillion, which still possess a few issues. One such bike path stretches along the Vermillion River and is now blocked off because it has become too dangerous to use.
"There's some pieces that have fallen into the river just due to erosion, and we're working to fix those pieces, but once all of those pieces are fixed you can practically ride a bike all the way from the west end of town along the river to University Street along the river," Dominguez said.
Jennifer Dill, professor of Urban Studies and Planning at Portland State University, gave a presentation Sept. 24 in the Al Neuharth Media Center discussing the importance of cycling and how different communities are promoting it.
Even though her research is largely based in large cities, Dill said cities of all sizes can follow the example outlined by her studies.
Dill identified new innovations which allow bicyclists and pedestrians to travel safely, especially those in Portland. These include protected bike lanes, which separate cyclists from the road traffic, and neighborhood greenways, which are quiet residential roads with reduced speed limits that can be safely traveled by bike, foot and other minor modes of transportation.
Dill also mentioned during her presentation that five days a year, Portland reserves a few miles of residential streets for cyclists and walkers. Vendors sell goods and events are arranged, similar to a block party.
The point is to introduce people to the idea of cycling without worrying about traffic, Dill said.
"It's something that can be done in any size of city, it's just you're not gonna have tens of thousands of people showing up," Dill said. "It starts to get people to change their attitudes."
Dill met with city officials, including Dominguez, before the presentation to discuss introducing some of these ideas to Vermillion.
Dill mentioned several things not included in her lecture, such as bike corrals, which are built over unused car parking spots and provide a place for cyclists to park their bikes, and road diets, which decrease the width of roads to make room for bike paths and other facilities for pedestrians and bikers.
Many of the ideas Dill discussed could be implemented in Vermillion, Dominguez said, but cost and citizens' thoughts will be big factors.
"Some of the items… I think could be implemented pretty easily into Vermillion," Dominguez said. "It's always gonna be the cost… Another thing that's going to be tricky is going to be just the perception that we might have to fight, as far as is the money being spent wisely… We just have to try and present these in a way that people will like it."
Kevin Brady, a cycling instructor at the Wellness Center, said the city is handling these improvements well.
"I do see a lot of (footpaths) that have been ground down or have been replaced," Brady said. "I think that's becoming a bigger issue, and I think it's being handled rather well."
Brady said cyclists should be riding in the road.
"Three out of the last four deaths in Sioux Falls have been cyclists on the sidewalk, not on the street," Brady said. "We are vehicles, we should act like vehicles."
On the other hand, junior Hayley Naasz, a cyclist who participates in Brady's cycling class, has seen an improvement with the pavement on campus, but said the walkways and bike paths in town could still use some work.
"The sidewalks are awfully thin, and they're not well-kept," Naasz said. "More bike paths would be really beneficial."
(Vermillion community member Kathy Autenried rides her bicycle along Cherry Street Monday afternoon. Malachi Petersen / The Volante)