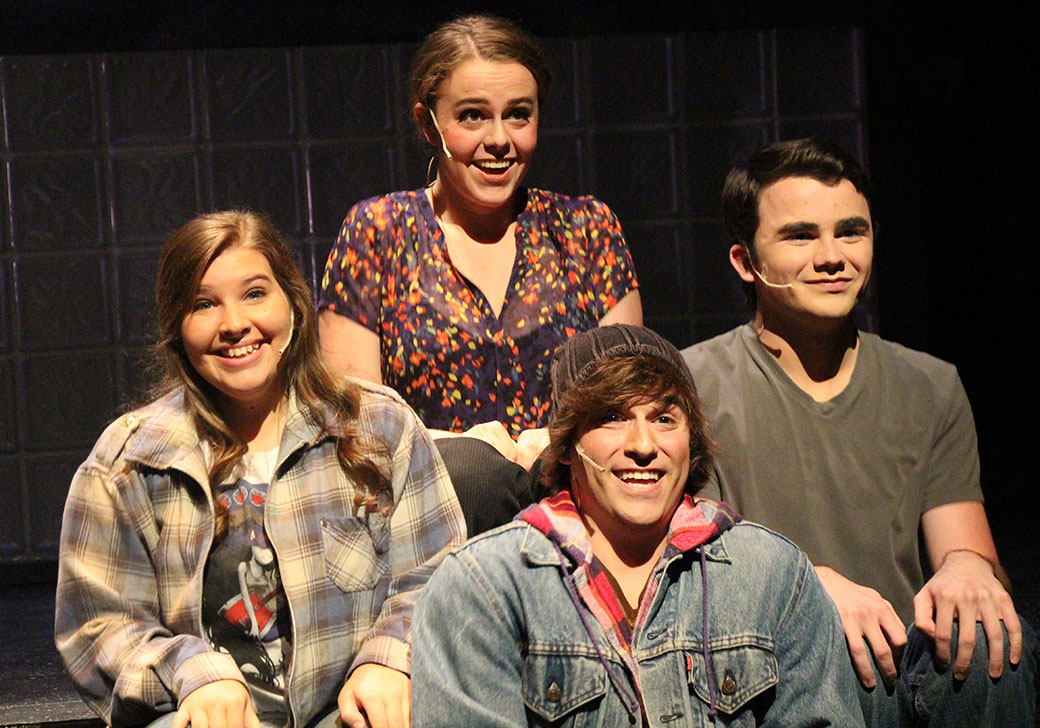 5 mins read
Theater production aims to break stigma of mental illness
Diana shoves her husband away in anguish, defending her son. She doesn't realize her mind is deceiving her — that her son has been gone for 16 years.
Diana and her husband lost their child when he was 18 months old, an event that causes her to hallucinate her son. Over the next 16 years, she has seen him grow, while still having to live with her teenage daughter and husband.
The University of South Dakota theatre department performed this act in their production of Next to Normal last weekend and will perform one more five-show run this week. The Pulitzer Prize and Tony Award-winning musical works to break the negative stigma of mental illness.
"Mental illness is a very controversial topic and it can be so (stigmatizing). I just hope that this show breaks the mold and people see that it's not something to blame," said sophomore Christa Gesicki, who plays Natalie, the teenage daughter, in the show.
Senior Steve Schaffer, who plays Dan, the father, said the show parallels what it is like for people dealing with the disorder the mother has.
"I think it's kind of a nice little metaphor for mental illness," Schaffer said. "It's the same situation, it's the same story, just different people, and so different people are affected in different ways. It's just seeing two different perspectives."
Though the story seems very serious and depressing, director Matt Nesmith said the audience can see it in an "uplifting, inspiring, hopeful" way.
"It shows, in a very realistic way… all the different types of treatments somebody with mental illness goes through, from medical treatment — prescriptions — to talk therapy, all the way to electroconvulsive therapy — shock therapy," Nesmith said. "At the same time, there's a lot of humor in the show as well, because like in real life, sometimes we laugh to stop crying, or we laugh because it's all we can do to break that tension."
Members of the cast had sessions with the USD counseling community, the psychology department and the South Dakota National Association of Mental Illness to help them prepare to delve into their characters. Nesmith provided them with journals to pull from their own experience.
Junior Kristian Asfeldt, who plays Gabe, the son, found it eye opening to hear stories from and talk to people who have dealt with or experienced mental illness.
"We've been fortunate enough that the campus here and the community as a whole has been really open and willing to help us prepare for something so psychologically and emotionally demanding as this," Asfeldt said.
Schaeffer said the disorder does not define them but makes the people human beings.
"It's not about mental illness, it's about this struggle that this family has and the difficulties are stemmed in mental illness," Schaeffer said. "It's not something to blame on, by any means. It's just sort of there."
With so many talented students Nesmith said they wanted to provide more opportunities to perform, resulting in two separate casts of six people each alternating show nights.
"It's the same show, yet it's totally different because you have six people who have different takes, different voices, different perceptions of who these characters are, and so it's been fascinating to watch as a director every night," Nesmith said.
Sophomore Ebrin Stanley, the other Dan, said the two casts were with each other throughout the rehearsal process and found it tough finding a middle ground.
"We would block scenes together, we would run it, the other cast would watch, then the other cast go up and the other cast ran it," Stanley said. "We played a fine line with giving advice."
Stanley said the cast played into their own unique elements for the innovative and contemporary show, ensuring experiences were different each time.
"I think everybody has done a really cool job with making sure they stay true to how they saw the character and forming their own," Stanley said. "It's two completely different shows, though it's the same story."
Immediately following the Oct. 1 and Oct. 4 shows, audiences are encouraged to stick around for a talk back session involving a Q&A. Invited health professionals, those dealing with mental illness and members of the cast will be on stage to discuss issues the show encountered.
The talk back sessions are meant to serve as a platform for social change and awareness and how it connects with the theatrical process.
The theatre department is offering tickets at discounted prices for audiences who have seen one cast and wish to see the other. USD students are able to take in both shows for the price of one on their special "date nights" Oct. 2-3.
Performances are scheduled for Oct. 1-4 at 7:30 p.m. and Oct. 5 at 2 p.m. in the Wayne S. Knutson Theatre. Those interested in the show can stop by the box office in the Warren M. Lee Center for Fine Arts for tickets or call 605-677-5400.