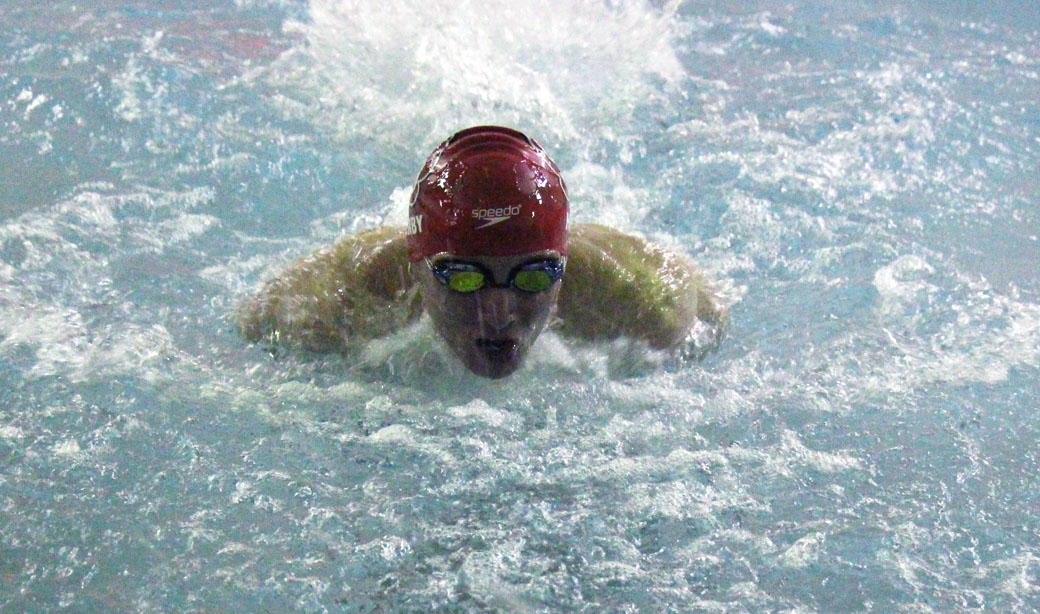 3 mins read
Athlete Spotlight: Swimmer Collan Herby
First-year swimmer Collan Herby swims the 100 and 200 fly for the Coyotes. He is from southern Florida and led his high school team to a 14-0 record his senior year.
Sean Bower: What made you come to South Dakota for swimming?
Collan Herby: I took a few visits to other schools, and South Dakota just stood out the most. I love the team and I love the coaches. I know I was very surprised. Because, when you come up to South Dakota, you don't think anything of it, (especially) when you're from Florida and you're around densely populated colleges like UCF, Miami or Florida. And my friends are always making fun of me for choosing South Dakota. They were like 'Where is South Dakota? Is that in Europe or something?'
S.B.: Are you ready for your first South Dakota winter?
C.H.: I'm going to try. I have a winter jacket but have yet to get mittens or gloves or whatever you call them. I got a hat as well. I haven't seen snow in six years so this will be fun.
S.B.: Do you have any individual goals for the upcoming season?
C.H.: Do well in conference. Place in (the) top three at conference and try to make my NCAA B cut. It's going to be a long haul, but since coming up here, my confidence has been through the roof. It's a weird feeling, but I like it. So I'm going to work with it and continue to work my butt off and make the best of it.
S.B.: On top of your individual goals, what are the USD swim team's goals this year?
C.H.: The team goal is to win conference and to have a winning record and beat (South Dakota) State.
S.B.: How is your first semester of college going? C.H.: As crazy as that sounds, I like my courses. I like my team and everyone here. Everybody is just so nice up here. Everyone says "hi" in the streets. Like one time, when my mom came up here and we were going to get something to eat, some guy said "hi" to her in the streets, and she was surprised because a random stranger acknowledged our existence. It just seemed odd, but it was funny.
S.B.: What is your major and career plans?
C.H.: As of now, kinesiology with a minor in political science, but it's completely undecided because I don't know exactly what I want to do yet.
(First-year University of South Dakota swimmer Collan Herby competes in an intersquad meet Saturday evening in the DakotaDome. Maggie Malathip / The Volante)